DVDs from TCM Shop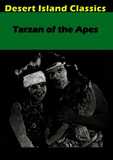 Tarzan of the Apes The plot follows the novel... MORE&nbsp> $13.95 Regularly $12.99 Buy Now
NOTES
DVDs from TCM Shop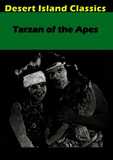 Tarzan of the Apes The plot follows the novel... MORE&nbsp> $13.95
Regularly $12.99 buy now
The novel first appeared in All-Story Weekly, October 1912. It was also serialized in several newspapers. The rights to the book were purchased by National Film Corp. of America early in 1917, and William E. Wing was hired to write the scenario and assist in the proposed twelve reel production. Pre-production news items list Gilbert Warrenton as the head photographer and Ted Bevis as the technical director. Wing, Warrenton and Bevis were not credited when the film was released. National took over the Oz studios in Hollywood, and also used the E. & R. Jungle studio in Los Angeles where technical director Martin J. Doner shot scenes using lions from E. & R. and the David Horsely collections. Many of the jungle scenes were filmed in Louisiana and, as noted by New York Times, Brazil.
When the film opened at the Broadway Theatre in New York on January 27, 1918, it was ten reels in length, but it was later cut to eight reels. Modern sources credit Lois Weber and Fred Miller with the scenario. The sequel to the film, The Romance of Tarzan, was released in October 1918 (see AFI Catalog of Feature Films, 1911-20).
Among the many films based on Edgar Rice Burroughs' novel or characters from the novel are: the 1932 M-G-M production Tarzan, the Ape Man, starring Johnny Weissmuller and directed by W. S. Van Dyke (see AFI Catalog of Feature Films, 1931-40); the 1959 M-G-M film Tarzan, the Ape Man, starring Dennis Miller and directed by Joseph M. Newman; and the 1984 Warner Bros. release Greystoke: The Legend of Tarzan, Lord of the Apes, starring Christopher Lambert and directed by Hugh Hudson.