DVDs from TCM Shop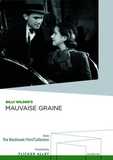 Mauvaise Graine MORE&nbsp> $17.56 Regularly $19.95 Buy Now
Home Video Reviews
Fans of Billy Wilder have much to rejoice as we enter a new year. Not only is there an excellent new book available on the inimitable writer-director -
Nobody's Perfect: Billy Wilder, a Personal Biography
by Charlotte Chandler (Simon & Schuster) - but noted film archivist David Shepard has restored Wilder's first directorial effort,
Mauvaise Graine
(1934), which is currently available on DVD from Image Entertainment, a distributor for The Blackhawk Films Collection.
Although Wilder shares the directing duties with Alexander Esway on
Mauvaise Graine
, you can sense the former's wry personality imprinted all over the tone and style of the film which is a gleefully cynical boulevard farce. Charting the downward spiral of a wealthy doctor's spoiled son, the film follows the aimless young man - Henry Pasquier (Pierre Mingand) - after his father cuts off his allowance. Henry soon falls in with a gang of Parisian car thieves and becomes quite adept at his new trade. Along the way he befriends Jean (Raymond Galle), the youngest member of the gang, and falls in love with Jean's sister, Jeannette (Danielle Darrieux), who serves as the gang's sole female operative, luring wealthy men away from their luxury vehicles so the gang can steal them. Despite the lighthearted mood of the picture,
Mauvaise Graine
has a darker side which begins to emerge when Henry clashes with the gang leader (Michel Duran) over money matters, a confrontation which results in a plot to kill off Henry in a staged car accident. In the film's finale, Henry finds himself on the lam from the police with Jeannette at his side, speeding through the French countryside in a booby-trapped vehicle.
In spite of some obvious print damage and signs of wear and tear on a film of this vintage,
Mauvaise Graine
looks as fresh and as spontaneous today as when it was first made. The editing, the freewheeling cinematography, and the use of outdoor locations reflect a playfulness and sense of improvisation that most studio-produced films of that era lacked. In fact, it's easy to see
Mauvaise Graine
as a model for the French New Wave films of the sixties, particularly Jean-Luc Godard's
(1960) which seemed to imitate this film's use of jump cuts, ellipses and shaky camera movements. The film's visual celebration of Paris alone is reason enough to see the film; you get a whirlwind tour of the city's parks, its broad avenues and narrow side streets, the cafes and the rustic countryside. Of course, it's a Paris that no longer exists except in literature and this film which captures the city's eternal allure.

Shot in France during Wilder's migration from Germany to the United States, Mauvaise Graine was scripted by Wilder and two friends of his from Berlin, Jan Lustig and Max Kolpe. "According to Wilder," in Ed Sikov's biography, The Life and Times of Billy Wilder, "not only did they have to improvise much of the filming, but "for lack of money we couldn't use rear projections - the camera and the projectors were placed on a truck and it was rather dangerous." Yet, "as much as Wilder himself claimed to have detested the overwhelming responsibilities of directing it, Mauvaise Graine is the work of a visual stylist, not a wordsmith." His distinctive ear for sharp, witty dialogue would emerge later in satires like Ninotchka and Midnight, both 1939.

The DVD of Mauvaise Graine is available in French with optional English subtitles and includes the bonus film, La Joie de Vivre, a 1934 animated short by Hector Hoppin and Anthony Gross. The eleven-minute narrative follows two female dancers, one blonde, one brunette, through a variety of imaginative settings as they are relentlessly pursued by a mysterious man on a bicycle. For more information about Mauvaise Graine, visit Image Entertainment. To purchase Mauvaise Graine, visit TCM's online store.

by Jeff Stafford