DVDs from TCM Shop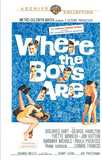 Where the Boys Are College coeds go looking for... MORE&nbsp> $15.96 Regularly $19.99 Buy Now
USER REVIEWS
See Detailed Ratings
Acting of Lead Performers

Acting of Supporting Cast

Director

Music Score

Title Sequence

Screenplay

Cinematography

Historical Importance

Would You Recommend?

0 Member Ratings
Rate the acting of the Lead Performers

Rate the acting of the Supporting Cast

Rate the Director

Rating of the Music Score

Rating of the Title Sequence

Screenplay

Creatively uses the camera to tell the story

Importance in Cinema history

Would you recommend for fans of this genre
Submit Ratings
Cancel
Write a Review
Read Reviews
NO REVIEWS AVAILABLE
The title has not been reviewed. Be the first to write a review by clicking here to start.
my heart is all about twitter on this..

I do not know about this story..would rather hear about social darlings..ryan lee Harvey Oswald the rabbit Reynolds and his wife blake lively aka ..madame bull ovaries. bet their adventures on spring break would be quite a story for a movie..via twitter.

Love This Gem

Where the Boys Are is a movie I grew up with back in the 60's. I was born and raised in an Italian family and in the same City as Connie Francis...Newark, N.J. so seeing her and hearing her sing the title tune is a real treat for me. I'm very proud of her in this film and I love the other gals as well. Dolores Hart & Paul Prentiss are smart and attractive actresses who play their characters to the max. This movie is probably the reason why I love Ft. Lauderdale so much and hope to live their in my golden years...! No profanity used but the movie gets it's point across about youthful premarital sexual attitudes in the early 60's...smart and funny...!

Where The Boys Are

An ultimate spring break movie with kids from the north flocking to Fort Lauderdale,Florida. Police are expected to expect everything in terms of good and bad but to give the college kids a break mostly applies. Here we have Dolores Hart, Connie Francis, Paula Prentis coming down from a northern university to see more of the Sun for a week. They meet up with George Hamilton, Frank Gorshin, and Jim Hutton. This storyline has been played out in other movies but they still did it better here. Boy meets girl, boy loses girl, then boy has to get through some face-to-face stuff to get girl. With all their partying the gang from "Where The Boys Are" still win in the end.

where the boys are

I've spent way too much time debating who is hotter, Connie Francis or Anette Funicello? Also, director Henry Levin is one of the more under appreciated schlockmeisters of Hollywood. The guy's easily as good as, say, Frank Tashlin, whom the French so admire.

Different world

Oh, what a different world that was, in the 60's. The foolish excesses, experimentation, and the feelings that somehow, we were immortal were similar, yet different. There was more of a nieve feeling back then. We felt so adult, drinking beer, smoking cigarettes, and experimenting sexually. Yet, with all that, there was still a conscience, with a sense of right and wrong. I am 70 now. What a different world we live in now. This film takes me back to those long gone days of the 60's. I enjoy this film every time you air it. Thank you, TCM. Yours is the best program (nearly all thie time) in all of TV.

Sign of the Times

Sign of the times...girls wanting to marry anyone, just anyone and no arrests for the rape. Thank goodness, today we know that we validate ourselves.

Movie's sexism

While an enjoyable movie, the movie's attitude toward Melanie's rape, ie, "she asked for it" because of her promiscuity is definitely outdated and offensive.

My Generation

Hard to believe, but my two buddies and I went to Daytona Beach in 1961, This film easily could be a snapshot of our generation at play. Not a great film, but did have some of the major stars of the day, including Connie Frances. Not the best singer in our time, but compared to what we have today, she's a Diva. There was sex in high jinx. The current generation would not be here to carry on the way they now do, if their parents or grandparents did not have the fun that scandalized our parents, the " greatest generation". When I see the conduct today, I am sad to think when will ti stop? Our films, literature, even the ads on TV would not be main stream as they are now. The millennials should compare this film to today. It shows we had the same youthful desires. But we kept them within norms. I am not able to watch most films of today with my grandchildren. On the other hand, I am not uncomfortable watching films such as where the Boys Are with my grandchildren.V

Mad Men Meets My Mom?

This film may be one of the main reasons I went to college.....I was dazzled by the hip and hilarious hijinks of Spring Breakers. I mean academics may be important to one kind of person, but I was more intrigued by the idea of bubble-brained mermaids, poolside lounge chairs, and convertibles. Naturally, my Florida college daze did not compare to Hollywood's fantasy of sex-starved ivy leaguers, and husband-hunting coeds. I did persuade the film club to screen "Where the Boys Are" as a Spring Break appetizer, and most agreed those 1960's college kids (our parents?) were as diverse as a D.A.R. fundraiser. The film does, however, capture a certain wacky zeitgeist that we've come to expect from the early 60's young adult scene. To its credit, though, the Tuesday Weld story has become exceptionally relevant to today's headlines. The more things change, they say, the more they stay the same. Delores Hart did not permit George Hamilton to dissuade her from her ultimate calling, and that, in itself, speaks volumes about the value of sunscreen and a good rosary.

One of my stranded on a desert island movies

OK, its corny and very dated, but it is one movie I have to watch at least once a year. I love Dolores Hart in this and Paula Prentice with Jim Hutton are a funny, sappy duo. Come on, after the long cold winter, watching this movie every April brings back the 50's innocence at the beach, steamrolling into the 60's love, sex rock and roll era. Also Merritt Andrews breaking into being an independent women, but showing its also OK to find your soul mate along the way.

Good picture

Love this movie. I remember the days of yore in Lauderdale before I became a priest- the harmless antics of adolescence like jumping into the pool from the motel balcony and getting loaded.

Good film

Love this film. When I look at the beautiful sunrises over the Atlantic ocean while staying in Lauderdale sipping my Shirley Temple I think of this movie

Good film

I loved the film. It is hilarious. I had a condo on the beach in Fort Lauderdale and I always remember the movie when I come down to Florida and stay in my million dollar place overlooking the beautiful blue waters.....

Best movie

Where the Boys Are has some good acting and I love the title song. The young man that goes into the tank to rescue the mermaid is very funny/ I laughed outloud.... I live near Fort Lauderdale and I think that this film is very complimentary of the Florida city.... George Hamilton is young and handsome and Connie Francis makes an excellent debut... a fun movie....

where the boys are

love, love, love this movie, it was my time then, the 1984 one is nothing compaired to the 1960 one. will watch it again on nov. 13.

Response To olivia 5/28/12

A) No, Richard Benjamin was not in WTBA. Paula Prentiss did meet Richard Benjamin while studying Drama at Northwestern in 1958. Prentiss and actor/director, Richard Benjamin, wed on October 26, 1961.B) No, that is not Timothy Hutton. Jim Hutton, the actor in WTBA, was the father of Timothy Hutton. Timothy Hutton won the Oscar for Best Actor for his work in the 1980 film: Ordinary People. Timothy would marry actress Debra Winger. Jim would succumb to cancer in 1979.In Jim Hutton's early career, he was romantically paired with Paula Prentiss in 4 consecutive films: Where the Boys Are; The Honeymoon Machine; Bachelor in Paradise and The Horizontal Lieutenant.

Still A good Movie

I'm A BIG fan of "Where the Boys Are '84:(1984) Lisa Hartman, Lorna Luft(Judy Garland's Daughter), Wendy Schaal, Lynn-Holly Johnson, Russell Todd, Christopher McDonald, Alana Stewart But it's alot more racy!!! then this verion Of" Where the boys are (1960) BUT It was just the times ( I was a in college in the 84 And believe me, it was LIKE that down there) BUT 1960 verion is STILL A GREAT Movie....... Where the boys are "84" verion was hard to came by " something to do with copy rights" But you can now buy It on DVD @ amazon.com

aching hearts and plenty of hormones

Loved the movie! Paula prentis was great and wasn't her husband, Richard Benjamen in the film?Also, I think that "Jim" Hutton was actually " Timothy Hutton....too good of an actor to miss his name.loved Connie Stevens singing and acting.

Memories...

Boy, does this film bring back my Jr. College spring breaks. Ours were spent at the Gulf beaches of Florida. Lots less people, no fancy bars or clubs. But, lots of beer and more; lots of dancing, and yes, making -out. All of this at small "beach bars" and peoples' houses. Yes, this film is a pretty accurate example of those transitional times that were, "the 60's". A great film. Thank you, TCM, for the treat.

The "teen" movie comes into its own.

It's anthemic title song aside, this movie has earned instant name recognition on its own. As the decade was turning from the 1950's to the 1960's, so was the emphasis for teen films turning from "bad", troubled kids in the kind of film meant to reassure adults that their standards still held, to a more easy-going celebration of youth culture that fully intended to sidestep, if not subvert those standards. There isn't a high school Caesar or reform school girl in sight and this movie inaugurated the new decade with a new teen prototype and as fresh-faced a cast of newcomers as such a movie could hope for. The college classroom discussion of "contemporary" sexual habits offers little other than a few token buzzwords, but it sets up the context for the real-life relationships which unfold as the movie progresses and allows us to view their behavior in terms which aren't simply moralistic. It's this new willingness..insistence, actually..in viewing these relationships as a path to self-discovery and not the road to hell which allows the film to claim the moral high road at the same time as it checks out the low road. By modern standards, it no longer seems even particularly titillating, let alone ground-breaking, but make no mistake. It was an important minor step in a decade-long look at sexual politics and these three pre-feminist women introduced some of the same discussion points which weightier thinkers would struggle with in the years to come. Plus, the movie is fun and fresh and multi-faceted in ways which later films like the Beach Party movies tried to exploit but never really came close to approximating. These days it certainly has to be looked at as an historical artifact but, personally, I still get the same sense of exhileration I got over fifty years ago when I first saw this. It's a lightweight movie which left a big footprint on its era.

SUPERB COLLEGE MOVIE FOR COLLEGE STUDENTS

"Where The Boys Are" is one of the finest MGM musicals that was ever made about college students and their fun in the sun. All the actors in the movie are at their best: Dolores Hart, Paula Prentiss, Connie Francis, Jim Hutton, Yvette Mimieux, George Hamilton, and Barbara Nichols. Moviegoers, especially college students, will find this movie quite entertaining and mostly clean fun. I wish more of the movies that are made today would go back to those "good ole day" when movies made all of us feel better about who we are.

Kitschy but great!

This movie is pretty cliched for 2009 but so what??? It's still one of my favorites and I go back to it again and again. It is a fun and happy movie, but graphically (for the '60's, at least)warned of the dangers of sexual immorality and the benefits of being as Tuggle put it, a "good girl." Wish Hollywood would shout that out these days. This movie was a favorite of my 27 year old daughter during her tween years, and if she hasn't bought it already, I think at $16.99 it will be a great Christmas gift. This movie is one of my all time favorites. Connie Francis' singing talents were really showcased here as well.

Good Ole College Days

This is a nice, clean movie about when College spring break was a bunch of beer drinking, girl chasing boys after nice clean cut girls.
*We protect your personal infortmation and will not provide it to anyone without your consent. For a complete explanation, please refer to TCM's Privacy Policy. By submitting your contribution, you agree to TCM's Terms of Use.