DVDs from TCM Shop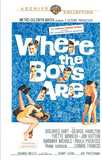 Where the Boys Are College coeds go looking for... MORE&nbsp> $15.96 Regularly $19.99 Buy Now
Home Video Reviews
Where the Boys Are
, the 1960 teen culture classic about Fort Lauderdale-bound college Spring vacationers, has spawned many imitators and even a 1984 remake, but has never been equaled in its exuberant display of college students having fun in the Florida sun. Nothing just happens by accident, and the reasons for the 40-year plus longevity of this favorite - now on DVD from Warners Video - can be at least partially attributed to the talent in front of and behind the cameras.
First off, producer Joe Pasternak (1901-1991) was no slouch when it came to concocting teenage fare - having made his mark early on at Universal with the Deanna Durbin smash hits
Three Smart Girls
(1936) and
One Hundred Men and a Girl
, released the following year.
The versatile cast of
Where the Boys Are
now reads like a 'who's who' of sixties icons. To start with there's male lead George Hamilton who seems to have modeled his off and on-screen personae of the always suntanned millionaire playboy on this movie while his beautiful co-star Dolores Hart can lay claim to starring opposite Elvis Presley in two Paramount back-to-back successes,
Loving You
(1957) and
King Creole
(1958). Was that the reason she left acting for the Benedictine order, where she is now known as Mother Dolores?
Then there's Yvette Mimieux, the picture's loose cannon, who comes close to stealing the picture with her disturbing, self-destructive behavior with a group of drunken men. And let's not forget Connie Francis, whose rendition of the theme song stayed on the top ten charts for weeks and remains a standard in her repertoire today.
Unquestionably, the two major finds of the film are the unofficial romantic team of Jim Hutton and Paula Prentiss. Hutton, discovered by director Douglas Sirk while still in the service, made his debut in the director's 1958 war drama,
A Time to Love and a Time to Die
. A great light comedian, Hutton's height (well over six feet) matched him perfectly with Prentiss, a marvelous underrated comedienne who was also tall and thin and always brought a deft combination of brainy yet kooky sexiness to her many roles. It was her performance in movies like this one which caught director Howard Hawks' eye - and assured her the female lead in his overlooked 1964 gem,
Man's Favorite Sport?
. Hutton and Prentiss' chemistry worked so well that MGM, in quick succession, cast them in four other comedies,
Bachelor in Paradise
(1961),
The Honeymoon Machine
(1961),
The Horizontal Lieutenant
(1962) and
Looking For Love
(1964). Other faces to look for: a pre-Riddler Frank Gorshin as a near-sighted jazz musician, Chill Wills as the local sheriff and Sean Flynn, Errol's son, as one of the throngs of swinging collegians.
Premiering at New York's prestigious Radio City Music Hall,
Where the Boys Are
performed remarkably well - doing even better once it opened wide across the country. Why it endures is probably something that can be debated on both sides of the cultural coin, but perhaps
Time Magazine
said it best in their review when they pegged it as "...one of those pictures every intelligent moviegoer will loathe himself for liking - a corny, phony, raucous outburst of fraternity humor, sorority sex talk and house-mother homilies that nevertheless warms two hours of winter with a travel-poster panorama of fresh young faces, firm young bodies and good old Florida sunshine..."
The Warner Video DVD release of
Where the Boys Are
has been given a sparkling transfer; the colors are vibrant and the audio is crystal clear. You can throw away your old pan-and-scan VHS copy now. Best of all is the commentary track by Paula Prentiss which is a warm and intimate recollection of the film's shoot. Not only does she share fond memories of her co-stars but Prentiss also discusses her own Hollywood career and how she was "discovered." Her delightful sense of humor - always one of her best on-screen attributes - is still intact and among the anecdotes she relates is a visit to see co-star Dolores Hart at her convent in Connecticut (Ms. Hart retired from films in 1963 to become a nun). The other extras include a short featurette, "Where the Boys Are: A Retrospective," newsreel footage of the Fort Lauderdale premiere and the original theatrical trailer.
For more information about
Where the Boys Are
, visit
Warner Video
. To order
Where the Boys Are
, go to
TCM Shopping
.
by Mel Neuhaus