DVDs from TCM Shop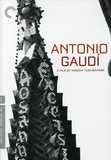 Antonio Gaudi The camera explores the... MORE&nbsp> $29.95 Regularly $39.95 Buy Now
Home Video Reviews
In 1959, the young painter and fledgling filmmaker Hiroshi Teshigahara accompanied his father, the avant-garde artist and sculptor and master of ikebana (flower arranging) Sofu Teshigahara, on a trip to New York and Spain with his father's disciples. He had seen photos of Gaudi's work, but actually visiting the physical constructs in Barcelona was overwhelming: "I was thus totally unprepared for the intense shock of my encounter with his architecture," he told producer Noriko Nomura in 1986. He took a 16mm camera and visited every Gaudi site. The footage was edited into a silent 19-minute film,
Gaudí, Catalunya
(1959), an impressionist survey of his work through the curving lines and organic shapes of his buildings.
Twenty-five years later, after Teshigahara had established himself as one of Japan's most adventurous filmmakers (his films include
Woman in the Dunes
) and then put down the camera to pursue other artistic avenues, he returned with a film crew to shoot a feature film (his first in twelve years) exploring Gaudi's work.
Antonio Gaudi
(1984) is not a documentary in any conventional sense. There is no profile of the life and education of the artist, no identifying titles of the buildings, no explanatory narrator, and (apart from a few comments in one scene) a single, brief interview about his final work. It is a portrait of the artist, from the admiring perspective of a fellow artist, as seen solely through his art.
Antonio Gaudi
begins with a quick yet calm introduction to Barcelona, its street life, its city style, and the rigid, formal lines of its traditional buildings. In the midst of this architectural conformity, Teshigahara gives us our first glimpse of Gaudi's work with the apartment building Casa Battlo. Squeezed into Barcelona's famous Illa de la Discòrdia ("Block of Discord") next to Josep Puig i Cadafalch's modernist Casa Amatller, Gaudi's building looks like it's trying to squeeze back out, its walls rippling in the effort, its roof arching, the lines of the balconies bending and curving. Next to the straight lines and sharp corners of its neighbors, Casa Battlo looks alive, but it's barely a shrub next to the full flowering of undulating lines and organic curves of Casa Mila, also known as La Pedrara (The Quarry). As much sculpture as architecture, this building (one of Gaudi's most famous) looks like it was (in Teshigahara's words) "sculpted out of rock by water. All the fluid curves were connected by organic lines. This was architecture imbued with life, warm and insulating." It is here that the film really begins to pick out the astonishing details found carved into the façade and out of the walls and ceilings of the interior. These designs look more like bones and tree roots and spiral and bubbles than traditional architectural lines and arches.
The tour continues through the other great Gaudi works of the city of Barcelona, including Bellesguard, the otherworldly Guell Colony Crypt, and Park Guell, an astounding vision that looks like the recovered ruin of an ancient playground for fairy folk. The organic and the natural is a part of all Gaudi designs, but here his stonework was built to complement and co-exist with the plants and trees, alive in its own way.
The final section is dedicated to Gaudi's final, unfinished work: Sagrada Familia, a magnificent cathedral like no cathedral before or since. From afar, it looks like the tendrils of a plant growing out of the uniformity of modern Barcelona, and Teshigahara's decision to first view it from a distance may have been inspired by his first glimpse of it in his 1959 trip to Barcelona: "as we drove toward Barcelona... the four gleaming spires of the Sagrada Familia rising out of those reddish surroundings came at me with thrilling immediacy." We are brought closer and closer, revealing the myriad intricacies of the outer walls and the spires, the statues that fill the façade, the designs carved out of every surface, the living texture of the building. And then Teshigahara brings in a commentator, former Gaudi assistant Isidre Puig-Boada, to tell us of Gaudi's death and the efforts of his disciples to reconstruct his original model (it was, along with all of his models, destroyed in the Spanish Civil War) and continue his dream. As of 2008, construction continues, and will continue for decades.
The unusual decision to eschew narration and commentary, to show the work without historical context or biographical structure, gives us a different kind of insight to the work. More than simply a filmmaker, Teshigahara had a long career as a multidisciplinary artist and according to his colleague, architect Arata Isozaki, his work was highly influenced by Gaudi's use of natural shapes and organic lines. In the film, he makes the point simply by surveying the architecture around Gaudi's Barcelona buildings and the natural landscape of Catalonia, Gaudi's home. There is no direct comparison or contrast, simply a view of the worlds in which Gaudi lived and drew inspiration.
Criterion's new two-disc edition includes Teshigahara's first Gaudi survey, the 1959 short
Gaudí, Catalunya
, and it's instructive to see just how many of those initial images show up again in his 1984 film. What's different is the visual flow. By 1984, Teshigahara no longer feels the need for insistent editing and dramatic contrasts. His camera captures Gaudi's rippling organic lines and intricate details with striking angles and revealing variations of close-ups and long shots, all shot in with a camera that drinks in the imagery in still shots and flowing movements and edited into a gentle rhythm. And Teshigahara is careful to include of people working, playing and living within his structures, a reminder that for all their astounding beauty, Gaudi designed these dwellings and public spaces for human habitation. The music by famed composer and long-time Teshigahara collaborator, Toru Takemitsu, combines eerie soundscapes of electronics, percussion and strings (I think I can even pick out a glass harp) with more traditional classical music compositions, slipping from one style to another to fit Teshigahara's mood.
I recall minimal titles an earlier video release of the film, but in this Criterion edition none of these buildings (save Sagrada Familia) are identified, either on the soundtrack or by subtitles. (You can pick them out from the chapter listing in the booklet, if you have the tenacity and the ability to see the chapter numbers on your DVD player.) However, it does include two more traditional British documentaries on Gaudi and his work: a 15-minute B&W film essay made by Ken Russell in 1961 for the TV series
Monitor
and the one-hour
God's Architect
, made as part of the BBC series
Visions of Space
. These works are much more conventional, providing historical background on Gaudi and on the buildings themselves and putting the work in the kind of narrative we are used to, and make perfect companion pieces to Teshigahara's impressionistic study.
The DVD also features Gaudi's 1963 short film
Vita: Sculptures by Sofu
, a beautiful survey of his father's sculptures, and a new video interview with architect Arata Isozaki, recorded in 2006 for this DVD. The accompanying booklet includes a new essay by art critic Dore Ashton, Hiroshi Teshigahara's remembrance of his first trip to Barcelona (excerpted from a book by his producer, Noriko Nomura) and a round-table discussion with Sofu and Hiroshi Teshigahara and others discussing the 1959 trip.
For more information about
Antonio Gaudi
, visit
The Criterion Collection
.
by Sean Axmaker
Sometimes a picture is worth far more than a thousand words. Hiroshi Teshigahara's
Antonio Gaudi
, which is available on DVD from Image Entertainment (a distributor for Milestone Film and Video), is a haunting look at the works of a Spanish architect whose surrealist bent was a great inspiration to such later geniuses as Pablo Picasso and Salvador Dali. Obviously intoxicated by the serpentine power of Gaudi's vision, Teshigahara presents the film with virtually no narration. Subtitles tell you what building you're looking at, then you're expected to let your subconscious do the talking.
The structures are mind-boggling amalgamations of Medieval influences, rising spires, and what Gaudi referred to as "the great book of nature." Barcelona's Temple of Expiation is a particularly wondrous achievement. It seems likely that H.R. Giger, who created the production design for
Alien
, is also a Gaudi fan. Gaudi's buildings have an almost biological, sensual bent to them that can also be found in Giger's work. You simply have to see these buildings to believe them, and Teshigahara, who's best known for directing the Oscar-nominated
Woman in the Dunes
, gives you the chance to do exactly that.
He doesn't, however, leave you completely hanging. A continuous Toru Takemitsu score bolsters the images with rising and falling melodies that are almost as ethereal as Gaudi's structures. Regardless of your attitude toward outre architecture this can be a fascinating experience. The non-narrative format places
Antonio Gaudi
well beyond the realm of most motion pictures, and that includes documentaries. You certainly won't get very far comparing it to
The Fountainhead
, although Ayn Rand's obsessively individualistic lead character could probably have a passionate conversation with Gaudi. This is
The Fountainhead
by way of an opium dream.
Perhaps
Antonio Gaudi
's most obvious precursor is Godfrey Reggio's
Koyaanisqatsi
, which uses brilliantly photographed images of technological insanity to suggest a thesis about mankind's imminent collapse. Teshigahara's far more uplifting point could be that human beings - or, at least, this particular human being - can transform the labyrinths of their minds into works of startling beauty and wonder. So why not celebrate Gaudi's strangely erotic poetry while we can?
There are no bonuses on Image's disc, just a sharp, colorful print of a movie that very much requires one.
For more information about
Antonio Gaudi
, visit
Image Entertainment
. To order
Antonio Gaudi
, go to
TCM Shopping
.
by Paul Tatara