DVDs from TCM Shop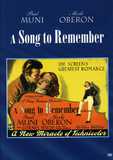 A Song to Remember The famed composer Chopin... MORE&nbsp> $17.95 Regularly $20.95 Buy Now
NOTES
DVDs from TCM Shop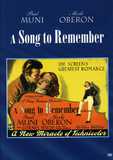 A Song to Remember The famed composer Chopin... MORE&nbsp> $17.95
Regularly $20.95 buy now
The working titles of this picture were The Song That Lived Forever, At Night We Dream, Chopin, The Love of Madame Sand and Forever and Ever. Several reviews charged the film with being "perversely inaccurate in depicting Chopin's life." In reality, Chopin (1810-1849) was the progeny of a Polish mother of noble birth and a French-born salesman father, and not the offspring of Polish peasants as the film depicts. Chopin's first published work appeared when he was fifteen years old and by the time he graduated from the lyceum at seventeen, he was recognized as a talented composer and the leading pianist of Warsaw. Chopin had performed two successful concerts in Vienna before deciding to leave for Warsaw after the city was placed under harsh Russian military rule. Consequently, Chopin arrived in Paris as an acclaimed pianist rather than the unrecognized student of Joseph Elsner as presented in the film.
Although onscreen credits state that the screenplay was adapted from a story by Ernst Marischka, a letter contained in film's production files at the AMPAS Library, written by the assistant secretary of the Screen Writer's Guild, claims that "the information submitted to the guild indicates the story was derived from a French picture about Frdric Chopin that was screened years earlier in Europe but never released in the United States." This claim has not been substantiated, however. Although a 1927 French film titled La Valse depicted the life of George Sand and Chopin, it is not known if that is the film referred to by the Guild's letter. A modern source claims that the film was derived from the book Polonaise by Doris Leslie. Although the Variety review credits Lodge Cunningham as music director, Cunningham actually served as sound director on the film.
Plans for the project were announced as early as 1938. According to a January 1938 news item in Hollywood Reporter, Frank Capra was initially slated to direct this picture. Hollywood Reporter news items note that in March 1946, Capra sued Columbia for a share of the film's profits, claiming that he had prepared the story for the studio and therefore was entitled to a 25% return. In September 1946, a judge ruled in Capra's favor by denying a motion made by the studio to dismiss Capra's complaint. In October 1938, Marlene Dietrich was announced in Hollywood Reporter for the role of "Georges Sand." A Hollywood Reporter production chart adds Joan Frank to the cast, but her appearance in the released film has not been confirmed. Although Gene Havlick is listed in a Hollywood Reporter production chart as editor, Charles Nelson is credited onscreen in that capacity. According to a news item in Time, Jos Iturbi, the renowned concert pianist who dubbed Cornel Wilde's playing, could not be officially credited on the film because he was under contract to M-G-M. In a Saturday Evening Post interview, Wilde stated that concert pianist Victor Allen tutored him for four months so that he could play the piano silently on the set. According to a February 1945 article in Down Beat, the hands of pianist Shura Cherkassky were substituted for those of Wilde in the scenes where only Wilde's hands were shown playing at the keyboard. The music however, was played by Iturbi. Wilde, who was borrowed from Twentieth Century-Fox to appear in this picture, claimed that Columbia initially opposed casting him as "Chopin" because the studio felt he was too athletic for the part.
A Song to Remember was producer Louis Edelman's last picture for Columbia. It also marked the screen debut of Darren McGavin (1922-2006). To promote the film, the studio established a "George Sand Memorial Talent Search." This picture was sold on a percentage basis separate from Columbia's regular program, marking the first time that this practice was instituted by the studio, according to a Hollywood Reporter news item . The film was nominated for an Academy Award for Best Actor, Best Color Cinematography, Best Original Story, Best Sound Recording, Best Film Editing and Best Score. Other films based on the lives of Sand, Chopin and Franz Liszt include the 1960 film Song Without End, starring Patricia Morison and Dirk Bogarde and directed by Charles Vidor and George Cukor; the 1975 BBC television series Notorious Woman, starring Rosemary Harris; and the 1991 film Impromptu, directed by James Lapine and starring Hugh Grant, Judy Davis, Bernadette Peters and Mandy Patinkin.