DVDs from TCM Shop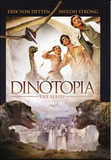 Dinotopia Miniseries based on the first... MORE&nbsp> $11.21 Regularly $14.98 Buy Now blu-ray
OVERVIEW
DVDs from TCM Shop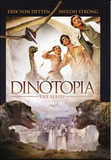 Dinotopia Miniseries based on the first... MORE&nbsp> $11.21
Regularly $14.98 buy now
Brief Synopsis
Miniseries based on the first two "Dinotopia" books by James Gurney. Frank Scott, a wealthy American, crashes his plane into the Caribbean. He appears to perish, but his two troubled sons, Karl and David, survive and wind up on a fantastic lost continent where humans and dinosaurs happily co-exist.
Dinotopia is a complex but peaceful world built on long-established principles of mutual cooperation and respect between its inhabitants. Karl and David are introduced to this incredible civilization by the beautiful Marion, daughter of the Mayor of Waterfall City, the capital of Dinotopia. Most of the dinosaurs are benevolent creatures: the Brachiosaurus is a creature of labor, whose size and passive nature makes it ideal for toiling the land and providing public transport; the Stenosaurus is highly intelligent and suited to desk jobs, while the bird-like Pterosaur, with its 30-feet wing span, is also known as Skybox, Dinotopia's very own air force.
Not all the dinosaurs are benign: dangerous carnivores, such as Tyrannosaurus Rex and the gigantic crocodile-like Mosasaur are a constant threat. Dinotopia is also home to a number of human rogues such as Cyrus Crabb; they are descended from pirates and live as outlaws, flouting the Dinotopian codes and refusing to respect the dinosaurs, to whom they refer as "Scaleys."
Karl and David arrive at a critical moment in the history of the lost continent. The very life force of Dinotopia, its sun stones, are mysteriously failing, allowing dark and dangerous forces to threaten its harmonious civilization. Unwillingly and unwittingly, Karl and David become involved in the battle to save Dinotopia from destruction. They are helped in their mission by the well-meaning Zippo, an academic Stenosaurus, who speaks 17 human and Saurian languages. Neither Karl nor David takes kindly to the program of education which Marion has in store for them. Their primary interest in Dinotopia is, undoubtedly, the beautiful Marion herself, and both brothers fall hopelessly in love with her. Karl and David must overcome their personal prejudices, hang-ups and differences if they are to survive in this extraordinary world and become true Dinotopians.
Cast & Crew
SEE ALL CAST AND CREW
Additional Details
MPAA Ratings:
Premiere Info:
Release Date:
2002
Production Date:
Color/B&W:
Distributions Co:
Sound:
Production Co:
.....Production Company, Sonar Entertainment .....Production Company, Jim Henson's Creature Shop .....Production Company, Pinewood Studios, Ltd. .....Production Company, ABC Entertainment Group .....Network
Duration(mins):
Country:
Germany (DE)
Duration(feet):
Duration(reels):