DVDs from TCM Shop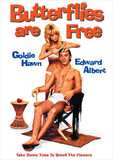 Butterflies Are Free A blind man trying to escape... MORE&nbsp> $7.84 Regularly $9.98 Buy Now
NOTES
Butterflies Are Free was based on Leonard Gershe's play by the same title, which was directed by Milton Katselas, who also directed the film. The play opened in New York on October 21, 1969 and closed July 2, 1972, only a few days before the movie opened. According to a October 28, 1969 Hollywood Reporter news item, George Englund was, at that time, interested in the purchasing the film rights to the play and wanted Eileen Heckart and Keir Dullea to reprise their roles. However, on June 19, 1970 Hollywood Reporter reported that producer M. J. Frankovich had bought the rights for a Columbia release. Heckart and Michael Glaser reprised their roles for the film. Blythe Danner co-starred with Dullea in the Broadway production of the play. Although the play was based on life in New York City's Greenwich Village, the film was set in San Francisco, CA, where location shooting took place.
The title was taken from a line in Charles Dickens' novel Bleak House. In the film, both Goldie Hawn as "Jill Tanner" and Edward Albert as "Don Baker" quote from Bleak House in an effort to explain their need for independence: "I only ask to be free. The butterflies are free. Mankind will surely not deny to Harold Skimpole what it concedes to the butterflies."
Gershe was inspired to write the play when he heard a radio show interview with Harold Krents, a blind Harvard Law School graduate who gained public attention after making witty remarks about being mistakenly drafted. According to a October 4, 1971 LAHExam article, Krents became completely blind at nine years of age and later became a lawyer and advocate for the disabled. He served as a technical advisor on the movie and, soon after, published an autobiography, To Race the Wind, which was made into a television movie under the same title in 1980.
Although the onscreen credit for Albert (1951-2006) reads "And Introducing," the actor, son of actors Margo and Eddie Albert, made his film debut in the 1965 film The Fool Killers. A modern source adds Debralee Scott to the cast.
Heckart won the Oscar for Best Actress in a Supporting Role. The film was also nominated for Academy Awards in Cinematography (Charles B. Lang) and Sound (Arthur Piantadosi and Charles Knight). In 2002 Columbia Pictures announced plans to make a television remake of Butteflies Are Free to star Rebecca Romijn. In 2003, the company again announced a remake of the story, this time a feature starring Tori Spelling; however, neither project came to fruition.