DVDs from TCM Shop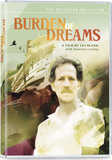 Burden of Dreams Director Werner Herzog combats... MORE&nbsp> $22.95 Regularly $29.95 Buy Now
Home Video Reviews
Burden of Dreams
(1982), now available on DVD from Criterion, chronicles the production of Werner Herzog's
Fitzcarraldo
(1982), but it's much more than just a "making-of" film. It's a portrait of an artist whose single-minded and audacious obsession matches that of the character in the film he is making - an obsession which leads both to the seemingly insane act of hauling a 300-ton steamship over a hill.
Burden of Dreams
is also a social commentary, an anthropological document on native South American tribal life, and a travelogue all mixed together. That it covers all these things without feeling superficial or precious is a real testament to filmmakers Les Blank and Maureen Gosling. None of the subjects feels extraneous or tangential to the others, and the overall effect is fascinating and dreamlike.
In a way, the documentary couldn't help but cover so many things, for the making of
Fitzcarraldo
ended up being stretched out to nearly four years when everything that could go wrong pretty much did.
Fitzcarraldo
is the story of a man who dreams of building an opera house in the middle of the rainforest. To finance this dream, he enters the rubber trade, eventually concocting the ship-hauling idea in order to reach a remote river that has untouched rubber trees. A Hollywood studio was interested in making this film with Jack Nicholson, but only if it were done on studio sets and California locations. Herzog rejected the offer, of course, and raised money in Germany to make the film his way.
His original leading man, Jason Robards, left the remote Peruvian location after five weeks due to illness. The film was 40% done, but Herzog had to recast and start over. Meanwhile, Mick Jagger ran into scheduling conflicts and had to depart as well. (Herzog eliminated Jagger's part altogether, though some truly bizarre snippets of Robards and Jagger can be seen in Burden of Dreams.) The notoriously difficult Klaus Kinski then flew to Peru to take on the Robards role and was, as usual, an egotistical terror on the set. Meanwhile, local tribespeople, essential to the making of the film and needed as extras, were warring with each other and involved in conflicts with the government. Some superstitiously believed that the white men were there to torture and eat them, and for a time the film crew's lives were seriously in danger. Also, the rivers were low and one of Herzog's three identical riverboats ran aground. He had a mockup built of a fourth so he could continue filming.
Ultimately, it was Herzog's insistence on shooting in the middle of nowhere and actually hauling a ship over a mountain, in one piece with no special effects, that consumed the most time and raised the most eyebrows. When an engineer declares in
Burden of Dreams
that there is a 70% chance of "catastrophe," in which several villagers could die if the complex system of pulleys and cables snaps apart, Herzog says he'll proceed anyway. The engineer quits in protest. (And Herzog simply hires a new one.)
While Herzog comes off as being rather unconcerned about the enormous dangers of the ship-hauling operation, on the DVD's commentary track he downplays the danger element. It was safer than
Burden of Dreams
made it look, he says, and besides, hauling the ship for real was the most essential aspect of his film. "It looks like an event that occurs only in dreams," he explains, adding that he wanted audiences "to trust their eyes" and "to trust in their own dream."
These kinds of statements by Herzog are all over the movie. "If I abandon this project," he says to the camera at one particularly low point, "I would be a man without dreams. And I don't want to be like that. I live my life or I end my life with this project." Making movies, for Herzog, "is my duty because this might be the inner chronicle of what we are. And we have to articulate ourselves. Otherwise we would be cows in the field." Such verbiage reveals Herzog as pompous and obsessive - but also utterly compelling. We sense just how much is at stake for him personally, and it somehow justifies the utter madness.
The commentary track with Herzog, Blank and Gosling is equally compelling, if a bit bizarre in nature. As Herzog says at one point, "This film is a partial commentary on
Fitzcarraldo
and now that I am commenting on the comment, it is particularly strange." In a new 38-minute interview, Herzog declares mixed feelings about
Burden of Dreams
. He admires the film and the abilities of Blank and Gosling very much, but he would prefer "that it never existed." He feels it reveals too much of the creative process, that sometimes it's better for an audience "to have questions and not answers." Also he finds it embarrassing to watch himself. "Why is it that a farmer who breeds cattle is never undignified?" Herzog asks. "Why is it that every single time I see a filmmaker on camera, it's an embarrassment?" Truthfully, a lot of what makes Herzog look borderline insane in
Burden of Dreams
is not manipulative filmmaking but Herzog's own behavior and words, and it's no surprise that he feels embarrassed. Then again, some viewers will see Herzog not as borderline insane but just as a passionate, visionary artist. Perhaps the two go hand in hand.
Criterion has given
Burden of Dreams
its usual top-quality treatment. The movie has received a digital cleaning, restored and remastered sound, and a hi-def digital transfer. Given the source, it couldn't look or sound better. The extras are generous. Aside from the afore-mentioned commentary track and interview, there are two deleted scenes (including one of Kinski throwing a fantastic, expletive-filled tantrum), a trailer, stills, liner notes, a 77-page book of journals kept by Blank and Gosling, and the 20-minute short film
Werner Herzog Eats His Shoe
. Made by Blank before
Burden of Dreams
, it features Herzog fulfilling a bet he made to Errol Morris. Herzog had told the fledging documentary filmmaker that if he ever finally made a movie, he would eat his shoe. Spurred on, Morris made
Gates of Heaven
(1978), and Herzog indeed ate his shoe. Garlic helped.
For more information about
Burden of Dreams
, visit
the Criterion Collection
. To order
Burden of Dreams
, go to
TCM Shopping
.
by Jeremy Arnold