DVDs from TCM Shop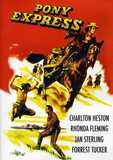 Pony Express Buffalo Bill and Wild Bill... MORE&nbsp> $18.71 Regularly $24.95 Buy Now
NOTES
DVDs from TCM Shop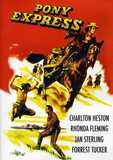 Pony Express Buffalo Bill and Wild Bill... MORE&nbsp> $18.71
Regularly $24.95 buy now
The film concludes with the following quotation by Abraham Lincoln: "A grateful people acknowledges with pride its debt to the riders of the Pony Express. Their unfailing courage, their matchless stamina knitted together the ragged edges of a rising nation. Their achievement can only be equaled....never excelled." As depicted in the film, the Pony Express was inaugurated on April 3, 1860 in an effort to win the government mail contract away from the Butterfield Overland Mail stageline. Funded by the company of Russell, Majors and Waddell, the Express route ran from St. Joseph, MO, to Sacramento, CA. With way stations every ten miles, the route took thirteen days to ride (not ten, as depicted in the film). After the completion of the transcontinental telegraph, the Pony Express became obsolete and was shut down on October 24, 1861, after only eighteen months of service.
At age fourteen, long before he became well known, Buffalo Bill Cody rode for the Pony Express. Wild Bill Hickok, however, did not participate in any way in the service. For more information about Buffalo Bill, see the entry for the 1944 Twentieth Century-Fox release Buffalo Bill in the AFI Catalog of Feature Films, 1941-50. For more information about Wild Bill Hickok, see the entry for the 1937 Paramount release The Plainsman in the AFI Catalog of Feature Films, 1931-40.
According to a May 1952 ParNews item, Wendell Corey was to star in the film. Los Angeles Daily News news items reported that location shooting took place in Dixie, UT, near Kanab, and at other southern Utah sites. Shivwit, Piute, Navajo and Ute Indians were used as extras, according to Los Angeles Daily News. A Hollywood Reporter news item adds Slim Hightower to the cast, but his appearance in the final film has not been confirmed.