DVDs from TCM Shop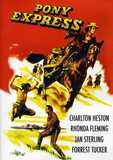 Pony Express Buffalo Bill and Wild Bill... MORE&nbsp> $18.71 Regularly $24.95 Buy Now
Home Video Reviews
As an express mail service bridging the industrializing east with the American frontier to the west (specifically California), the Pony Express lasted but eighteen months, from April 1960 until October 1861, before the advent of the telegraph rendered the horseback utility redundant. To hear Hollywood tell it, however, the Pony Express lasted for years, up to and through the American Civil War. Hollywood tackled the subject at least a dozen times during the silent era (including Edwin S. Porter's
The Pony Express
in 1909), as did the Poverty Row companies who specialized in westerns during the Great Depression. The bigger studios eventually fell in line, with Republic offering
Frontier Pony Express
(1939) as a vehicle for Roy Rogers, Warner Brothers tendering
Pony Express Days
(1940) starring future TV Superman George Reeves as William Frederick Cody (an Express employee, though the real Buffalo Bill was but a teenager at the time) and Columbia offering
Cody of the Pony Express
(1950) starring the more age-appropriate Dickie Moore. Paramount's
Pony Express
(1953) was the first Technicolor take on the subject, with Charlton Heston as Buffalo Bill and Forrest Tucker as Wild Bill Hickock working in common cause to ensure the mail is delivered on time.
Though the screenplay by Charles Marquis Warren (working from an original story by Frank Gruber) plays fast and loose with historical fact,
Pony Express
remains a fairly compelling piece of American frontier storytelling, with Heston's sagebrush savant and Tucker's more citified (and clean-shaven - the real Hickock grew his trademark handlebar moustache to hide a protuberant upper lip that got him branded "Duck Bill" Hickock) gunfighter taking a stand against sibling isolationists Rhonda Fleming and Michael Moore (
Stalag 17
), who want to foil the Pony Express and keep California from siding with the anti-slavery Union. Although directed by Jerry Hopper with a decided lack of urgency,
Pony Express
retains its currency half a century later in depicting a fractious nation torn between the efforts of forward-thinking progressives (including Jan Sterling as a prairie tomboy) and old school obstructionists (personified by dastardly Henry Brandon as a beetle-browed secondary villain and the more Albert Dekker-like Stuart Randall, whose outward show of gentility masks a blackly rapacious soul). Heston (fresh from King Vidor's
Ruby Gentry
) and Tucker share an easy rapport but the Cody-Hickock partnership bears surprisingly meager fruit given the titanic dimensions of their historical footprints.
Brought to DVD from the Paramount vaults by Olive Films,
Pony Express
looks very nice in its digital debut. The film's slightly-wider-than-standard aspect ratio (1.37:1) has been preserved on this Region 1 DVD and the transfer is both clean and pleasingly chromatic, with warm flesh tones and a satisfyingly variegated desert palate throughout. The monaural soundtrack is not very dynamic but acceptable and clear. There are no extras and Olive's keepcase art includes a bit of a spoiler for the film's disarmingly tragic conclusion.
For more information about
Pony Express
, visit
Olive Films
. To order
Pony Express
, go to
TCM Shopping
.
by Richard Harland Smith