DVDs from TCM Shop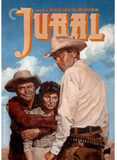 Jubal A rancher''s wife... MORE&nbsp> $12.96 Regularly $19.95 Buy Now blu-ray
Home Video Reviews
After trudging through the desert, Glenn Ford collapses and rolls down a hill, landing on a road. Rescued and given a job by kindly rancher Ernest Borgnine, he proves himself to be such an adept cowpoke that Borgnine soon elevates him to ranch foreman. This incurs the jealousy of chief ranchhand Rod Steiger, who cruelly plots his revenge by making Borgnine think Ford is fooling around with Borgnine's wife, Valerie French. The truth is that French has made advances toward Ford, but Ford has spurned them out of love and respect for Borgnine. Borgnine is driven into a jealous frenzy and tragedy follows.
If this all sounds strangely familiar, it's because
Jubal
(1956) is very loosely inspired by
Othello
. The detailed intricacies of Shakespeare's tragedy aren't in this western, but the broad strokes are certainly here. The result is an OK movie, if a bit overly talky for a western. What Jubal really has going for it are spectacular photography (in the Jackson Hole, Wyoming area) and a good cast.
As Jubal Troop, the film's version of Cassio, Glenn Ford turns in a typically solid, sympathetic performance in the kind of role in which he excelled - a decent, morally upright man caught up in circumstances beyond his control which drive him to anger and action. (Perhaps no one else ever seethed better onscreen.) Steiger makes a good, if at times overwrought, western Iago (here named Pinky!). He employs a southern accent similar to the one he would use the following year for Sam Fuller's underrated
Run of the Arrow
. Borgnine is a wonderful presence as the story's Othello character, and the frame comes alive whenever he enters, laughing uproariously. Valerie French and lovely Felicia Farr are given "introducing" credits, but French had already made a British film and Farr had previously appeared in two movies and on television. Farr, who here plays a young Mormon woman smitten with Glenn Ford, later married Jack Lemmon. Supporting parts by Jack Elam, Noah Beery Jr., and a young Charles Bronson (who had recently shed his real last name, Buchinsky) add nice western flavor.
Jubal
is one of a handful of Glenn Ford westerns recently released on DVD by Sony. The print looks decent but is by no means spectacular, as it shows some signs of color fading and slight graininess. It is, however, presented in its full CinemaScope glory. There are no extras. Glenn Ford is now nearly 89 years old and one hopes that he is enjoying seeing his movies reach new audiences via DVD.
For more information about
Jubal
, visit
Sony Pictures
. To order
Jubal
, go to
TCM Shopping
.
by Jeremy Arnold