DVDs from TCM Shop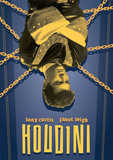 Houdini The famed magician and escape... MORE&nbsp> $15.95 Regularly $19.95 Buy Now blu-ray
NOTES
DVDs from TCM Shop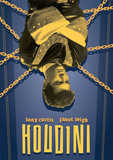 Houdini The famed magician and escape... MORE&nbsp> $15.95
Regularly $19.95 buy now
As noted by Milbourne Christopher, the editor of Magazine of the Society of American Magicians, in a January 1954 Variety item, Houdini contains many inaccuracies about the magician's life. Born in Budapest, Hungary in 1874, Houdini, whose real name was Ehrich Weiss, emigrated with his family to Appleton, WI, at the age of four. To help his impoverished family, Houdini, the son of a rabbi, began working when he was eight and left home at twelve, sending money home from various jobs. He and his family eventually settled in New York, where Houdini worked as a messenger and a tie cutter, and won awards in swimming and track. Houdini began his magic career as a teenager, calling himself Eric the Great. After reading the autobiography of influential magician Robert Houdin, Houdini then changed his name. His early act included card and handcuff tricks, which he performed with his younger brother Theo at amusement parks and the Chicago 1893 World's Fair. In 1894, Houdini met and married Wilhelmina Beatrice "Bess" Rahner, a singer-dancer with the Floral Sisters act. As depicted in the film, after their marriage, Bess became part of Houdini's act, traveling around the country with him. Around this time, Houdini expanded his magic act to include challenges, offering rewards to anyone who could restrain or imprison him in any manner of apparati or cell.
After a successful tour on the Orpheum vaudeville circuit, Houdini went to Europe on the advice of a friend, touring there for five years. In 1913, he introduced his Chinese Water Torture Cell to his act and performed it without difficulty many times. The same year, his mother died in New York, while Houdini was performing in Europe. Although Houdini did work to expose fraudulent gamblers and spiritualists and was interested in the hereafter, as depicted in the film, he did not retire from the stage in order to communicate with her spirit. In addition, he would sometimes deliberately hide under docks during underwater tricks, in order to make people think he had drowned. Houdini starred in six silent films between 1916 and 1923, including Haldane of the Secret Service, which he also directed (see AFI Catalog of Feature Films, 1921-30). Houdini died of peritonitis, brought on by a ruptured appendix, in Montreal on October 31, 1926. The Halloween date was not otherwise significant in his life, as suggested by the film, although his widow hosted annual sances on the holiday for about ten years after his death.
Paramount announced plans to make a screen biography of Houdini as early as 1935. According to July and August 1950 news items, Joseph Raboff and Earl Cohen, real estate men from Los Angeles and New York, acquired the rights to Harold Kellock's biography first, as well as the rights to Houdini's life story from his estate, intending to produce a film entitled The Life Story of Harry Houdini. One-time Paramount producer Endre Bohem was to make the project, for which Stephen Longstreet had already written a screenplay, with Cohen and Raboff and their new company, Film Producers, Inc. John Garfield and Lee J. Cobb were mentioned as possible stars in August 1951. In September 1951, however, Hollywood Reporter announced that Paramount had bought the rights to Kellock's book and assigned George Pal to produce the adaptation. In 1944, Hollywood Reporter announced that Dore Schary was planning to produce a Houdini biography for David O. Selznick's Vanguard Pictures, starring Garry Moore and directed by William Dieterle. That version was never made, however.
According to an October 1952 Hollywood Citizen-News item, the scene in which Houdini hangs from a flagpole was shot with a dummy at the A. E. Bartlett Building in downtown Los Angeles. Houdini marked the first time that Tony Curtis and Janet Leigh, who married in 1951, appeared together on screen. Advertisements for the picture featured a shot of the two kissing, with the caption: "Together for the first time." Hollywood Reporter news items include Murray Matheson, Len Moody and Edward J. Marr in the cast, but their appearance in the final film has not been confirmed. News items also included Clarence Muse and William Walker in the cast, but they were not in the released film. Technical advisor Joe Dunninger, who is credited onscreen simply as "Dunninger," was a close associate of Houdini, according to modern sources. According to the Hollywood Reporter review, Paramount "previewed the feature on its new studio theatre screen in an aspect ratio of 1.66 to 1." The film was not shot or released generally in widescreen, however. On October 8, 1976, the ABC television network broadcast The Great Houdini, a second film biography starring Paul Michael Glaser and Sally Struthers and directed by Melville Shavelson. In the 1997 British-U.S. release Fairy Tale: A True Story, Harvey Keitel portrayed Houdini, and Johnathon Schaech played him in the TNT television network film Houdini, which first aired on December 6, 1998.