DVDs from TCM Shop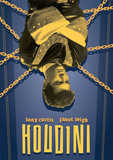 Houdini The famed magician and escape... MORE&nbsp> $15.95 Regularly $19.95 Buy Now blu-ray
Home Video Reviews
Harry Houdini has always been a favorite subject for both fictional films and documentaries. The entertainer and escape artist (1868-1926) transcended his craft to become a genuine superstar of the early 20th century. His insatiable curiosity about life's mysteries and man's physical limits would later develop into an obsession with spirituality. Producer George Pal's 1953
Houdini
is organized along the lines of a musical biography, except that songs and music are replaced with Harry's miraculous escapes. The movie holds up very well today, especially as nostalgia for its stars Janet Leigh and Tony Curtis, at that time Hollywood's darling newlywed couple.
Synopsis: Carnival 'ape man' Harry Houdini (Tony Curtis) has ambitions to become a stage magician, even though audiences are unimpressed by standard magic tricks. He falls in love with and marries Bess (Janet Leigh), but she tires of life on the road with unappreciative audiences and gets him to take a normal job. Harry returns to the stage not as a magician but as an escape artist. Flashy publicity stunts escaping from strait-jackets and locked safes soon make Houdini an international sensation. Magic specialist Malue (Ian Wolfe) encourages Harry to find an elusive escape artist named Von Schwager, who, it is rumored could use mental concentration to dematerialize himself. Harry does hire Otto, Von Swager's assistant (Torin Thatcher) to help him devise ever more ingenious escape stunts. After his mother (Angela Clark) dies Harry becomes interested in the possibility of communicating with the dead, and takes a break from performing. His investigations uncover fraudulent mediums and other spiritualism scams. When Houdini returns to the stage, Bess worries that her husband is taking unnecessary risks to maintain his personal legend.
Houdini
is an excellent example of a biography that remains true to the spirit of an historical character even as it fictionalizes most of the facts of his life, including his demise. The script by the prolific Philip Yordan pays homage to the mystique of Harry Houdini, a man who had half the world believing he possessed supernatural powers.
As in any show-biz biography talent, ambition and energy carry the young Houdini to great achievements. His courtship with Bess has a sweetness we associate with other films produced by George Pal, another American immigrant from Hungary. Sig Ruman and Connie Gilchrist are the carnival couple that fire Harry for chasing Bess during the show. Once married, we see Bess going on tour to help Harry with his magic act, and becoming frustrated when rowdy audiences ruin the tricks. The optimistic and self-confident Harry doesn't mind, but Bess soon has him back in New York working for a lock and safe company. Domesticity doesn't last long, as Harry has the performing bug and loses his job by locking himself inside one of his company's safes.
The second part of the film charts Houdini's rise to fame, taking on a series of escape challenges, each more audacious than the one before. He squirms free of strait-jackets both on stage and while suspended upside down from tall buildings, thrilling crowds in the street and guaranteeing enthusiastic front-page news publicity. In London, an audience shill (Michael Pate of
Major Dundee
) dares the Police Commissioner into letting Harry attempt an escape from a London jail. Houdini is put on trial for fraud before a German court, and turns the hearing into a further vindication of his talents. Houdini never claims to have superhuman powers but his stage manner convinces many that such must be the case. The movie doesn't go into details about keys swallowed and regurgitated, or Harry's ability to dislocate his own shoulders to slip free of strait-jackets.
Houdini investigates every 'impossible' magic and escape trick, and attempts to contact a mysterious 'Von Schwager' said to possess incredible mental powers over matter. He instead finds the man's assistant, Otto, who claims that his master has recently died. Otto, however, is available to assist Harry in his work. Typical of George Pal's films, the script never addresses the obvious suspicion that Otto is Von Schwager in disguise. Fifties' kids accustomed to seeing actor Torin Thatcher as the sinister Sokurah in
The 7th Voyage of Sinbad
understandably watch the remainder of
Houdini
waiting for Otto to show his true colors!
The movie bypasses Harry Houdini's less successful stage and movie acting career, but it does confront the controversial subject of Houdini's later investigations into spiritualism. We see Houdini, Bess and Otto actively debunking a charlatan claiming to communicate with the spirit world. Although a skeptic to the end, the real Houdini was obsessed with the secret of death, as if it were an escape artist's ultimate challenge. He gave out secret codes for his wife and others to use after his death, to test anyone claiming to be in contact with his spirit in the afterlife.
Yordan's script drops this macabre theme in favor of a pair of hair-raising escapes. In the first Houdini lowers himself into a freezing river, locked in a steel box. The cable snaps, sending him to the bottom. The finale reproduces the famous 'Chinese Water Torture Cell' trick, in which Houdini is suspended upside down in a locked iron box filled with water. A glass wall allows the audience to watch him struggle to escape. We know the sinister-looking Chinese Water Torture Cell is different when its unveiling is accompanied by an eerie music cue. Harry promises Bess he will put the trick aside, but goes ahead with it anyway.
Tony Curtis's experience as an amateur magician surely gave him a leg up on the role. Half the fun of
Houdini
is watching the charming Curtis and Janet Leigh interact on screen; the movie is practically a Valentine to their romance. Under George Marshall's straightforward but effective direction the couple have plenty of opportunity to shine. The Technicolor show makes good use of limited sets, suggesting rather than showing that tens of thousands of New Yorkers are watching Harry dangle from the top of a ten-story building. Some of the same design and effects experts from George Pal's science fiction classics manage clever matte shots, such as when a bridge over the dry Los Angeles riverbed appears to span a snow-swept, frozen Northeastern river.
Legend Films' DVD of
Houdini
is an acceptable but imperfect transfer of Paramount's Technicolor original, made from an Eastman composite element. The red matrix is imperfectly aligned for much of the movie, resulting in rather wide red terminators and haloes around bright parts of the image, such as Harry's white tuxedo shirt. Although not bad enough to spoil the experience -- the flaw is not obtrusive for most of the film -- image purists will not be pleased. Savant recommends the disc anyway, as a full film restoration of this commercially marginal title would cost millions.
The aspect ratio is a standard 1:33, a shape borne out by the text blocks in the film's title sequence. Legend has included the original trailer as an extra.
For more information about
Houdini
, visit
Legend Films
. To order
Houdini
, go to
TCM Shopping
by Glenn Erickson