DVDs from TCM Shop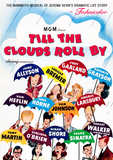 Till the Clouds Roll By True story of composer Jerome... MORE&nbsp> $4.95 Regularly $8.99 Buy Now
NOTES
The working title for this film was As the Clouds Roll By. While screen credits indicate that the film was "based on the life and music of Jerome Kern," the Hollywood Reporter review noted that the picture took "many and varied liberties" with the telling of Kern's life. Many of the characters in the film, including Oscar Hammerstein, Victor Herbert and Marilyn Miller, were based on well-known figures in the music world. The Variety review indicates that while the character of "Jim Hessler" had no real-life counterpart, Hessler May have been based on arranger Frank Sadler. According to a November 1946 Hollywood Reporter news item, M-G-M negotiated the film rights to Kern's life story with Kern's heirs. Kern, who was born in New York on January 27, 1885, died on November 10, 1945, while the film was in production. The November 1946 Hollywood Reporter news item also noted that M-G-M's deal with Kern's heirs was tied to an agreement in which the studio promised to remake the 1935 RKO film Roberta (see AFI Catalog of Feature Films, 1931-40; F3.3803). Roberta was remade in 1952 under the title Lovely to Look At, directed by Mervyn LeRoy and starring Howard Keel and Kathryn Grayson.
An April 1945 HR news item noted that Till the Clouds Roll By was to mark the directorial debut of set designer Lemuel Ayers. Ayers, however, was replaced by Busby Berkeley in late August 1945. In October 1945, while Vincente Minnelli was directing his wife Judy Garland's sequences, a Hollywood Reporter news item reported a rumor that he was poised to take over direction of the entire production. An October 1945 M-G-M News item noted that Garland's scenes were filmed before the start of "regular production" because the actress was pregnant and was expected to give birth to her child in March 1946. Garland's sequences were completed on November 8, 1945, and by the time filming resumed in mid-December 1945, Berkeley had been replaced by Henry Koster. In addition, photographer Joseph Ruttenberg was replaced by Leonard Smith. Blanche Sewell, who was listed as the film editor in a mid-December 1945 Hollywood Reporter production chart, was eventually replaced by Albert Akst. The extent of the contribution to the final film of Sewell, Ruttenberg, Berkeley, Koster and Smith has not been determined. Production on the film was halted a second time in January 1946, and resumed in mid-March 1946, with Richard Whorf as director and Harry Stradling as photographer. According to a Hollywood Reporter news item, the decision by M-G-M to use Whorf to complete the film was made in mid-January 1946.
A May 1944 Hollywood Reporter news item indicated that Gene Kelly was originally slated to play the part of Kern. Although contemporary sources indicate that actresses Gloria DeHaven and Jacqueline White were set for key roles, and although both their names appeared in Hollywood Reporter production charts throughout the time of production, they did not appear in the released film. Neither did Jeanette MacDonald, who was listed in a number of Hollywood Reporter production charts, or stage actress Imogene Carpenter, who, according to Hollywood Reporter, was set for a "featured spot." Although a September 1945 Hollywood Reporter news item listed William Ferrari as the picture's supervising art director, his contribution to the released film has not been confirmed. According to a July 1946 Hollywood Reporter news item, following a sneak preview of the film, which ran three hours in length, M-G-M began an effort to reduce the picture to two hours. A January 1947 Hollywood Reporter news item noted that proceeds from the Hollywood premiere of the film, which was held on January 16, 1947, were to be donated to the Braille Institute.
Modern sources note that George Sidney directed Frank Sinatra's "Ol' Man River" finale, that Roger Edens contributed to the orchestrations, and that the following individuals contributed to the screenplay: Fred Finklehoffe, John Lee Mahin, Lemuel Ayers and Hans Willheim. Modern sources also note that the screenplay was rewritten following the death of Kern, and that the cast included Sally Forrest and Mary Hatcher as "chorus girls." Kathryn Grayson, who married actor Johnnie Johnston in 1947, and who appeared as "Magnolia Hawks" in the film's Show Boat sequence, later reprised the role in 1951 in M-G-M's complete film adaptation of Show Boat.