DVDs from TCM Shop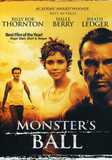 Monster's Ball Hank, an embittered prison... MORE&nbsp> $7.46 Regularly $9.98 Buy Now blu-ray
NOTES
DVDs from TCM Shop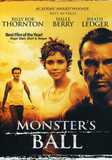 Monster's Ball Hank, an embittered prison... MORE&nbsp> $7.46
Regularly $9.98 buy now
The film's opening and closing cast credits differ slightly in order. According to a August 12, 2001 Los Angeles Times article, the film's title is based on a medieval English tradition, by which prisoners awaiting execution were called "monsters" and jailers would hold a "monsters' ball" the night before the prisoners were put to death.
According to the film's presskit, when the film's script was completed in 1995, writers Milo Addica and Will Rokos originally considered casting actors Robert De Niro and Tommy Lee Jones and hiring either director Sean Penn or Oliver Stone, but their respective salary requirements exceeded the film's budget. According to a June 1, 1998 Daily Variety article, Eric Cahan and Happy Walters were considered for producers, and a March 30, 1999 Hollywood Reporter article states that video and commercial director Sam Bayer was to make his feature-directing debut helming Monster's Ball. Subsequently, an October 8, 1999 Hollywood Reporter article reports that Vondie Curtis Hall would direct and Eric Cahan and Lawrence Bender would produce the film. A August 12, 2001 Los Angeles Times article states that Addica and Rokos were in negotiations with Atlas Entertainment and then Fine Line Features to produce the film.
Information in the presskit explains that Lions Gate Films finally committed to produce the film once Billy Bob Thorton was cast in the lead, at a fraction of his regular salary. At that time, Wes Bentley was to co-star and, according to a March 21, 2001 Daily Variety article, Bentley's manager, Lee Daniels, was set to produce the film. However, a May 10, 2001 Daily Variety articles states that Bentley left the production for unspecified reasons and was replaced by Heath Ledger, while Daniels remained as producer.
Monster's Ball marked the feature film debut of 15-year-old actor Coronji Calhoun. The cast also included famous rap music artist and producer Sean "P. Diddy" Combs. The presskit states that Louisiana State Penitentiary warden Burl Cain allowed for inmates to be hired as extras in the film. Screenwriters Rokos and Addica also had roles, as a prison warden and a guard, respectively.
Although the script was set in a fictional Georgia state penitentiary, according to the presskit, the film was shot on location in the vicinity of New Orleans, Louisiana and on the grounds and in the cellblocks and death house of the Louisiana State Penitentiary at Angola, also known as "The Farm." The Academy-Award-winning documentary The Farm: Angola, USA (1998) and the Academy-Award-winning feature film Dead Man Walking (1995) were also shot at the Louisiana State Penitentiary at Angola. Included in the end credits' "special thanks" list were the city of Kenner, the Kenner Fire Department and the Laplace Volunteer Fire Department; however, it is unknown whether these cities were additional filming locations.
Monster's Ball received the National Board Review awards for Best Actor (Thornton) and Best Actress (Halle Berry), and was nominated by AFI for Movie of the Year. In addition to receiving an AFI Female Actor of the Year nomination, Berry was nominated for a Golden Globe for Best Performance by an Actress in a Motion Picture, Drama. According to a December 6, 2001 Hollywood Reporter news item, the soundtrack for Monster's Ball was the first release of Lion Gates Films newly formed recording label, Lions Gate Records. Berry received an Academy Award for Best Actress for her role in the film, the first African-American actress to be so honored. The film was also nominated for an Academy Award for Best Screenplay written directly for the screen.