DVDs from TCM Shop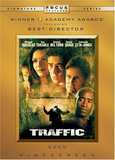 Traffic A patchwork of stories about... MORE&nbsp> $11.95 Regularly $14.98 Buy Now blu-ray
NOTES
DVDs from TCM Shop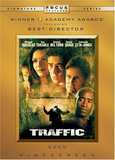 Traffic A patchwork of stories about... MORE&nbsp> $11.95
Regularly $14.98 buy now
There are no opening credits on the film, other than a title card that reads "USA Films" followed by the start of the action with the word "Traffic" on the lower left side of the screen. In the end credits, following director Steven Soderbergh's name, names of the principal cast members appear, beginning with Michael Douglas. The complete cast appears later, in order of appearance, as listed above. Salma Hayek, who appears briefly in the film as "Porfilio Madrigal's" mistress, did not receive screen credit.
Soderbergh also acted as the director of photography for the film, although he used the pseudonym "Peter Andrews" in the onscreen credits. According to the film's presskit, he did so because the Writer's Guild of America (WGA) would not accept his proposed credit, "Directed and photographed by Steven Soderbergh."
Various news items and feature articles document the complicated distribution history of the film. Initially, Traffic was to be co-financed and distributed by Fox 2000, then was to picked up by USA Films after Fox put the project into turn around. A late February 2000 news item in Screen International noted that the film "had made a U-turn and gone back to Fox" with Fox Searchlight set to co-finance the film and North American distribution to be handled by Twentieth Century Fox. By May 2000, however, production charts confirmed another shift in domestic distribution, with USA Films again listed as the domestic distributor and Initial Entertainment Group set for international distribution. The film lists the following production and distribution credit: "A Bedford Falls/Laura Bickford Production//A USA Films Presentation//in Association with Initial Entertainment Group."
According to various Hollywood Reporter and Daily Variety news items and Hollywood Reporter production charts in early 2000, Harrison Ford was initially cast in the film as "Robert Wakefield." When Ford withdrew from the project, actors Kevin Costner, Al Pacino, Tommy Lee Jones and Richard Gere were variously reported as being considered for, or pursuing, the role. In March 2000, Douglas, who news items noted had first been offered the role but declined, became interested in it again, especially after his wife, Catherine Zeta-Jones, was cast as "Helena Ayala." Although they had no scenes together, Traffic marked the first film in which Zeta-Jones, who was pregnant in real life as well as in the story, appeared with Douglas.
Traffic differed from the British television mini-series on which it was based, Traffik, in that the American film concentrated on the Mexican drug connection, whereas the British series dealt with the Pakistani connection. When the British mini-series was released on DVD in the U.S. in July 2001, several reviews compared it favorably to the American film, although some British reviewers expressed the opinion that the film was superior.
Although Traffic was presented in a seemingly chronological order, the various storylines were interwoven, with the action switching back and forth among them. Occasionally longer sequences set in one place were intercut with shorter scenes or quick shots of action that was taking place in another. All of the scenes set in Mexico appeared in a yellow tone, and many of the scenes set in Cincinnati appeared in a blue tone. Most of the dialogue for the scenes set in Mexico was spoken in Spanish, with English subtitles.
The film's presskit and news items note that extensive shooting in done in San Diego, CA. Additional locations included Nogales, Mexico, Las Cruses, NM, El Paso, TX, Columbus and Cincinnati, OH, Georgetown and Washington, DC and Los Angeles. Early news items estimated the film's budget variously to be between $30 to $40 million or $60 to $65 million, however, a Los Angeles Times article on December 25, 2000 estimated that the film's final budget was $50 million.
As noted in a Los Angeles Times "Morning Report" news item on April 27, 2001, representatives for the exclusive Cincinnati County Day School announced that they had reached a settlement with USA Films and would not sue over Traffic's identification of the long-established school as the one attended by "Caroline Wakefield." School officials said that they were never asked for permission to use their name.
In addition to being selected as one of AFI's top ten films of 2000, Traffic was included in numerous top ten lists and was honored with many awards. It also earned four Academy Awards, including Best Director for Soderbergh, Best Supporting Actor for Benicio Del Toro, Best Adapted Screenplay for Stephen Gaghan and Best Film Editing for Stephen Mirrione. The film was nominated for Best Picture, but lost to Gladiator. Soderbergh was also nominated in the Best Director category for Erin Brockovich. Del Toro won a Golden Globe for Best Actor in a Supporting Role, with other Golden Globe nominations going to Zeta-Jones for Best Actress in a Supporting Role, Soderbergh for Best Director, Gaghan for Best Screenplay and the film Best Picture, Drama.
Gaghan won the WGA award for Best Screenplay and Del Toro won the SAG award for Outstanding Performance in a Leading Role. The Traffic cast also won SAG's Outstanding Cast Performance Award, and the film won three ALMA awards, for Outstanding Feature Film, Outstanding Latino Cast and Outstanding Soundtrack. In March 2001, Traffic also had the distinction of being selected as a topic for 5 shows on ABC's prestigious Nightline news analysis program, the first film to be discussed on the program. In 2002, an American television mini-series, based on both the British series and the American film was produced by USA Network for broadcast in late 2003. The series, also titled Traffic, was directed by Eric Bross and Stephen Hopkins, and starred Elias Koteas.