DVDs from TCM Shop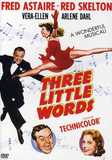 Three Little Words Musical biography of... MORE&nbsp> $14.96 Regularly $19.98 Buy Now
NOTES
Onscreen credits note that this picture is "based on the lives and songs of Bert Kalmar and Harry Ruby." As depicted in the film, composer and lyricist Ruby (born Harry Rubinstein 1895-1974) and lyricist and librettist Kalmar (1884-1947), were native New Yorkers and collaborated on many film and stage productions between 1917 and Kalmar's death in 1947. Both men were also successful on their own: Kalmar began writing hit songs in 1911, six years before he met Ruby, and Ruby wrote many songs by himself and with other lyricists. Among the many stage productions featuring songs and books written by Ruby and Kalmar were: Ladies First, which opened in 1918; the 1920 hit, Broadway Brevities, which introduced several famous Kalmar and Ruby songs, including "So Long, Oo-Long (How Long You Gonna Be Gone);" and the 1928 musical Good Boy, in which actress and singer Helen Kane introduced the song "I Wanna Be Loved By You." Kane, who is portrayed in Three Little Words by Debbie Reynolds, became known as the "boop-boop-a-doop girl" following her popular, child-like rendition of "I Wanna Be Loved By You."
In 1930, following a string of successful Broadway productions, Kalmar and Ruby moved to Hollywood, where they wrote music for several films as well as scripts for non-musical films. "Three Little Words," one of Kalmar and Ruby's most famous songs, was introduced in their first film, the 1930 RKO picture Check and Double Check (see AFI Catalog of Feature Films, 1921-30; F2.0845). Other films written and/or scored by Kalmar and Ruby include several Marx Bros. and Wheeler and Woolsey pictures; the 1931 Warner Bros. film Broadminded; and the 1937 RKO film The Life of the Party (see AFI Catalog of Feature Films, 1931-40; F3.0496 and F3.2483). In 1941, Kalmar and Ruby returned to New York and resumed their stage work while continuing to work on films. Their last film collaboration was on the screenplay for the 1949 Warner Bros. picture Look for the Silver Lining. For more information on the music and films of Kalmar and Ruby, please consult the Personal Name Indexes and Songwriters and Composers Indexes in this and other volumes of the AFI Catalog.
An August 1949 Hollywood Reporter news item noted that Sidney Sheldon was "penciled in" to direct the film and that Joe Pasternak was to produce. It is not known whether Pasternak was temporarily assigned to the film or if he was listed in error. Reynolds made her M-G-M screen debut in the film and was awarded a contract with the studio based on her portrayal of Kane. In her autobiography, Reynolds noted that she worked on the film for two days, and was paid $350 per day. Although contemporary news items in Daily Variety noted that actress Joy Rogers was announced for a part and that Jean Adcock, the "M-G-M commissary phone girl," was set for a speaking role, their appearance in the released film has not been confirmed. Daily Variety news items also indicate that Anne Sterling was tested for a featured role, and that Paul Whitemen, who was set to play himself in the film, bowed out of the picture due to a previous commitment.
In addition to Ruby, Kalmar and Kane, some business figures portrayed in the film include: Eileen Percy, a film star who appeared mostly in silent films between 1917 and 1933, and who married Ruby in 1936; Jessie Brown, Kalmar's vaudeville dancing partner who later married Kalmar; and Mrs. Carter DeHaven (born Flora Parker), an actress who appeared in many stage productions and silent films, and who was Kalmar's mother-in-law. Mrs. Carter DeHaven was played in the film by Gloria DeHaven, her real-life daughter. Ruby makes a brief cameo appearance in the film as a Washington Senators baseball player. Filming of the baseball scenes took place in Anaheim Stadium, near Los Angeles, with professional baseball players used as extras. A February 1950 Daily Variety news item noted that some filming was scheduled to take place on the RKO lot due to the great number of musical sequences and the lack of available space at M-G-M. The picture opened to generally favorable reviews, with Astaire and Vera-Ellen singled out for their outstanding performances. The Variety reviewer noted that Vera-Ellen, "with this picture, becomes the undisputed premiere danseuse of the screen," and that as Astaire's dance partner she "looks to be possibly the best partner he's ever had." The film received an Academy Award nomination for Best Scoring of a Musical Picture. The songs of Kalmar and Ruby remain popular and continue to appear in stage productions and motion pictures. The 1996 film musical Everyone Says I Love You, directed by Woody Allen, was titled after and featured Kalmar and Ruby's 1932 hit song.