DVDs from TCM Shop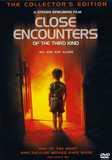 Close Encounters of the Third Kind A blue-collar worker's... MORE&nbsp> $11.21 Regularly $14.99 Buy Now blu-ray
USER REVIEWS
See Detailed Ratings
Acting of Lead Performers

Acting of Supporting Cast

Director

Music Score

Title Sequence

Screenplay

Cinematography

Historical Importance

Would You Recommend?

0 Member Ratings
Rate the acting of the Lead Performers

Rate the acting of the Supporting Cast

Rate the Director

Rating of the Music Score

Rating of the Title Sequence

Screenplay

Creatively uses the camera to tell the story

Importance in Cinema history

Would you recommend for fans of this genre
Submit Ratings
Cancel
Write a Review
Read Reviews
NO REVIEWS AVAILABLE
The title has not been reviewed. Be the first to write a review by clicking here to start.
the fork in sciencefiction road

one of the most emulated stories in the history of entertainment. should be viewed at least once by anyone who claims to be a science fiction devotee. opinions on the quality will vary.

"Over-rated Encounter of a 2, 2 1/2 Kind"

Still, after nearly 40 years; though for its time and still to, today a visual treat; this movie is still bogged down with amateurish coy and schmarmy, plot-lines. Had seen this film during opening weekend, in a theater that was packed, so packed that the concession stand ran out of 'goodies' before the film credits rolled. And yes, Virginia...during some of the 'late-night' showings..(thankfully with always and all adult showing)..there was the scent of 'the Purple Haze Kind' wafting in the theater while audible ' Hey, man..this movie is profound.....and to a point then, as now...Many, many people voiced the 2 biggest annoyances of the whole film. One: Dreyfuss' performance that 'should have been severely-trimmed; mostly the 'domestic trials & tribulations. As well as : JUST WHAT WAS TRUFFAUT SUPPOSED TO BE!!! Most of his on screen time just stinks up the screen with that schmarmy, I'm friends with 'the Spiel' and , 'don't I just add class and French Ennui, to Boot. His presence is not a script over-sight, it a joke, even an amateur would have known that such lax security goings-on would not have happened. As to the Ending, yes, a well played, go for the kleenex, 'oh gee...if only me, too' wrap-up. but is such a sell-out, of cheap commercialism; that "E.T''s ending is clearly the one with directorial maturity and 'over-the-rain-bow/ appeal. Any one,out there..Please..please inform the World, just how did the on-board Aliens hanging out, in an UPSIDE DOWN SPACE SHIP!!.. When the 'Mother Ship' Up-Ends itself in the final scenes...were the passengers just 'bouncing' from floor-to-ceiling?

Close Encounters of the Third kind

This U.F.O. adventure had some of the greatest cinematography with 5 big Hollywood cinematographers working on this one and Vilmos Zsigmond winning the Oscar. Steven Spielberg takes this story of a man in Indiana being struck with the U.F.O. light and eventually traveling to Devil's Tower Wyoming where the U.F.O.s may come. And many others are expecting them too. This movie went on to do about $300 million around the world as everyone warmed up to the U.F.O. craze. Eventually the U.F.O.s do come to Devil's Tower along with the BIG one with an incredible show of light and it gives back all of those people that it captured. "We are not alone" as there are many U.F.O. sightings every year and this movie made a good statement about it.

Esoteric meaning of Close encounters

In my view, CE3K is a fable of a journey to enlightenment (God being represented by the mothership). The two separate narrative lines meeting in the end tell the same story considered at two different levels : Neary's quest (or Jillian's) shows the person as a whole while Lacombe's team shows a microscopic view of the person and details its various mental functions. Read more: https://closeencountersexplained.wordpress.com

A Psychological Odyssey

The categorization of this movie as "horror" means, to me, that the categorizer hasn't seen the picture. It conveys a superficial impression of science fiction, but it's not SF. The emphasis in the story is on the emotional experiences of the characters, especially the Richard Dreyfuss character, Roy Neary, whose obsession with the UFOs fuels the main story line: his psychological odyssey from his ordinary existence to the unknowable world beyond. When I first saw it in 1977, this picture left me haunted with sadness, as if I'd seen an allegory of something else. Six years later, when my father died, I was unexpectedly reminded of Close Encounters of the Third Kind. Until tonight, I hadn't seen the movie again. It didn't look as good on the smaller screen, and it deserves a first class restoration, because it's an extraordinary visual-aural experience. But it does lend itself to allegory, and it still reminds me of separation and loss.

Amazing even after all these years!

I love this film and it never ceases to thrill me! There is a madness and a joy to the story that makes your fantasy come true. Would I go with the aliens to their home? You bet I would! The only thing that rankles me in the film is Teri Garr's character. A wife this far over the edge needs therapy! Richard Dreyfuss is superb as the spaceship-burned husband who wants to find out what's going on with all the magical lights seen in the night. The musical score by the enormously talented John Williams is stunning and very much adds to the film. Lest we forget, CGI was in its infancy in 1977 and Spielberg decided it was far too expensive to use here. Instead, he went with visual imagery that is just first-rate for a sci-fi film. My favorite story about this film is that it was entirely written by Spielberg and his inspiration was a meteor shower he had witnessed as a child with his father. Spielberg, subsequently, has a lifelong love of "what's out there?" How cool is that!

Confused categorization

This is a favourite movie of mine but I always find it is incorrectly tagged as Sci-fi or as it is listed on TCM at Feb 2013 in Horror or other categories. I believe it to be a suspense story as it is a mystery and also a story of redemption. The character Roy is beset with troubles not of his own making that drives him to try to find where and what has been implanted in his mind. The characters fumble and stumble toward what is their destiny and I find this to be the compelling part of the story. The space/alienns setting is merely a vehicle for the telling of the story..The special effects are outstanding for the time and still are in absolute awe striking impact when the mothership arrives on top of the mountain. I always enjoy the story and the effects and watch it almost everytime it is on television.

Good not great.

Let's get the good parts out of the way. For its era, this film has wonderful special effects. Acting is solid. Nice music, and the aliens are okay. Sort of try-outs for ET. So to me this a good but not great SF film.I just don't find the Richard Dreyfuss character compelling and the script seems like some mishmash of 1970's pseudo-mysticism and UFO speculation combined with a little of the Day the Earth Stood still. Okay after an hour I got it, aliens are visiting Earth. But we have had a hundred movies on this theme. I prefer SF that either is either good adventure (The Thing) or speculation (2001) or good fun (Forbidden Planet) this movie is just a lot of special effects and actors standing around trying to look "awe struck". Still I must admit it is pretty good and entertaining for first time viewers. Minor classic of its era, must viewing for SF fans.

Close Encounters of the Third Kind

Spielberg's epic sci- fi follow- up from "Jaws." Dreyfuss gives a great performance as a man obssesed with alien messages, as is Dillion who earned an Oscar nomination as a mother whose son is kidnapped by aliens. The special effects add to the film, but they do not get in the way of the overall story. A masterfully created film from a genius named Spielberg. I give it a 4.5/5.

"Close Encounters" Poor Film Quality

Last night's broadcast of "Close Encounters" appeared to be an unrestored print. The picture was not sharp at all. I checked to be sure I was watching TCM in HD. Still my favorite sci-fi movie.

Why is this movie so muddy?

I've seen films from the 1940's that look absolutely gorgeous on my wide screen HDTV. Why is this piece of film history not up to par? It needs to be digitally cleaned up so that it is crisp and clear and distinctive. Until that time, this movie is a disgrace because no one has put in the time to move it into the 21st century.

Benign aliens

What a pleasant relief when this film came out and for a change the aliens were not only not malicious, bloodthirsty murderers, they were sweet and decent folk, probably far more intelligent and ethical than we. I don't know why exactly, but the recent movie HUGO left me with similar feelings of well-being and satisfaction.

comment by Ben Mankewics

He just commented that Close Encounters was Spielberg's first movie (1977). Duel has always been understood to be his first (1971). Produced by Dean Martin, starred Dennis Weaver and an old Peterbilt truck.

Close Encounters of a 3rd Kind

Why is this sci-fi classic being rated by TCM as a horror film?

Simply One of the Best

Close Encounters of the Third Kind is simply one of the best films ever made. Spielberg manages to walk the line of storytelling and special effects without a single misstep. Don't let the lack of phasers and space battles turn you off to this one. Never has a film produced a story so human that the line between science fiction and fact become so blurred.

My Last Review got lost--

--maybe a spaceship captured it and took it to bad dialogue-land! "Oh my God" is a phrase that must go away with all the bad "spaceships" in film that arrived in the 1970's--namely, bad language and looser morals. Kubrick would have had silence as the ship passed overhead of that man and the mountain "base," but modernized Spielberg goes with "Oh My God--" cliched, bad and offensive to someone who actually believes in a power called "God," and his ten commandments, one of them being: Please don't use my name in Vain-- WWW:)!!!!

The classic feel-good scifi film

Hard to believe that it is now over 30 years ago that this film was made and released. It STILL holds the same sense of fascination for me now that it did then. Richard Dreyfuss, in my opinion, delivers a tour-de-force. His child-like wonder is only matched by Cary Guffey's! Between Dreyfuss' determination and Spielberg's optimism, this movie remains my favorite. And Barry opening the door to see what's outside is as good as it gets...
*We protect your personal infortmation and will not provide it to anyone without your consent. For a complete explanation, please refer to TCM's Privacy Policy. By submitting your contribution, you agree to TCM's Terms of Use.