DVDs from TCM Shop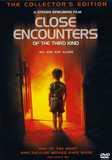 Close Encounters of the Third Kind A blue-collar worker's... MORE&nbsp> $11.21 Regularly $14.99 Buy Now blu-ray
Alternate Versions
The original production of "Close Encounters of the Third Kind" was plagued with schedule and budget problems, and many scenes Spielberg had scripted couldn't be filmed as he originally intended. After the movie huge success, Spielberg asked Columbia to allow him to recut the picture and to shoot additional sequences; the studio agreed at the condition that he included new scenes showing the inside of the alien mothership.

Spielberg was given a budget of $2 million and seven weeks to shoot the new sequences (some of which were shot while he was also directing 1941 (1979)). He had to use a different director of photography (Allen Daviau) because Vilmos Zsigmond was unavailable, and he was able to convince most of the original cast to re-appear, with the exception of director Francois Truffaut (who played French scientist Lacombe) who was on location shooting a film at the time.

The Criterion Laserdisc version features the syndicated TV version, with the Special Edition scenes tagged onto a supplementary section at the end of the appropriate sides.

The chronological order of events in many sequences was altered between the two versions. The following are the differences between the Original Version (O.V.) and the Special Edition (S.E.):

In the O.V. after Barry runs outside his house and into the night, there's a cut to a music box playing "When you wish upon the star" and then to Roy Neary's house, where he receives a phone call from his boss at the power station. In the S.E. after Barry leaves the house we see a panoramic shot of the city at night instead; the next scene shows Roy playing with a toy train in order to explain to his son what a fraction is. There's an argument between Roy, his wife and his kids (they want to go play Goofy Golf, he wants to go see "Pinocchio" but is outvoted). Then Roy's boss calls.