DVDs from TCM Shop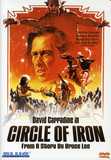 Circle Of Iron A blind Zen master guides a... MORE&nbsp> $10.95 Regularly $14.99 Buy Now blu-ray
Home Video Reviews
David Carradine says that
Circle of Iron
(1978) is among his personal favorites and adds that "To me it will always be
The Silent Flute
," a title he prefers over the studio picked
Circle of Iron
or the other popular alternate title,
The Flying Fists of Horror
. Director Richard Moore concurs with Carradine and thought
Circle of Iron
"too macho," but gamely bowed to the studio's wishes.
Circle of Iron
is billed as an adventure epic originally conceived of by Bruce Lee that was then taken to the next production level by actor James Coburn, and ultimately adapted to the screen by scribes Stirling Silliphant (who won an Academy Award for his script to
In the Heat of the Night
) and Stanley Mann (whose writing credits would later include
Conan the Destroyer
). Bruce Lee died before the film was made and David Carradine took on the project - a move that surely left a sour taste in the mouth of Bruce Lee fans that feel Lee was already wrongly usurped of his role in the
Kung Fu
television series by Carradine.
Circle of Iron
is an odd beast whose end result is more Zen than martial arts with a curious mix of anachronistic fantasy and exotic scenery that makes use of various landscapes and ruins across the land of Israel.
Although David Carradine gets top billing (which is deserved, since he plays four different roles throughout the film), the real protagonist is a character named "Cord," played by Jeff Cooper, a muscle-man with both the hair and acting range of a shampoo commercial. Cord is a roaming martial artist who is looking for enlightenment and is determined to get to The Book of All Knowledge that is guarded by the ominous-sounding Zetan (played by Christopher Lee). Cord's journey begins at a one-on-one martial arts contest presided by a judge (Roddy McDowall) who penalizes Cord for not following the rules. Soon thereafter, the impatient and headstrong Cord witnesses a blind man (Carradine) fight a bunch of bandits with the kind of lethal results that fans of Zatoichi, the Blind Swordsman, might expect. Cord decides to follow the blind man around, assuming him as a mentor - and they cross paths intermittently throughout the film leaving Cord to meander in and out of other adventures. Cord fights monkey warriors (Carradine, again), is accosted by Death itself (Carradine, again), and makes love to a distractingly beautiful woman (thankfully not played by Carradine).
Circle of Iron
is a bizarre, but ultimately tame, amalgam of elements. It's made from so many different parts that it's akin to a Frankenstein creature that stumbles awkwardly toward you and is easy to reject. It's also, ultimately, a gentle giant that seems to bubble with more stories under its surface than were placed on the screen. As a result, the wealth of information that Blue Underground make available allow audiences to enjoy these stories, from Carradine boasting to having his nose broken twice in four days to learning how Moore and the distractingly beautiful woman, played by Israeli actress Eric Creer, fell in love and almost got married. Or how the ending of the film dovetails with Moore's agnostic leanings and results in something very humanistic.
Blue Underground's dvd release of
Circle of Iron
presents the film in a 1.78:1 widescreen ratio and includes a 14-minute documentary titled
Playing the Flute: Interview with Star David Carradine
, an audio commentary with director Richard Moore (with some assist by Blue Underground's David Gregory), a textual supplement titled
Bruce Lee's The Silent Flute: A History by Davis Miller & Klae Moore
, an alternate title sequence, theatrical trailer, TV spots, a poster and stills gallery, and a DVD-ROM First Draft Script by Bruce Lee, James Coburn & Stirling Silliphant.
For more information about
Circle of Iron
, visit
Blue Underground
. To order
Circle of Iron
, go to
TCM Shopping
.
by Pablo Kjolseth