DVDs from TCM Shop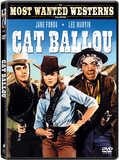 Cat Ballou A prim schoolteacher turns... MORE&nbsp> $11.21 Regularly $14.99 Buy Now
Trivia
Roy Chanslor's original novel was a serious western. The comedy elements were added for the film.
When filming the scene where Kid Shaleen takes a bath and dons his costume, director Elliot Silverstein had all actions timed to the beat of a metronome, its pace increasing when Shaleen takes his guns. He planned to have the scene scored with Spanish guitars following this beat, but the producer was adamantly opposed to anything Spanish in a Western. In the end electric guitars were used.
The film's horse trainer told Silverstein that the scene where a horse leans against a wall with its front legs crossed could not be shot because horses don't cross their legs, then that it might be possible if he had a couple of days. Silverstein invoked his rank as director and gave him an hour. The trainer plied the horse with sugar cubes while repeatedly pushing its leg into position, and they were able to get the shot.
'Kirk Douglas' turned down the role of Shaleen.
At his acceptance of the Oscar, Lee Marvin opened by saying, "Half of this probably belongs to a horse out there somewhere".
Nat 'King' Cole died several months before the film was released.