DVDs from TCM Shop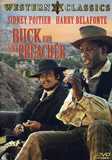 Buck and the Preacher A con man helps a group of... MORE&nbsp> $11.21 Regularly $14.99 Buy Now
NOTES
After the opening credits, a written statement describes the plight of freed slaves attempting to start new lives after the Civil War and dedicates the film to "those men, women and children who lie in graves as unmarked as their place in history." Sheldon Schrager's onscreen credit reads: "Assistant director and unit production manager." E & R Production Corp. was the name of actor-director Sidney Poiter's production company.
Contemporary sources reported that the picture began production with Joseph Sargent as the director, but after a few days, Sargent was replaced by Poitier, who made his directorial debut with Buck and the Preacher. According to an August 1971 Look magazine article, Poitier also worked with Ernest Kinoy on revising and polishing the screenplay before production began.
While February 1971 Daily Variety news items reported that the change of directors was made due to "differences between the director and stars," Filmfacts quoted actor Cameron Mitchell as stating that Sargent "was shooting the picture like a TV show." Filmfacts also quoted co-producer Harry Belafonte, who stated: "We might as well face it. We needed a black man for a sensitive job about black people." In his autobiography, Poitier related that he took over direction of the film at the urging of Belafonte because they both felt that Sargent was not emphasizing "certain values dear to [them]." In a long article about the production in March 1971, Daily Variety reported that Sargent was amenable to being replaced, because he felt that Poitier "had breathed and lived with it [the film] since its conception....It's his film. It's as simple as that, and there was nothing racial about it whatever."
The Daily Variety article also noted that the production, which recruited black extras from El Paso, TX because "Negroes who lived in Mexico....just didn't look black," was facing charges of discrimination by Mexican actors and crew members, who complained that they were underrepresented and underpaid. The producers responded that they were paying scale wages, and that in addition to the Mexican crew utilized, six "minority trainees," including story writer Drake Walker, who worked as an apprentice director, were part of the crew. In mid-February 1971, Daily Variety reported that black Mexican actors had filed a grievance with a Mexican actors guild against the production, claiming that they were denied jobs. Columbia Pictures responded that "U.S. Negro war veterans living in and around Guadalajara" had been hired instead of Mexican actors because they spoke English more fluently.
Filmfacts reported that although Columbia had announced in January 1971 that Joan Blackman had been cast as a "Southwestern Quaker," she did not appear in the released film. The February 1971 Daily Variety article included Ron Fletcher and Charles Fawcett in the cast; however, their appearance in the completed picture has not been confirmed. Actress Julie Robinson, who portrays "Sinsie" in the film, is married to Belafonte. According to a May 15, 1972 Box Office article, she learned the Mescalero Apache language that she speaks in the picture through research at the American Indian Museum in New York. As noted in the onscreen credits, the picture was shot on location in Durango, Mexico. According to studio publicity, the final sequence in the lush valley was shot in Marysville, CA.
Buck and the Preacher marked the first film collaboration of longtime friends Poitier and Belafonte, and several reviewers compared the film to the 1969 hit Western Butch Cassidy and the Sundance Kid, starring Paul Newman and Robert Redford (see below). Other critics commented positively on Poitier's direction and the unusual presentation of African-American settlers and their interactions with Indian Americans. Although the August 1971 Look article stated that Poitier and Belafonte hoped the film would "be successful enough to repeat," a sequel to Buck and the Preacher was not produced. Poitier and Belafonte next worked together on the 1974 comedy Uptown Saturday Night, which was directed by Poitier.