DVDs from TCM Shop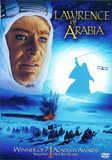 Lawrence of Arabia A British military officer... MORE&nbsp> $11.21 Regularly $14.99 Buy Now blu-ray
USER REVIEWS
See Detailed Ratings
Acting of Lead Performers

Acting of Supporting Cast

Director

Music Score

Title Sequence

Screenplay

Cinematography

Historical Importance

Would You Recommend?

0 Member Ratings
Rate the acting of the Lead Performers

Rate the acting of the Supporting Cast

Rate the Director

Rating of the Music Score

Rating of the Title Sequence

Screenplay

Creatively uses the camera to tell the story

Importance in Cinema history

Would you recommend for fans of this genre
Submit Ratings
Cancel
Write a Review
Read Reviews
NO REVIEWS AVAILABLE
The title has not been reviewed. Be the first to write a review by clicking here to start.
Another well-made production

by the film industry that recognizes a real person whose contribution to the amelioration of man pales in comparison to so many others whom Hollywood group think won't even consider championing.

Lawrence of Arabia

From a map job in Cairo as a British serving officer to given a 3 month job in the desert observing what the Arabs can do to the Turks in World War I T.E.Lawrence later independently decides to do more for the Arabs and bedouin tribes and go and take the coastal city of Aqaba. He later returns to General Allenby with the good news. Here is a film that excites the senses with its impressive cinematography and music which won Oscars as the adventure of it all is in command here. There is the mirage-like scene of seeing Omar Sharif gradually come into view on a camel and getting more ominous and then shooting a man taking well water. Later there is crossing the Nefud desert and going back and bringing Gassim into camp. Lawrence became a legend with the Arabs and uniting them for Prince Feisal to become independant. Strangely he died in a motorcycle accident in England at the start of the movie....and then we flashback. One of the greatest movies ever, a story that took over 3 hours to tell, a movie that took 2 years to film, this was the story of Lawrence. It came back to theaters completely restored in 1989 and this inspired restoration of many other films.

One of the great performances of the 20th century

I love this movie! It's a trip to a fantastic, remote desert with an international cast including Middle Easterners, and with Middle Eastern-sounding music and instruments woven into a big symphonic score. All the performances ring true, and Peter O'Toole as Lawrence is one of the great performances of the twentieth century. Since he didn't win an Oscar for that performance, I have to say it was too good for the Oscars. I don't know how many times I've seen this long, epic movie of a historic venture and a personal odyssey. It's not easy to sit through, but I learned to sit through it because there's nothing else like it. I'm glad to see it on TCM.

Lawrence of Arabia

Needless to say one of the greatest movies ever made and still has, in my opinion, the greatest cinematography of all time in a film that took two years to make. Telling this story through the heat of the desert climate in the Jordanian desert vistas and coming out of it with something so grand that this story of T.E.Lawrence in the Arabian desert during World War I making gains on the Turks by himself and a few Arabs showed that this British officer could help those in need of another country is an amazing feat of selfless courage. It is far better to see this film in a theater where the cinematography effect can overwhelm the senses.

larry of arabia

Not only is it the most intelligent of Hollywood's epic films, it's also one of the ten best Hollywood bio pics, in my opinion. Robert Bolt's screenplay is brilliant and David Lean's direction is right up there with Bolt. Maurice Jarre's music is unforgettable and perfectly captures the setting. As for Peter O' Toole, what can you say? He had the bad luck to be up against America's Favorite Dad (i.e. Atticus Finch) and of course the academy chose family values over madness and gave the Oscar to Gregory Peck. See both films today and tell me that O'Toole wasn't jobbed. It's in my all time top 50. In other words, an A plus. P.S. The scene with O'Toole and Jose Ferrer as a pervy Turkish general still sends shivers down the old spine.

Yes, perfect.

I was thirteen years old the first time I saw it. I didn't know much about life but I knew I how great this movie was. For many years I would only watch three movies. Lawrence of Arabia, Doctor Zhivago and The Incredible Journey!!!! Of course, I wasn't aware of On the Waterfront, A Streetcar Named Desire and others but thanks to TCM I've learned so much about movies and great actors. Its CRAZY that this movie has so many great actors and performances.

Lawrence of Arabia

****

Perfection!

There are few films I would deem "perfect" in every way but this one certainly qualifies. Every shot, every detail is simply perfect! The actors are the very best and there is nobody but nobody who could have pulled off Lawrence as well as Peter O'Toole does here and his stark resemblance to the real Lawrence is jolting. The arrogance and the angst are ever present and it is a tribute to the great O'Toole and the perfection of his craft. The fact that he did not win the Academy Award for his acting in this film is one of the worst decisions of the Academy - ever! While I loved Gregory Peck in "To Kill a Mockingbird," his performance did not require the reach and the scope of acting that O'Toole's role as Lawrence did. Omar Sharif, as Sherif Ali, and stunningly handsome in his own right, is Lawrence's conscience. The other side of the moral coin is the great Anthony Quinn who, as the real-life Auda abu Tayi, brings forth the bloodlust in Lawrence, garnered from his rape by a Turkish Bey, admirably played by Jose Ferrer. There are simply not enough adjectives to truly describe how great this film is. You must view it for yourself!

Censorship

The TMC version cut the rape scene by the turkish officer and the motor bike crash/suicide scene at the end thus emasculating the movie. They did however leave in the entire intermission footage and the slaughter of the turks. Can some one explain why this happened?

Five Stars

Sorry I forgot the 5 STAR rating!

My Favorite Movie of all time

It gives us such an insight and overview of history and its relevance to today's headlines . The acting was nothing lessthan superb! I have watched this epic twenty timesAnd am thrilled every time TCM airs it(Especially without commercials)! Whata treat ! Thank you

Lawrence of Arabia

One of the greatest epic films ever made.

THIS MOVIE IS RELEVANT TODAY

The attempts of the British and French empires to civilize these people. Didn't work, despite numerous attempts. The scene in Damacus Council Hall (near the end of the movie) is indicitive of a people divided and uncapable of peaceful cooperation with other Arabs. How long will this continue ? I suspect it will be 2500 before the evolution of Arabs and Jews into human beings. Lawrence said early in the movie : "they are a silly people." Then and now.

Lawrence of Arabia

An intelligently-made & grand epic that won the Best Picture award of '62. An eccentric British officer during WWI rallies Arab allies to fight the Turks. O'Toole, in his breakthrough film, earned an Oscar nomination as the famous hero, Sharif deserved the Best Supporting Actor award & great work from other cast. Director Lean won his final Oscar and the film was honoured for it's production design, photography, editing, sound & score. Small details in every grandiose frame & a subtle story makes this film the legend it is today. I give it a 5/5.

My Favorite Film

I only saw the film a month ago when it came back to theatres, and I was completely transfixed. This is my favorite film, hands down. Peter O'Toole is brilliant (and stunningly attractive), as is Omar Sharif. Alec Guinness, despite being an Englishman, looks remarkably like the real Prince Feisal. The entire cast is fantastic, as is the cinematography. The score is beautiful, a flawless mixture of two cultures. I know the film isn't entirely accurate as a history or a biopic, but O'Toole does the real TE Lawrence justice. His performance was so compelling that I immediately ordered Lawrence's "Seven Pillars of Wisdom" so I could learn more about the real Colonel Lawrence. He was an immensely complex man, a poster child for the tortured genius, and the film captures that beautifully. It's well worth the four-hours of your time, because it is truly timeless.

Response--Nancy D 2012-04-27

Nancy D 2012-04-27 Nancy, you do not care for Lawrence of Arabia. Just do not watch it. Ok ! Keep up the good work TCM !!best,Joe Bearfane

Lawrence of Arabia

Please give this film a rest. You're showing it to death. Why not use the long air time of this film for some less familiar and seldom seen films? Ditto for Love is a Many Splendored Thing -- worn out.

North by Northwest

William (Robby) Teer

4/12/12

This is one of my top ten movies of all time. Im a 33 years old, married, and I can tell you now, If I had have been around in the time of Cary Grant, I would have married him. Just as it says on your in between movie biopsy of him, he started a revolution that made every man in America want to be him. North by Northwest in my opinion is his best work, a close second is Notorius,then a three way tie with Arsenic and Old Lace, Operation Petticoat and Mr. Blanding Builds his Dream Home. It is so hard for me to decide, so I figured I would listthem as ties for third place. If you havent seen any Cary Grant movies, start IMMEDIATELY!!! I have been watching them since I was abiut 6 years old and I loved them then, Topper always made me laughwhen I was young. so, from Robby In Alabama, soooo long, and happy classic movie watching.

Lawrence of Arabia (1962)

David Leans blockbuster epic is that rare combination of literate narrative and sweeping spectacle that never allows its craftsmanship to call attention to itself or inhibit the advancement of the story. As the title character, Peter O'Toole was made an immediate international star as Thomas Edward Lawrence, "Al Awrens" the World War I British Army cartographer who united the Bedouin tribes against the Turks and destroyed the Ottoman Empire. Robert Bolt's perfectly constructed script is one of the most exciting ever to fill a screen, as much for the action as its intimate look at a man discovering his own unique dimensions - heroic and imperfect, glimpsed but never fully understood, even by himself.Winner of seven Oscars, including Best Film and Director with a veritable all-star cast and crew: Alec Guinness, Anthony Quinn, Jack Hawkins, Jose Ferrer, Arthur Kennedy and Omar Sharif.

THE EPIC OF ALL EPICS!

i have only seen this film once, and would love to see it again and again. it is a fascinating piece of Epic filmmaking at it's best, Peter o'toole's performance (and film debut) among the greatest in film history. most people nowadays foolishly misuse the word "epic". watching this film should make them think again, with it's breathtaking use of desert landscapes, sweeping score by maurice jarre, top notch acting, and thrilling battle sequences. i'm only 14, and it's rare for a boy of my age to appreciate classic movies in this century. they just don't make them like they used to!

Lawrence

Beautiful film, but way too long and dragging, Shariff is annoying.

Towering Film Achievement!

Sam Spiegel ran his Horizon Films from London and Columbia gave Spiegel carte blanche due to his incomparable films Bridge On The River Kwai et . Sir David Lean directed River Kwai and this film Lawrence of Arabia, a film so great that one is left spellbound and after the movie ends a state of wonder on the towering achievement one has just witnessed.Peter O'Toole gives in my estimation the finest performance ever by an actor in any movie. Astounding. O'Toole was nominated but lost to Gregory Peck's To Kill A Mockingbird. Jack Lemmon was brilliant in Days Of Wine And Roses as well). Bravo to Columbia, Horizon, Spiegel, Lean, O'Toole, Alec Guinness, and to Maurice Jarre for a legendary score. Bravo! Bravo!

Lean of Britain

As a boy I saw this movie in it's first run. I was so captured by it that I read every book I could get my hands on about Lawrence. Were it not for Stanley Kubrick I cannot think of another director that poured so much into a film. Mr. Lean was a rare talent. How sad we will never see another, new David Lean film again. Mr. Lawrence died in 1935 of a motorcycle accident under the name Thomas E. Shaw.

Lawrence of Arabia (1962)

The cinematography alone makes this a film worth watching. David Lean's expert direction is amazing. Peter O'Toole is perfectly cast. The production values are among the best ever, it is a magnificently made movie. Excellent editing and costume design. Top notch all the way. One of the most memorable scores ever put on film.

MASTERPIECE!

This movie is wonderful. Great script, dialogue, acting and cast. The star can really be the desert, and has never been so beautifully shown as it has been here, although the performances of Peter O'Toole, Omar Sharif, Anthony Quinn and Alec Guinness are outstanding. I have seen this movie more times than I have fingers and toes to count, and look forward to seeing it many more times to come.

Lawrence of Arabia

What a spectacular film! I watched this masterpiece for the first time and could not take my eyes off the tv! Peter O'Toole was perfect to say the least. This film is one of the great epics of all time. Thank you TCM for providing such wonderfull movies, it is the only channel I watch.

P.S. to my user review of yesterday

I must confess that I get very emotional when talking about Lawence of Arabia. It brings back so many happy times and memories in my life. Anyway, please forgive the few typing errors in my review of yesterday. Guess I didn't check the spelling carefully enough. (Like I said, I get very emotional). But the message stays the same!How I love this great film...Thank you,Kathy

How I love this great film!

There are so many comments I can make. How can I explain the way I feel about LOA? I love it as much as I love GWTW (my co-#1 favorite), yet how different they are! But that's the wonder of it. Much of the greatness of LOA begins, of course, with the beatifully handsome Peter O'Toole, who gives one of the greatest, superb performances of all time. How perfect a choice for this magnificent film. It saddens me so much that he did not receive the Best Actor award. (Another one of that so-called Academy's worst mistakes). And so many other types of greatness; I don't know just how to explain, perhaps I just don't have the words. It is a masterpiece, it will never age, it will remain forever the supreme achievement of all involved. On a personal note: LOA has effected me since the first time I saw it in April, 1963, staring in awe at the screen when I was a young girl. I've seen it so many times and love it more. It is so beautiful to watch, to just enjoy every word of dialogue, image and minute of it. I thank the heavens for the wonderful restoration in 1988. I hope I expressed myself well. P.S.: I've loved Peter O'Toole since the first glimpse of him - wish I knew he has always been my unrequited love.well.

David Lean and Sam Spiegel's Masterpiece

Sam Spiegel in the league of David Selznick, Sam Goldwyn, Hal Wallis, maestro's of film, produced this masterpiece, my favorite movie and I feel the greatest movie I have ever seen.Retelling the story of Lawrence of Arabia, David Leanwho worked so well as a team with Spiegel on The Bridge on the River Kwai, creates a spellbinding tale. I cannot think of a Producer-Director team so well matched as Spiegel and Lean. Peter O'Toole in his brilliant performance creates one of the screen's most memorable portraits. While nominated, Peter O Toole lost to Hollywood great Greg Peck. The movie was honored however as Best Picture and Best Director and the music score by Maurice Jarre one of the finest ever for film. Some of the camera work in particular the scenes of the mirage in the desert thrilling.I recommend this film to anyone who loves Film, and applaud Spiegel, Lean, O'Toole, Jarre and supporting players Anthony Quinn and in a standout performance Omar Sharif.

Excellent!

I never thought I would have been interested in seeing this movie thinking that maybe it would not be interesting,but I was so wrong,it is one of the best movies I have ever seen and Peter O'Toole is excellent playing the British officer T.E.Lawrence and also handsome in his starring role.

Lawrence of Arabia

Great movie! Yes, it is a treasure, Craig. It is, however, set during World War 1 in 1916, not 2500 years ago. A very well written, acted and directed movie accurately portrayed for it's time as well.

Lawrence of Arabia

Seems a fitting movie even for today . Nothing has changed in 2500 years. This movie is a trasure.

Lost opportunities

Over the years I had many an opportunity to watch this movie. I never did, thinking that I would find the movie uninteresting. At the age of 44 I finallywatched it for the first time. I have watched it 8 more times in a yaer and a half. It's incredible.

Spelling error

I watched "Lawrence of Arabia" on January 15, 2007. It is a movie that I don't mind watching it every time on TCM.First, I was not pleased changing the picture on the overture, but I did not mind it.Second, in the intermission, the word "ENTER'EACT" was used instead, which is appropriate if it is spelled correctly i.e. "ENTR'ACTE". This needs to be corrected to preserve the integrity of this film regarded by many as the greatest movie ever made.
*We protect your personal infortmation and will not provide it to anyone without your consent. For a complete explanation, please refer to TCM's Privacy Policy. By submitting your contribution, you agree to TCM's Terms of Use.