DVDs from TCM Shop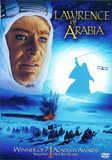 Lawrence of Arabia A British military officer... MORE&nbsp> $11.21 Regularly $14.99 Buy Now blu-ray
Articles
SEE ALL ARTICLES
Lawrence of Arabia (1962)
SYNOPSIS

An untested, undisciplined scholar making maps for British Intelligence during World War I discovers the hero within when he goes on a fact-finding mission in the Arabian Desert. What starts as a search for intelligence about the Arab Revolt against the Turks, turns into an exercise in courage, leadership and betrayal. T.E. Lawrence takes control of the revolution, leading the Arabs to victory against England's Turkish enemies, only to discover that his superiors have no intention of leaving the men he's come to regard as brothers in charge of their own homeland. The hero is left shattered, doubting his greatest achievements and living in seclusion until his lifelong need for speed and excitement results in a tragic motorcycle accident.

Director: David Lean
Producer: Sam Spiegel and David Lean for Horizon Pictures
Screenplay: Robert Bolt
Based on Seven Pillars of Wisdom by T.E. Lawrence
Cinematography: Freddie A. Young
Editing: Anne V. Coates
Art Direction: John Stoll and John Box
Music: Maurice Jarre
Cast: Peter O'Toole (T.E. Lawrence), Alec Guinness (Prince Feisal), Anthony Quinn (Auda abu Tayi), Jack Hawkins (General Allenby), Jose Ferrer (Turkish Bey), Anthony Quayle (Colonel Harry Brighton), Claude Rains (Mr. Dryden), Arthur Kennedy (Jackson Bentley), Omar Sharif (Sherif Ali ibn el Kharish).
C-216m.

Why LAWRENCE OF ARABIA is Essential

Lawrence of Arabia was hailed by some critics as the first "thinking-man's epic," a title that has also been applied to the 1959 version of Ben-Hur. Most critics agree it is that rare epic in which every grandiose shot and cinematic flourish serves a purpose in either telling the story or exploring the title character. For many critics, this makes it the most intelligent of all epic films.

In introducing the film for Turner Classic Movies' The Big Picture series, director Martin Scorsese, who helped in the film's restoration, praised director David Lean for filling his biggest scenes with small, telling details. This is nothing new. D.W. Griffith had done the same in his Birth of a Nation (1915), while Sergei Eisenstein had used such details to craft the history-making "Odessa Steps" montage in Battleship Potemkin, but it is one factor that distinguishes the screen's greatest epics.

T.E. Lawrence joins a long line of obsessive dreamer-heroes who have become a staple of director David Lean's work. Other characters in that tradition include Ralph Richardson's crusading scientist in Breaking the Sound Barrier (1952), Katharine Hepburn's romantic schoolteacher in Summertime (1955), Alec Guinness' dedicated prisoner of war in The Bridge on the River Kwai (1957) and the title characters in Doctor Zhivago (1965) and Ryan's Daughter (1970).

Lawrence of Arabia marked the birth of a production dream team for David Lean. Writer Robert Bolt would go on to script his Doctor Zhivago, for which he would win an Academy Award, and Ryan's Daughter, which would star Bolt's wife, Sarah Miles. Cinematographer Freddie Young would work on the same three films, winning a second Oscar (the first was for Lawrence of Arabia) for Ryan's Daughter. Composer Maurice Jarre would better them both, working on those two films as well as Lean's final effort, A Passage to India (1984). He would win Oscars for Lawrence of Arabia, Doctor Zhivago and A Passage to India.

by Frank Miller
back to top
---
Lawrence of Arabia (1962)
When Lawrence of Arabia became a hit, it inspired the use of Arabian motifs by several fashion designers, who created desert style beachwear, nightwear and ball gowns. One company even marketed a "Little Lawrence Beach 'n' Bath Burnoose." Elizabeth Aden created a line of "Chic Sheik" cosmetics, while a top hair salon featured two Lawrence hairdos: one a turban of hair and the other with hair combed straight down to the chin to meet underneath like a hood. "The Lawrence influence covers the fashion world as sand covers the Sahara," wrote one writer in Vogue magazine.

Lawrence of Arabia inspired increased tourism to Jordan. In fact, King Hussein was so impressed with the desert compound built to house the film company that he ordered a government commission to study it for ideas about how to develop a tourist resort in Aqaba.

Films in which Lawrence of Arabia is spoofed include Mel Brooks' comedy Spaceballs (1987) and the James Bond film The Spy Who Loved Me (1977), which even features a quote from Maurice Jarre's score.

Lawrence of Arabia inspired a sequel on British TV, A Dangerous Man: Lawrence After Arabia (1990), starring Ralph Fiennes as Lawrence.

by Frank Miller
back to top
---
Lawrence of Arabia (1962)
T.E. Lawrence was born in North Wales on August 16, 1888, the illegitimate son of a minor baronet who had disgraced himself by deserting his wife for his housekeeper.

Although it's never adequately explained in the film, Lawrence was assigned to observe the Arab revolt against the Turks because of his extensive touring of the Middle East as a student researching the crusades and his understanding of Middle Eastern languages (though there's some debate about how well he knew those languages).

There is also considerable debate about Lawrence's actual role in the revolt. Some say he led it himself, using Prince Feisal as a front. Others say he was simply a liaison transporting gold from England to Jordan.

Until 1919, Lawrence was little known in England. In fact, a history of World War I published in The London Times that year doesn't even mention him, though it features a section on the Arab campaign.

The legend of Lawrence of Arabia was popularized by American journalist Lowell Thomas, who had toured the theatres of war to drum up American support for the Allied war effort. Thomas returned to the U.S. in 1919 with extensive moving picture footage and photographs of action throughout Europe and Africa, which he featured in a series of presentations in New York. He had intended to present a series of rotating talks on different aspects of the war, but the one presentation that proved the biggest success was on the war in the Middle East. In it, he presented the first aerial footage ever taken of that area, along with accounts of General Allenby's campaign in the Holy Land and Lawrence's role in the Arab Revolt. British producer Percy Burton caught the show during a New York visit and was amazed to learn about Lawrence, a war hero he'd never heard of before. He booked the Lawrence show into Covent Garden, where it opened as The Last Crusade -- With Allenby in Palestine and Lawrence in Arabia on August 14, 1919. The response was overwhelming. The show was given a 10-minute standing ovation, and rave reviews ran not on the theatre pages, but on the front pages of all the major papers. When Thomas had to vacate Covent Garden at the start of the opera season in October, he moved to the 6,000-seat Royal Albert Hall. His was the first extended engagement ever to succeed there. In all, over a million people attended the presentations.

The immediate effect on Lawrence's life was to make him a celebrity throughout the country. He couldn't go out in public without being mobbed. Women deluged him with marriage proposals, some quite indecent. He finally retired to Oxford to work on his own account of the Arab campaign.

Thomas would eventually adapt his presentation to book form as With Lawrence in Arabia, the first biography of Lawrence. It would sell more than 100,000 copies in England.

Meanwhile, Lawrence was working on his own book. To drum up critical approval, he circulated early drafts to critics, including George Bernard Shaw, who wrote to him, "Confound you and your book: you are no more to be trusted with a pen than a child with a torpedo." But he also made several suggestions for revisions that Lawrence would accept graciously.

Seven Pillars of Wisdom was finally published, in a limited edition of 200 copies, in 1926. The book was so expensive to produce that it put Lawrence 13,000 pounds in debt, which led to his first, unsuccessful attempts to sell the rights to filmmakers.

At various points in his life, T.E. Lawrence called himself Ross, Shaw and Chapman to escape the fame he had helped create for himself.

Although generally ruled an accident, Lawrence's death in a 1935 motorcycle accident has inspired speculation that he committed suicide or was deliberately driven off the road.

Before producer Sam Spiegel announced his plans for Lawrence of Arabia, other producers had considered films about T.E. Lawrence to star such actors as Robert Donat, Leslie Howard, Laurence Olivier, Alec Guinness and Dirk Bogarde. Bogarde even suggested there was a club for actors once considered for the role. "We have even designed a tie. Dark background with motif of a burnoose and camel."

One assignment David Lean gave cinematographer Freddie Young was to figure out a way to photograph a mirage. While assembling equipment with which to film Lawrence of Arabia, Young came across a rarely used 482 mm lens. The piece, almost as long as a fire-hose nozzle, allowed him to get extreme telephoto shots. He immediately called Lean and told him he'd solved the mirage problem.

Omar Sharif almost made his Western film debut years before Lawrence of Arabia. In the mid-'50s, Columbia Pictures, which would later release Lawrence, was scouting Egyptian locations for Joseph and his Brethren, a Rita Hayworth vehicle. Sharif tried out for the stand-in for the as yet unnamed leading man, and so impressed director William Dieterle that he was offered the starring role. Unfortunately, the production was cancelled when Hayworth walked out on her contract to marry singer Dick Haymes.

When Omar Sharif tested to play Sherif Ali, Lean wanted to give the character facial hair to contrast with the fair, clean-shaven star, Peter O'Toole. He tried him with a beard but didn't like it. Then he fitted the actor with a mustache, which is how he played the role. Sharif had become a star in his native Egypt without facial hair. The impact he made in Lawrence of Arabia was so strong that he has kept the mustache for the rest of his career.

When O'Toole first met Sharif, he said, "Omar Sharif! No one in the world is called Omar Sharif. Your name must be Fred." From then on, Cairo Fred was Sharif's nickname. In truth, no one in the world really was called Omar Sharif. The actor had made up the name when he decided not to pursue a career as Michel Shalhoub.

One of the film's second unit cameramen was Nicholas Roeg, who would go on to co-direct (with Donald Cammell) the cult favorite Performance (1970), with James Fox and Mick Jagger, and on his own, such films as Don't Look Now (1973) and Insignificance (1985), starring his wife, Theresa Russell, as Marilyn Monroe.

Filming on Lawrence of Arabia took so long that three principal cast members managed to make other films between scenes shot early and late in the schedule. Alec Guinness and Anthony Quayle starred in the British naval drama Damn the Defiant!, while Anthony Quinn went back to New York for the film version of Requiem for a Heavyweight.

As production wound down in Jordan, Omar Sharif and Peter O'Toole wanted to prepare themselves for their return to civilization. They had read about the sudden popularity of the "Twist" in one of the magazines shipped to the company's desert compound and flew in a teacher from Paris to give them lessons in the evening, after the day's filming was completed. The production dragged on for so long, however, that by the time they were back in England, the "Twist" had fallen out of fashion.

When the company moved from Jordan to Spain, the camels traveled on shipboard with their legs drawn up under them so they wouldn't get seasick. After they got to Spain, they needed a day to recuperate from the ordeal before they could travel to the shooting locations.

While shooting Lawrence of Arabia, O'Toole lost 28 pounds, sprained one ankle, cracked the other, ruptured a thigh muscle, tore a groin muscle, dislocated his back and cracked his skull. As a result of the grueling shoot, he said no when director David Lean offered him the title role of Doctor Zhivago, triggering a rift between the two men that would last for decades.

There is not a single speaking role for a woman in all 216 minutes of Lawrence of Arabia. The only woman seen is a pin-up hanging in one of the Turkish Army's trenches.

During the film's initial release, the joke spread that one patron had gone to the ticket window and requested two seats on the shady side.

When Lawrence of Arabia first came out, rumors spread that some theatre managers turned down the air conditioning or turned up the heat during the half hour before intermission in order to sell more ice cream and cold drinks.

The night before Lawrence of Arabia's Los Angeles premiere, Peter O'Toole and Omar Sharif attended a performance by controversial comedian Lenny Bruce. Afterwards, they had a few drinks with him, then accompanied him home, where he proceeded to shoot up. At that moment, the police broke in and arrested all three on drug charges. Sharif called Spiegel in the middle of the night, and the producer used his influence to get the two actors released. But O'Toole refused to go unless Bruce was released too. So Spiegel and his lawyers had to get the comedian's drug charges dropped.

When he re-dubbed his dialogue for the restored version of Lawrence of Arabia, Peter O'Toole made fun of his inexperience 26 years earlier, quipping, "Now I know how to read the lines."

by Frank Miller

Memorable Quotes From LAWRENCE OF ARABIA

"I can't make out whether you're a bloody madman or just half-witted."
"I have the same problem, sir." - Donald Wolfit as General Murray to Peter O'Toole as T.E. Lawrence.

"I think you are another of these desert-loving English." - Alec Guinness as Prince Feisal on meeting Lawrence.

"I carry 23 great wounds all got in battle. Seventy-five men have I killed with my own hands in battle. I scatter, I burn my enemies' tents. I take away their flocks and herds. The Turks pay me a golden treasure, yet I am poor! Because I am a river to my people!" - Anthony Quinn as Auda abu Tayi.

"I cannot fiddle, but I can make a great state of a small city." - Peter O'Toole as T.E. Lawrence.

"Just what is it, Major Lawrence, that attracts you to the desert?""It's clean." - Arthur Kennedy, as Jackson Bentley, interviewing Peter O'Toole, as T.E. Lawrence.

"With Major Lawrence, mercy is a passion. With me, it is merely good manners. You may judge which motive is the most reliable." - Alec Guinness as Prince Feisal.

"The miracle is accomplished." - Omar Sharif as Ali after Lawrence leads the successful attack on Aqaba, Jordan.

"Young men make wars and the virtues of war are the virtues of young men: courage and hope for the future. Then old men make the peace, and the vices of peace are the vices of old men: mistrust and caution." - Alec Guinness as Prince Feisal.

"A man who tells lies, like me, merely hides the truth. But a man who tells half-lies has forgotten where he put it." - Claude Rains as Mr. Dryden.

"Yes, it was my privilege to know him and to make him known to the world. He was a poet, a scholar and a mighty warrior. He was also the most shameless exhibitionist since Barnum & Bailey." - Arthur Kennedy as Jackson Bentley.


back to top
---
Lawrence of Arabia (1962)
Producer Sam Spiegel first became interested in T.E. Lawrence in 1926, when he got hold of the limited "subscriber's edition" of Lawrence's Seven Pillars of Wisdom.

After the success of their first collaboration, The Bridge on the River Kwai, in 1957, Spiegel and director David Lean were eager to do another film together. Their first choice was a biography of Mahatma Gandhi, but eventually they decided that simplifying the great man's life for a film would be presumptuous.

Spiegel then suggested an adaptation of Lawrence's memoir about the Arab Revolt during World War I, and they assigned blacklisted screenwriter Michael Wilson, who had contributed anonymously to the script for The Bridge on the River Kwai, to write a treatment. Wilson and Spiegel consulted extensively while the producer was completing his next project, Suddenly, Last Summer (1959).

When news that Spiegel had purchased the screen rights to Seven Pillars of Wisdom from Lawrence's brother Professor A.W. Lawrence began to leak out, Spiegel called a gala press conference in 1959 to announce the project. Professor Lawrence explained that after years of withholding his approval of a film on his brother, he had finally agreed because he liked Wilson's script. He also informed the press that he had been paid 30,000 pounds for the book and that his only control over the production was the right to withhold the use of the book's title if he didn't like the finished film.

Spiegel's first choice to play Lawrence was Marlon Brando, who at the time was the same age Lawrence had been in 1917. When Spiegel announced his choice, one incredulous British reporter asked, "Will it be a speaking part?" referring to the Method actor's renowned mumbling. After the conference, Brando's management announced that he had yet to sign for the role. Eventually, he would decline the project because of his commitment to the re-make of Mutiny on the Bounty (1962). As reports of his temperamental and disruptive behavior during that costly location shoot filtered out, Spiegel and director David Lean were relieved not to be working with him.

The next candidate to play Lawrence was Anthony Perkins, but when he scored a hit working with Alfred Hitchcock, Spiegel and Lean dropped the idea for fear their film would be labeled Psycho of Arabia.

Competing with Spiegel and Lean's film was a stage play by Terrence Rattigan called Ross, named for one of the aliases Lawrence had used in later years to escape notice. The play had a successful London run and was set for a film adaptation, with Laurence Harvey starring, but a threatened indictment from Spiegel made it impossible for producer Herbert Wilcox to attain financing, so the production was dropped at a loss of 100,000 pounds. In this case, turnabout was fair play. Wilcox had turned Lawrence down in 1926 when the hero was trying to sell the screen rights to his Seven Pillars of Wisdom.

To guard against other Lawrence projects, Spiegel picked up the rights to Robert Graves' four books about T.E. Lawrence, written with the subject's approval, and Lowell Thomas' With Lawrence in Arabia, which had helped create the T.E. Lawrence legend.

Albert Finney became a serious contender for the role of Lawrence when word spread about his performance in the as yet unreleased Saturday Night and Sunday Morning (1960). By this point, Spiegel and Lean had decided that the project was strong enough on its own not to need a star in the top role. Finney was given an unprecedented screen test, shot in widescreen color, with full costumes and sets and a fully costumed supporting cast. The 1,400-foot test cost 100,000 pounds. Spiegel was impressed; Lean wasn't. The director thought Finney too independent to submit to his direction. Finney proved his independence when he turned down the role rather than sign a five-year contract with Spiegel. Even Lean had to admit that it was a "slave contract."

The Finney screen test brought one valuable member of the production team into the fold. Film editor Anne Coates was out of a job when she bumped into a friend who was working on the test. When he told her about the extensive shooting, she asked if they needed someone to edit the footage. She called, got the job and so impressed Lean with her work that he hired her to edit the film itself. She would win an Oscar for her work.

At the time Spiegel announced Finney as the major contender to play Lawrence, he also announced plans to cast Cary Grant and Kirk Douglas in supporting parts eventually played by Jack Hawkins and Arthur Kennedy, respectively.

With Finney out of the picture, Lean watched every film he could find in search of another actor. Then he spotted the 27-year-old Peter O'Toole in The Day They Robbed the Bank of England (1960). "On the screen, I saw this chap playing a sort of silly-assed Englishman, with a raincoat, casting for trout. And I said, 'That's it. I'm going to test him.'"

Spiegel had first encountered O'Toole when he was considering a replacement for Montgomery Clift, whose erratic behavior was slowing production on Suddenly, Last Summer. During an improvised screen test, O'Toole ad-libbed, "It's all right, Mrs. Spiegel, your son will never play the violin again." Spiegel was so offended he swore he would never work with him. The question was academic at the time, as leading lady Elizabeth Taylor used her clout to keep good friend Clift on the picture.

O'Toole's screen test was more modest, taking only a day to shoot. He dyed his hair blond and shaved the beard he was wearing in a Stratford, England, production of Shakespeare's The Merchant of Venice. Lean was impressed at the first sight of him in costume. Halfway through, he stopped the cameras and said, "No use shooting another foot of film. The boy is Lawrence." O'Toole signed for the film with the stipulation that his wife, actress Sian Phillips, be flown to the location once a month at the production's expense.

Before Spiegel could sign O'Toole, however, he had to get him out of a commitment to play King Henry II in Jean Anouilh's Becket at Stratford, England, which would have started rehearsals in the middle of the location shoot. When the festival's producer, Peter Hall, tried to file for an injunction, the judge ruled against him. Although O'Toole had shaken hands on the deal, he had never signed a contract. O'Toole would later play the role in the play's film version opposite Richard Burton.

O'Toole immediately set out to research Lawrence, almost memorizing Seven Pillars of Wisdom and interviewing anyone he could find who had known him. He had to move fast, as he was set to leave for the location shoot only five weeks after winning the role.

As the departure for location shooting neared, Lean still didn't have a final script. He had decided he didn't care for Michael Wilson's treatment and insisted they find someone to re-write it. Then he saw Robert Bolt's historical drama A Man for All Seasons in London and realized he'd found his writer. At first, they only asked the playwright to redo the dialogue, and he refused. Then Spiegel offered a large fee for a complete rewrite, but only if he could finish it in seven weeks. Bolt tried reading several books about Lawrence, but found them too contradictory, finally focusing on Lawrence's own Seven Pillars of Wisdom as his primary source.

Before filming even began, O'Toole traveled to Jordan to learn how to ride a camel and study the ways of the Bedouin. Eventually, he was as proficient as them at camel riding, though other principal cast members like Alec Guinness and Anthony Quinn had to ride horses instead.

by Frank Miller
back to top
---
Lawrence of Arabia (1962)
With his star and screenwriter in place, director David Lean still had one major battle left, the choice of a location. Producer Sam Spiegel wanted him to consider the cost-saving benefits of shooting in Southern California or the less volatile political climate in Israel. Lean, however, was determined to film the story where it had happened, in Jordan. One obvious problem was Spiegel's religion. Given the political situation in the Middle East, there was a good chance that a Jewish producer wouldn't even be allowed into the country. The production's British advisor, Anthony Nutting, who had been England's Minister of State for Foreign Affairs at the start of the Suez crisis, got around that problem by getting Spiegel a visa that listed his religion as Anglican. When the forthrightly Jewish producer protested, Nutting said, "Sam, just shut up! Here's your bloody visa."

Lean's instincts about shooting in Jordan proved right when he made his first location-scouting trip there. Along with breathtaking scenery, he discovered the remains of the Turkish locomotives and railroad tracks Lawrence had destroyed during the Arab Revolution. After 40 years in the sun, they hadn't even rusted.

To capture the location's grandeur, Lean decided to shoot the film in Super Panavision 70mm. He wanted the largest frame possible.

Nutting convinced King Hussein of Jordan that the film would boost tourism, thus bringing more money into the then-cash-starved nation. He also appealed to his sense of family. The king's great-grandfather, Sherif of Mecca, had launched the Arab Revolt with Lawrence in 1916. King Hussein quickly gave the film his blessing. Nutting even managed to talk down the original fee for the Jordanian Army's cooperation from one million pounds to 165,000.

Nutting also had to negotiate to hire the Bedouin tribesmen, who also wanted a million pounds. When he asked how they could ask so much, he learned that their representative, Sherif Nasser, had learned of a secret one million pound loan Spiegel had taken out from the Arab Bank there. The bank director, as it turned out, was Sherif Nasser's uncle. Spiegel got the price down by pulling a ploy his associates were used to. He had a heart attack, which so threatened the production's future that the Bedouin lowered their price.

In July 1961, the company moved to their first location, Jebel Tubeiq near the Saudi Arabian border. The spot was 150 miles away from the nearest water and had not been inhabited since a band of monks abandoned their monastery there in the seventh century A.D. Temperatures were so high in the summer sun that most thermometers couldn't even register them. In fact, the thermometers had to be cooled down.

To accommodate the cast and crew while they were filming in the desert, the production company set up a small city of tents and trailers, complete with air conditioning and refrigerators. The location company started with 75 members and eventually rose to more than 400, most of them Jordanians. The leading actors each had personal servants to see to their needs, from laundry to cold drinks. A master chef was flown in from London to set up the company kitchen. On Saturday nights, they showed movies outdoors. And every 28 days, they were flown to the nearest city for two days of recreation. Both Sharif and O'Toole separately enjoyed soaking in cold baths during their breaks, as they couldn't do that on location.

While assisting Robert Bolt with research, Nutting, who was working on his own biography of Lawrence, became convinced that the war hero had left something out of the final edition of Seven Pillars of Wisdom in his description of his capture and mistreatment by the Turkish police. He finally uncovered a rare 1922 edition of the manuscript and a letter to George Bernard Shaw's wife that strongly suggested that the Turkish Bey had actually raped Lawrence, a fact hinted at in the movie.

Spiegel's first choice to play Lawrence's closest friend, Sherif Ali, was French actor Alain Delon, but Lean wanted an actor with dark hair and eyes to contrast O'Toole's blond hair and blue eyes. Delon's jet-black hair was fine, but his eyes were blue. They tried putting him in brown contact lenses, but he couldn't tolerate them. With a month to go before shooting, Spiegel cast another French actor, Maurice Ronet, and had him flown to meet Lean in Jordan. When he arrived, Lean was shocked. This time he had an actor with green eyes. He put out a call for photos of every Arab actor the production company could locate. When they sent him Omar Sharif's picture, he said, "If this guy speaks English, send him out."

Sharif was already a big star in his native Egypt when he got the call to meet Spiegel in a hotel in Cairo. When he agreed to make a screen test, Spiegel flew him to Jordan. In his autobiography, The Eternal Male, Sharif would marvel that a Jew from Hollywood had gotten something from the Egyptian government the native-born Sharif had been trying to get for years - an exit visa.

Sharif played two scenes for his screen test, working with O'Toole and Ronet but not playing Ali. Lean sent the tests to Spiegel with a strong recommendation that they sign Sharif. A few days later, Ronet flew back to France, and Sharif was cast in the role of Ali.

Spiegel came out on top in Sharif's casting in more ways than one. Not only did he get the perfect actor for Ali, but he finally got someone to sign one of his five-year "slave" contracts. In later years Sharif would regret doing so, as the higher fees he commanded after his success in Lawrence of Arabia mostly went into Spiegel's pockets.

During the desert location shoot, 300 Bedouins wearing sandals muffled in wool were charged with smoothing out the desert sands with palm fronds after each rehearsal and take so there would be no extraneous footprints in the sand.

Throughout shooting, Spiegel continued to feign heart attacks whenever he wasn't happy with the way things were going. At one point, he had himself strapped to a stretcher and flown by Red Cross helicopter to the desert location. Attendants carried him to Lean, to whom he said, "Don't worry about anything, David -- not the budget, not the schedule, not my health. The picture -- the picture is all that counts!" Then he was flown back out.

After five months shooting in Jordan, Spiegel ran short on cash and moved the entire production to Spain, where he had frozen assets he could only spend in that country. Lean was so unhappy about the move that he stayed in Jordan on his own after everyone else had left for a rest in England. Surveying one of the last scenes there, a desert panorama complete with camels, he complained, "Bloody well match that somewhere else in the world."

Property manager Eddie Fowlie coordinated the move to Spain on a large tramp steamer. The strangest part of the cargo was 100 stuffed camels. He had bought the skins from a slaughterhouse in Jordan and had them stuffed in case they were needed for battle scenes, which they were.

The first Spanish location was in Seville, where the company actually got to stay in hotels. The production took advantage of the city's Moorish architecture to re-create early 20th century Damascus, Cairo and Jerusalem, which had become too modernized for use in the film. Two thousand local extras turned out to film General Allenby's entry into Damascus in front of Seville's Archeological Museum.

When the company moved to Spain they were joined by new principal players Claude Rains, who had been working in Rome; Jose Ferrer, who had been in India; and Arthur Kennedy, who replaced an ailing Edmond O'Brien at the last minute as an American war correspondent.

After three months shooting in the Seville area, the company moved again, 350 miles southeast to the port city Almeria. The area comes closer to desert terrain than any other part of Europe. A special train carried the company overnight from Seville. Another train carried the trailers in which they had lived in Jordan, while a 48-truck convoy brought the props, costumes and technical equipment.

Because Jordan had had no snow the year before, they had to film scenes of Lawrence's trek through the mountains in Spain's Sierra Nevadas. A special sledge with ski-type runners was used to move the camera.

In a dried riverbed, designers built the entire town of Aqaba, Jordan, circa 1916. Contemporary Aqaba had become too modernized to serve as a location. The set consisted of 300 separate building fronts and a quarter-mile-long sea wall. On a hillside behind that, they built a half-mile square Turkish Army camp and parade ground overlooking the town. Here they filmed the Arab charge of 150 camels and 450 horses through the Turkish camp.

One of the major scenes shot in southern Spain was the attack on the Turkish railroad. The crew laid tracks and brought in German and Belgian locomotives from the early 20th century rented from the Spanish national railway system. Each of the two trains included eight passenger cars, 14 horse cars, two luggage vans and a guards' van.

It took impeccable planning to prepare the railroad attack. They could only film the sequence once. After careful testing, they determined that it would take ten pounds of guncotton to cut the rails and another ten to send the train cars careening off the track. To control their motion through the desert, they had to plant steel plates under the sand. The engineer set the locomotive at full throttle, then jumped off before the tracks exploded.

The final location for the film was in Morocco, where they moved in July 1962 to shoot the massacre of the Turkish army. The scene required an Arab army of 800 mounted on horses and camels and a Turkish army of 1,200 on carts and mules. Lean started with long shots and moved to close-ups so they could gradually let people go throughout the day before they got too tired, a real danger shooting epic scenes of this nature.

Principal photography wrapped on August 17, 1962, more than a year after it had begun. The final production budget was about $12 million.

When Lawrence of Arabia was finally put together and shown to Lawrence's brother Professor A.W. Lawrence, he was horrified at what he considered liberties taken with history. He called it "an unholy marriage between a Western and a psychological horror," and refused to let them use the title Seven Pillars of Wisdom. He ended up donating most of the money he'd been paid for the rights to charity.

Lawrence of Arabia premiered in London as the Royal Command Performance for 1962 on Monday, December 10. Tickets for the charity performance cost between one and 25 guineas (the equivalent of $4 to $100).

Many who had known Lawrence and other real figures featured in the film were horrified by the picture. Lawrence biographer Basil Liddell Hart wrote to warn many of the man's former friends that they would be shocked by the depiction of the hero struggling with sadistic impulses. Lady Allenby, widow of General Allenby, wrote to The London Times: "Is there any way in which a film company can be stopped from portraying a character so inaccurately as that of the late Field Marshal Allenby in Lawrence of Arabia?...What can one do? What is the remedy? Or is there one?"

Lean had less than two months to prepare Lawrence of Arabia for its premiere after completing second unit work in the middle of October 1962. As a result, the version shown at premiere was a few minutes longer than he might have liked. He had hoped to go back and cut a few frames from some shots he thought ran too long, but after the premiere, distributor Columbia Pictures asked him to cut 20 minutes from it so that exhibitors could squeeze in an extra showing each day. So instead of trimming a few shots, he had to cut whole scenes. For a 1971 re-issue, another 15 minutes were cut. Many critics have complained that this later version renders the action incoherent, particularly in the film's second half, which sustained the largest cuts.

In 1986, film archivist Robert A. Harris approached Columbia about restoring the footage cut from Lawrence of Arabia. This proved a massive task, as the original camera negatives, shot in unstable Eastmancolor, had started to deteriorate and had to be restored first. The negatives were so unstable that they were self-destructing during the creation of the interpostive, the positive color print used to create negatives from which new prints would be struck. The project spanned two regimes at the studio, starting under David Puttnam's leadership and ending with Dawn Steel as studio head. Directors Martin Scorsese and Steven Spielberg used their influence to keep the thing going. Harris was fortunate enough to receive assistance from Lean and original editor Anne Coates in putting the material back together, which in many cases included using trims (pieces of film left over from the original editing) and outs (unused, alternative takes). Since some cut sequences no longer had soundtracks, he had to get Peter O'Toole, Anthony Quinn and Alec Guinness to re-dub their dialogue. Actor Charles Gray (The Rocky Horror Picture Show, 1975, Diamonds Are Forever, 1971) imitated the late Jack Hawkins for some scenes. Harris got the film back to 223 minutes, then Lean made the trims he'd wanted to make in 1962, creating a director's cut that ran 216 minutes. The "Director's Cut" finally premiered in September 1988 and is now available on video and DVD.

In 1995, the Writers Guild decided that Michael Wilson had written enough material for Lawrence of Arabia to merit a screen credit. All versions of the film since then, including the DVD, credit the script to Robert Bolt and Michael Wilson.

by Frank Miller
back to top
---
Lawrence of Arabia (1962)
After the global acclaim and grosses that were garnered by The Bridge On The River Kwai (1957), producer Sam Spiegel wanted to collaborate once more with director David Lean on a project that might even exceed their prior effort on sheer grandeur and scope. They succeeded in a manner beyond their own expectations when Lawrence of Arabia (1962) became an international critical and box office phenomenon.

After discarding as unworkable the notion of depicting the life story of Mahatma Gandhi, Spiegel opted to indulge his lifelong fascination with Colonel T.E. Lawrence (1888-1935), the once-obscure British military cartographer who came to orchestrate the Arab rebellion on the Turkish front in World War I. The film rights to Lawrence's 1926 memoir Seven Pillars Of Wisdom had long been in the hands of Alexander Korda, and the producer obtained them from Lawrence's brother for the sum of 30,000 pounds in 1959. To adapt Seven Pillars of Wisdom for the screen, Spiegel and Lean had initially engaged Michael Wilson, but by the eve of shooting had become disenchanted with his efforts as "too American." After seeing the London production of A Man For All Seasons, Spiegel tracked down playwright Robert Bolt and offered him the project.

After the near-universal derision that met his originally stated preference to cast Marlon Brando in the lead, Spiegel next considered a then-unknown British stage actor-Albert Finney-for his Lawrence. The producer was pleased with Finney's test, but the actor balked at Spiegel's offer of a five-year contract. Lean subsequently trolled the London cinemas, waiting for the onscreen presence that he had been searching for, and found him while screening The Day They Robbed The Bank Of England (1960). "On the screen, I saw this chap playing a sort of silly-assed Englishman, with a raincoat, casting for trout," Lean recalled in L. Robert Morris and Lawrence Raskin's Lawrence Of Arabia: The 30th Anniversary Pictorial History (Doubleday). "And I said, 'That's it. I'm going to test him.'"

Lean, of course, was referencing Peter O'Toole, who at 27 was already a young veteran of the London stage, and who had enraged Sam Spiegel with his impertinence when he tested as a possible emergency replacement for Montgomery Clift in Suddenly, Last Summer (1959). The actor's penchant for partying was not lost on Anthony Nutting, the onetime British diplomat whom Spiegel had retained as an advisor. As recounted by Morris and Raskin, the former envoy apprised the performer that "if you don't stay sober, you're going to leave Jordan on your ass...You're the only actor we've got, and if you get bundled home, then there's no film. That's the end of the film, and that's probably the end of you." O'Toole behaved himself, and rendered a charismatic performance that set his reputation for life.

The supporting players are no less memorable than O'Toole, such as Omar Sharif, who was likewise elevated to stardom for his efforts as the Bedouin sherif who became Lawrence's first ally. Alec Guinness, who had been one of the names considered by Korda for his Lawrence, and who had excelled on the West End in the Lawrence bioplay Ross, brought noble bearing to the role of Feisal, the prince who would one day rule the region. Other standouts include Claude Rains as the bureaucrat who sponsored Lawrence on his quest, Jack Hawkins as the calculating C.O. General Allenby, Arthur Kennedy as a cynical American reporter who feeds off of the Lawrence legend, and Jose Ferrer as the perversely sadistic Bey of Deraa.

Nutting's participation in the project gave the filmmakers entree to location scouting in Jordan, where Lean discovered remnants of the very Turkish trains and tracks that Lawrence had dynamited generations before. For five months in a locale sited 150 miles from the nearest water, Lean and cinematographer Freddie Young captured the fabulous desert vistas that became Lawrence of Arabia's hallmark. The production then shifted to Seville, Spain, where the settings that had in real life given way to modernization - Cairo, Jerusalem, Damascus - had to be painstakingly recreated. Production spanned two years at a cost of $12 million, a formidable sum for the era.

The filmmakers' treatment of their protagonist is rife with much the same ambiguity that has marked history's regard for the real Lawrence; whether his central motivation was a genuine belief in Arab self-determination, or merely his own self-aggrandizement. "Lawrence of Arabia does not attempt to present or to explain the 'real' T.E. Lawrence (whoever he was)," wrote Michael A. Anderegg in his biography, David Lean (Twayne Publishers). "The person who was T.E. Lawrence does not and could not exist in the film. As soon as he appears on the screen, the Lean/Bolt/Peter O'Toole Lawrence takes on a life independent of historical fact."

As a result, various Lawrence scholars took issue with the filmmakers' efforts, as did Lawrence's brother, who rescinded his prior vote of confidence. The greater public, however, enthusiastically embraced Lawrence of Arabia upon its release. The film dominated the subsequent Oscar night, taking home the Best Picture Award and a total of seven of its ten nominations. Lean and Young won for their efforts, as did editor Anne Coates, the art direction and sound teams, and Maurice Jarre for his sweeping, unforgettable score.

Producer: Sam Spiegel, David Lean
Director: David Lean
Screenplay: Michael Wilson, Robert Bolt
Art Direction: John Stoll
Cinematography: Freddie Young
Editing: Anne V. Coates
Music: Maurice Jarre
Cast: Peter O'Toole (T.E. Lawrence), Alec Guinness (Prince Feisal), Anthony Quinn (Auda abu Tayi), Jack Hawkins (Gen.Allenby), Omar Sharif (Sherif Ali ibn el Kharish).
C-227m. Letterboxed. Closed captioning

by Jay Steinberg
back to top
---
Lawrence of Arabia (1962)
AWARDS & HONORS

Lawrence of Arabia was part of the most wide-open Oscar race in decades. Because of a newspaper strike, the New York Film Critics Circle, which frequently serves as an early indicator of the Academy Awards, didn't present any awards in 1962. The strongest thing the film had going for it on Oscar night was the fact that David Lean had won the Directors Guild Award a few weeks earlier. The two awards rarely disagree.

Lawrence of Arabia won seven Oscars, a feat only previously achieved by Lean's collaboration with producer Sam Spiegel, The Bridge on the River Kwai. It won for Best Picture, Best Director, Best Cinematography, Best Art Direction, Best Editing, Best Music and Best Sound. It had 10 nominations, also honored for Best Actor (O'Toole), Best Supporting Actor (Sharif) and Best Adapted Screenplay. Lean would later say that since Bolt's screenplay had only used Seven Pillars of Wisdom as a source for facts, it should have been nominated for Best Original Screenplay, a category he was sure it would have won (the winner that year was Divorce-Italian Style).

David Lean's acceptance speech at the Academy Awards was short and sweet: "This Limey is deeply touched and greatly honored. Thank you."

The British Academy of Film and Television Arts (BAFTA) gave the film awards for Best Picture, Best Director and Best Actor (Peter O'Toole).

The Hollywood Foreign Press honored Lawrence of Arabia with Golden Globes for Best Picture, Best Director, Best Cinematography and Best Supporting Actor (Omar Sharif).

The National Film Preservation Board voted Lawrence of Arabia a place on the National Film Registry in 1991.

by Frank Miller

The Critics Corner: LAWRENCE OF ARABIA

Lawrence of Arabia was one of the top box-office films of its year, taking in $20 million.

"Magnificent....Here is a motion picture that seems a summing up of the aims and aspirations of the 'big film'." - Hollis Alpert, Saturday Review.

"Lawrence of Arabia makes its first breath-taking impact with the most exciting location photography I have ever seen in the cinema." - Peter Baker, Films and Filming.

"Whatever the virtues of the film's stunning desert photography, its Lawrence bears much the same relation to Col. Thomas Edward Lawrence that Elizabeth Taylor's Cleopatra does to that famous lady." - Stanley Weintraub, Film Quarterly.

"One of the all-time great films. There may never have been in film history a movie which so deftly combines an epic grandeur of scene and action with surpassingly fine and subtle details of character." - Archie Winston, The New York Post

"Like the desert itself, in which most of the action in Lawrence of Arabia takes place, this much-heralded film about the famous British soldier-adventurer...is vast, awe-inspiring, beautiful with ever-changing hues, exhausting, and barren of humanity....It is, in the last analysis, just a huge, thundering camel-opera." - Bosley Crowther, The New York Times

"To me, Lawrence is an extraordinary film because it accomplishes what no other medium can in presenting the story of that enigmatic twentieth-century hero. It goes beyond Lawrence's Seven Pillars of Wisdom, beyond Terence Rattigan's Ross in giving us an understanding of the desert and Lawrence's infatuation with it, its impact upon the many facets of his complex character, its scope in providing his experience. And it is an extraordinary film because it is the first spectacular to use its spectacle for more than visual purpose, specifically as a probe of character, a delineation of an individual within a broad realm of experience." - Judith Crist, The New York Herald Tribune.


back to top
---