DVDs from TCM Shop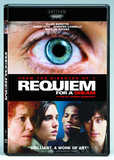 Requiem for a Dream Story of a drug addict and his... MORE&nbsp> $11.95 Regularly $14.98 Buy Now
NOTES
DVDs from TCM Shop
Requiem for a Dream Story of a drug addict and his... MORE&nbsp> $11.95
Regularly $14.98 buy now
In the opening credits for Requiem for a Dream, short scenes of a television game show called "Tappy Tibbon's Month of Fury" are seen. Time lapse sequencing, split screen editing and a technique Aronofsky refers to as "hip hop" editing, make the narrative cut rapidly back and forth between scenes. For the purpose of clarity, the summary above describes each scene completely before describing the next. A November 23, 1979 Variety article states that Edgar J. Scherick and Associates were developing a film version of Requiem for a Dream, with plans for British director Alan Clarke to direct, however, it was not produced.
According to the film's presskit, the film's director, Darren Aronofsky was born and raised in the Brighton Beach neighborhood of Brooklyn, New York and, as a freshmen in college,was inspired by author Hubert Selby Jr.'s writing. Aronofsky's mother, Charlotte Aronofsky, and his father, Abraham Aronofsky, both play small parts in the film. The film was shot on location at Coney Island and Brooklyn, New York. The scenes of the American South were also shot in New York. As noted in the onscreen credits, the film was developed with the financial assistance of the Sundance Institute.
A August 22, 2000 Daily Variety article states that the film was given an NC-17 rating by the MPAA, but Artisan attempted to appeal the decision. By October 2000, Artisan released the film without a rating, however, according to a October 4, 2000 Los Angeles Times article, several New York theaters insisted on giving the film an NC-17 rating for sexual content. A Hollywood Reporter article of the same date states that Artisan agreed to make a print of the film adding that no one under 17 would be permitted admission to the film, however, the print viewed did not have the warning.
The film was selected by AFI as one of the top ten films of 2000. Ellen Burstyn received the 2001 IFP/West Independent Spirit Award for Best Female Lead for her performance and Matthew Libatique received the organization's Best Cinematographer award. Burstyn was also nominated for a Best Actress Academy Award and a Best Actress Golden Globe award.