DVDs from TCM Shop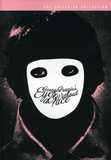 Eyes Without a Face A surgeon steals young... MORE&nbsp> $22.95 Regularly $29.95 Buy Now blu-ray
Home Video Reviews
In 1962, a few hardy American horror fans dared to see a film with the unpleasant title
The Horror Chamber of Dr. Faustus
. They could hardly believe their eyes. Instead of the expected trashy exploitation picture, they were confronted by a hauntingly disturbing movie about a mad doctor murdering kidnapped women to restore the beauty of his disfigured daughter. It had scenes of realistic, bloody surgery as the surgeon's scalpel mutilated the latest in series of female victims. Domestic chiller pix and even the Technicolor Hammer films were pitched at a general audience, but
Horror Chamber
was shocking, but far different in tone. The strange impression it gives is of a poetic, austere beauty.
Only fans that read international cinema magazines could have known what they were looking at:
Horror Chamber
was United Artists' crass re-titling of a 1960 French art-horror picture called
Les yeux sans visage
, or
Eyes Without a Face
. Its screenwriters were Pierre Boileau and Thomas Narcejac, the well-known mystery authors of the source novels for Alfred Hitchcock's
Vertigo
and H.G. Clouzot's
Les diaboliques
. The director was Georges Franju, the maker of a notoriously graphic documentary on Parisian slaughterhouses,
The Blood of Beasts
.
Eyes Without a Face
stands alone among fright classics. Although a horror boom had recently begun in England and Italy, Franju's film is not part of any established genre tradition. Its designs don't resemble German Expressionist cinema. Its visuals appear to interpret the surreal aesthetic of Jean Cocteau. The film's surface reflects a somber, overcast Paris, as a mysterious woman disposes of flayed corpses, and prowls for new surgical victims.
The story follows the horrible, destructive efforts of a modern professional too proud to admit defeat: he's willing to spend the lives of innocent young people to prove his theories.
In a grim, cold cemetery outside Paris, noted surgeon and neurologist Doctor Génessier (Pierre Brasseur) buries his drowned and mutilated daughter Christiane, much to the concern of his aide/secretary Louise (Alida Valli) and his medical intern Jacques Vernon, Christiane's forlorn fiancé (François Guérin). But back at the doctor's foggy country clinic Christiane (Edith Scob) is very much alive, hiding in the family mansion and wandering deranged through the corridors in a mysterious blank-faced mask. Louise spends her days stalking students outside the Sorbonne, looking for young women with eyes and skin that match Christiane's...
Far too strong for most American distributors,
Eyes Without a Face
doesn't flinch from its disturbing content. In its key scene, a luckless victim has her entire face stolen in a bloody surgical procedure guaranteed to shock audiences even today. Hammer's horror films re-popularized fantasy vampires and werewolves, but Georges Franju's far more troubling film shows its fiends in action without providing a moral judgment. The "mad" doctor isn't mad at all, but commits his atrocious crimes out of pure hubris, the conviction that his god-like professional talent places him above humanity. Dr. Génessier mutilates one victim after another in a fruitless effort to restore his daughter's beauty. In one intolerably suspenseful scene, a young woman with a bandaged head tries to make good an escape. We want her to get away, but at the same dread what her reaction will be when she realizes that her face has already been removed. The movie repeatedly forces us to contemplate the unthinkable.
Horror and beauty blend uneasily in Franju's story of surgical nightmares. Looking like a mannequin come to life, Christiane Génessier hides in her father's house wearing an expressionless mask. Louise's concern is useless, as Christiane has already gone quietly insane. Wandering the halls, she visits the dogs used for grafting experiments, and phones her ex-fiancé Jacques. Christiane says nothing. She's living like a ghost, calling her lover from beyond the grave. Or perhaps she's become an angel of madness. She embraces the dogs, and is seen in a breathtaking slow motion scene with doves fluttering around her head.
The mask immediately reminds one of visual themes in the films of Jean Cocteau. Just in the way she glides down a brick hallway, or cocks her head while staring at her portrait on the wall, Christiane becomes a piece of surreal art. The gray-on-gray camerawork of Eugen Shuftan helps Franju creates disturbingly beautiful images that comment on the surface textures of things and objects, starting with faces. Trees reflect in the Doctor's shiny black sedan, but Louise's ugly little car has a dull corrugated surface. The doctor's private surgery is in a dungeon-like basement, yet reveals shiny tile walls and chrome equipment. Dr. Génessier leans in close as his patient Paulette (Béatriz Altariba) submits to an encephalogram, with the flashes of a stroboscope reflecting on her perfect, fair complexion. Paulette is unaware that her doctor's interest is in her face, not her health. Seen only in a shadowy blur, Christiane's own face is a torn and furrowed mass of tissue, with no real skin at all.
Franju keeps the particulars in the shadows as well. With his official clinic up front and his secret surgery hidden away, Doctor Génessier reminds us of Nazi doctors and their atrocious experiments on helpless victims. At one point Louise shows Christiane a scar on her neck indicating that the doctor performed plastic surgery of some kind on her as well. Is Louise hiding some kind of criminal or political past? All we know about Génessier is that he is wealthy, arrogant and uncaring toward others. He doesn't see his patients, only their diseases. He pursues his insane face-grafting experiments more out of professional pride than parental concern, and hardly seems aware that his daughter is slipping into insanity. For a short time one of the face transplants faces appears to be succeeding. Christiane stares nervously, and says that maybe now she'll be able to live... and that she'll have to live for "the others" as well.
Eyes Without a Face
makes us think about faces and personal identity. People relate to each other primarily through faces, and the lack of one presents a crippling identity problem. It's fascinating that half a century later, face transplants are a reality almost out of the experimental phase. Faces destroyed by accidents or birth defects can be least partly restored. But if the process becomes common, will it be abused? Will poor families in the Third World sell their children's faces for the benefit of the children of the rich? This is reportedly already happening with other organs, especially kidneys.
Franju attracted two big stars for his film. Pierre Brasseur was a veteran of many French classics, including
Children of Paradise
. Alida Valli is best remembered as the sad, remote beauty of Carol Reed's
The Third Man
and Luchino Visconti's epic
Senso
. The marvelous Edith Scob had a small role in Franju's previous picture. The prime part of Edna Gruber went to Juliette Mayniel, who had garnered attention in Claude Chabrol's
Les cousins
.
Too sophisticated for its own genre, Georges Franju's masterwork was shunned by the conservative critical establishment when new, and only slowly built its reputation. But it immediately influenced a wave of horror films about fiendish medicos murdering women to obtain something organic (usually blood) to cure or restore a wife or a daughter: Giorgio Ferroni's spooky
Mill of the Stone Women
, Anton Majano's foolish
Atom Age Vampire
, Jesus Franco's
The Awful Dr. Orloff
. Very recently Pedro Almodóvar directed a derivative horror item combining plastic surgery and sex reassignment,
The Skin I Live In
. Franju's poetic, horrific
Eyes Without a Face
is still unequalled for film poetry.
Criterion's stunning Blu-ray of
Eyes Without a Face
replicates cinematographer Eugen Shuftan's full range of soft gray tones and uncanny textures. Composer Maurice Jarre's impressive music score sounds marvelous in Blu-ray's lossless audio. The sharp violin notes in the title scenes now cut like a razor. Jarre's first music scores were for Franju, and his unnerving dance-of-death theme for this picture is as good as anything he's done.
Images have circulated of a slightly longer alternate ending that reportedly was never incorporated into the film. This version is intact. Extras from Criterion's previous DVD are all present, beginning with the short subject
The Blood of Beasts
, the sly documentary about two Paris slaughterhouses that made Franju's reputation as a notorious filmmaker. A short Franju interview takes place in a demeaning 'mad lab' TV set with bubbling colored liquids and a costumed horror host. Better is
Grandfathers of Crime
, a 'two authors at home' visit with the genial Gallic thriller team of Boileau-Narcejac.
The new extra is an interview with the still-active actress Edith Scob, who talks about her role in Franju's
Head Against the Wall
and offers her take on
Eyes
along with her personal memories of the director. She even describes what wearing the mask was like -- once it was on, it had to remain in place for hours.
Two trailers are included, a mysterious, highly creepy original French original, and an impossibly exploitative Lopert trailer for the U.S. exploitation double bill of
The Horror Chamber of Dr. Faustus
and
The Manster
. An insert flyer features short essays by Patrick McGrath and David Kalat.
Eyes Without a Face
is far, far too good to be just a cult film.
Reviewed by Glenn Erickson
Georges Franju's
Eyes Without a Face
(
Les Yeux sans visage
, 1959) has often been characterized as a "poetic" horror film. This designation still seems apt, since Franju manages the tricky balancing act of thoroughly inhabiting a genre that is almost by definition déclassé while simultaneously adopting the moodiness, visual fluency and symbolic richness of an "art" film. For years the film was distributed in the U.S. mainly in a cut and dubbed version. However, the original French version has been distributed on home video sporadically for the past couple of decades and new 35mm prints of it toured nationwide last year. Criterion's new DVD ups the ante by providing a solid transfer and some valuable special features, including Franju's similarly poetic but profoundly disturbing 1949 documentary short
Blood of the Beasts
.
Synopsis:
Dr. Genessier, a respected French surgeon, is responsible for disfiguring his daughter Christiane's face in an auto accident and becomes obsessed with restoring her beauty through facial transplants. He keeps the troubled Christiane confined to the villa and convinces the police that she is dead. His sinister assistant Louise helps him lure beautiful young women to his villa in order to remove their faces for the procedure, but the "heterografts" (as he calls them) fail to take hold and Christiane is once again left without a face. Christiane's grief-stricken fiance (and fellow doctor) Jacques Vernon becomes suspicious and offers to help the police with their investigation, but can they find the newest intended victim before it is too late?
George Franju's
Eyes Without a Face
was part of the global artistic renaissance of the horror genre in the late 1950s and early 1960s that included the Hammer films (especially those directed by Terence Fisher), Italian horror maestros such as Mario Bava and Riccardo Freda, and more self-consciously "arty" forays into the genre by mainstream directors. The best-known examples of the latter are Michael Powell's
Peeping Tom
(1960), Alfred Hitchcock's
Psycho
(1960) and Franju's film. However, while many of these new horror films displayed a great deal of stylistic verve and psychological sophistication, they often had difficulty overcoming pre-established marketing expectations and critics' highhanded dismissal of the genre.
Eyes Without a Face
, for instance, was originally released in the U.S. in 1962, in a dubbed and edited version entitled
The Horror Chamber of Doctor Faustus
, as part of a double bill with the notoriously inane
The Manster
(1961). In terms of sheer disparity of artistic merit, this must have been one of the most absurd double features ever.
The pleasures of Franju's film are many, starting with the ultra-grim undercurrent of black comedy. For instance, when Dr. Genessier delivers a public lecture on the "heterograft," a pair of elderly women take almost vampiric relish in the purported "rejuvenating" effects of such transplants. The venerable French actor Pierre Brasseur gives a superb performance as the domineering, obsessive doctor, wielding his deep bass voice like a scalpel. Alida Valli is deliciously perverse as Louise, a former patient whose unhealthy loyalty extends to assisting with murder. While Edith Scob's face is covered for much of the film, she conveys a delicate, melancholy grace through her eyes and especially her body movements. The direction and screenplay are first-rate--both in terms of how economically information is revealed to the viewer as the film progresses, and in terms of the film's development of the themes of facelessness and moral responsibility.
However,
Eyes Without a Face
is still very much a horror film, and it delivers the goods; the surgical sequence at the heart of the film is grueling to watch even today. Franju's film has undeniably left an impact on the genre, though perhaps not in the way Franju may have intended; we find traces of it, for instance, in the medical horrors of Jess Franco's
The Awful Dr. Orloff
(1962) and
The Diabolical Dr. Z
(1966). While the prolific Franco also achieves something approaching cinematic poetry during his rare flights of inspiration, the frankly exploitative nature of his films--especially his later projects--will probably prevent the mainstream critical establishment from ever embracing them as "Art." Fortunately, that is not the case for
Eyes Without a Face
.
This may be one of Criterion's less expensive one-disc releases, but they don't skimp on the special features. First and foremost is Franju's 20-minute documentary short on Parisian slaughterhouses,
Blood of the Beasts/Le Sang des betes
(1949). Sparing nothing for the viewer, Franju depicts horses, bulls, calves and sheep being slaughtered and prepared for sale to the city's meat markets. While some viewers today might interpret the film as a tract for vegetarianism, Franju is deliberately non-judgmental in his approach. He views the slaughterhouses as a necessary aspect of the city's existence, a point made clear by the circular imagery that opens the film. I, for one, unexpectedly came away with heightened respect for the slaughterhouse employees' exhausting and sometimes dangerous work. This is unquestionably a great documentary in terms of the artistic quality of the photography and editing. However, those sensitive to images of animal slaughter have been warned.
The disc also features three interviews--two with Franju and one with the screenwriters Pierre Boileau and Thomas Narcejac, the French thriller writing team best known for the source novels of Clouzot's
Diabolique
and Hitchcock's
Vertigo
. Franju's 1982 interview for
Cine-Parade
is unspeakably bizarre, and all the more entertaining for it: the interviewer is a man in a mad-scientist's getup of a white lab coat and fright wig, and the pair is surrounded with bubbling beakers and luridly colored lighting. It's a treat for those who remember the good old days of late-nite horror movies on TV hosted by cut-rate celebrities such as the Vegas Vampire. Yet amazingly, Franju maintains his composure and speaks matter-of-factly about
Eyes Without a Face
and the horror genre in general. The stills gallery is a great deal of fun, with no shortage of promotional materials for the
Horror Chamber/Manster
double bill. The basic incompatibility of the two films results in all sorts of absurd and amusing graphic combinations. My favorite: a lobby card that juxtaposes the image of a two-headed monster attacking a Japanese scientist with the quote "A ghastly elegance that suggests Tennessee Williams!" Thankfully, Criterion included the double feature trailer along with the original French trailer. The transfers for both
Eyes Without a Face
and
Blood of the Beasts
do a great job of rendering the textures of their black-and-white photography. If anything, the transfer of
Eyes
has richer contrast than the new 35mm print that played in theaters recently. The mono sound is also fine. Highly recommended.
For more information about
Eyes Without a Face
, visit
Criterion Collection
. To order
Eyes Without a Face
, go to
TCM Shopping
.
by James Steffen