DVDs from TCM Shop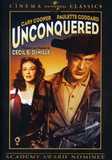 Unconquered An English convict girl sent... MORE&nbsp> $11.21 Regularly $14.98 Buy Now
NOTES
DVDs from TCM Shop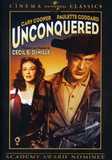 Unconquered An English convict girl sent... MORE&nbsp> $11.21
Regularly $14.98 buy now
The title card to the film reads "Cecil B. DeMille's Unconquered." A spoken narration opens the film, establishing the period and giving some historical background and motivation for the story. It begins, "At the forks of the Ohio stands an American city, a colossus of steel, whose mills and furnaces bring forth bone and sinew for a nation. Not so long ago, a lowly outpost guarded this very spot. It was called Fort Pitt...."
According to a September 25, 1947 article in Daily Variety, this film, which cost $4.2 million to make, was DeMille's most expensive film to date. Referring to the September 1947 subpoenaing of forty-seven members of the film community by the House Committee on Un-American Activities to appear at hearings in Washington, D.C., DeMille, about to embark on a publicity tour for this film, is quoted in the article as having said "I'm also going to try to correct the impression that Hollywood is a nest of Communism." According to the Paramount Collection contained in the AMPAS Library, in June 1946, the Production Code Administration suggested a rewrite of "Abby's" wedding scene to eliminate its "objectionable flavor," stating "the present offhand handling of this marriage seems unduly light and undignified."
Portions of this film were shot at the Conejo Grade, forty-five miles west of Los Angeles, CA. According to the Paramount Collection, a second unit photographed up and down the north fork of Clearwater River in Idaho, eighty-two miles from the closest town of Orofino on July 4, 1946. Big Mesa Falls in Ashton, ID (near Boise) was filmed for the waterfall scenes, and the rapids river sequence was shot in McCall, ID (also near Boise). The exteriors of the log fort and Wolf Creek were shot in a state forest in New York. Extensive filming took place in the Kiskiminetas River country in western Pennsylvania and in Cook's Forest, sixty miles from Pittsburgh, PA. According to a July 1, 1946 Par News item, after three weeks of shooting in Cook's Forest, part of Cook's National Park, heavy rains and floods forced the second unit to move 250 miles east to a scenic plateau north of the Allegheny Mountains. DeMille had fifteen fifty-foot birch trees shipped from Pennsylvania forests to Hollywood for the Peakestown spring fair scene in the film. According to Paramount News, DeMille used dozens of real fireballs and flaming arrows in the battle scene; eight persons suffered burns and one extra's hair was burned.
A Paramount News item noted that DeMille bowed to the PCA by using soapsuds in Paulette Goddard's barrel bath scene, even though there was no bubblebath in 1763. Several reviews mentioned DeMille's depiction of Goddard in a crude wooden barrel as uncharacteristic of DeMille's traditionally lavish bath scenes, and an article in the New York Times on July 28, 1946 stated that "a reliable piece of DeMille glamour-the bath scene-is going to find itself thrown for a loss in the showman's budget-heavy venture." According to a Hollywood Reporter news item, between three and four thousand extras were used for the film in one hundred and ten days of shooting. Although Paramount circulated much press about DeMille's authentic and sensitive use of Native Americans in this film, an article in the New York Times on October 19, 1947 said "it is deplorably evident that Unconquered, in this year of grace, is as viciously anti-redskin as The Birth of a Nation was anti-Negro long years back." The New York Times review of the film, in reference to the depiction of "villainous Indians," stated that "all of them [were] incontrovertible Caucasians"; but, according to an article in Picturegoer, one hundred and fifty Native Americans ranging from Navajos to Cherokees were used in the assault on Fort Pitt scenes. The film's technicial advisor, Iron Eyes Cody, was of Seneca-Cherokee ancestry. Cody began working with DeMille as an actor in 1914 in The Squaw Man.
This film was nominated for a 1947 Academy Award for Special Effects. Included in the nomination were Farciot Edouart, Devereux Jennings, Gordon Jennings, Wallace Kelley and Paul Lerpae for visual effects, including miniatures, transperency process projection, and optical effects for the long boat sequence, the water falls and canoe escape sequence and the battle sequence. George Dutton was nominated for sound, and George Dutton for sound effects.