DVDs from TCM Shop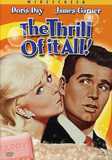 The Thrill of It All A doctor tries to cope with... MORE&nbsp> $8.55 Regularly $14.98 Buy Now
Articles
SEE ALL ARTICLES
The Thrill of It All (1963)
James Garner is one of those actors who makes it look easy. Throughout his career, he's moved, seemingly effortlessly, from television to feature films, from drama to comedy. And in The Thrill Of It All (1963), he proved that he could also slip comfortably into some very big shoes - those of Rock Hudson.


Hudson had co-starred with Doris Day in two very popular sex comedies, Pillow Talk (1959) and Lover Come Back (1961). Day had primarily done musicals, usually playing a girl-next-door type. Hudson, a somewhat wooden dramatic actor, had never done comedy. Yet both proved adept at portraying witty, glamorous sophisticates, and their chemistry was terrific. Day had followed those hits with another sex farce, That Touch of Mink (1962), co-starring the king of sophisticated comedy, Cary Grant.


Like Hudson and Grant, Garner was tall, dark, and handsome. Unlike them, he was not a huge movie star. His fame had come on television, with the comic western series, Maverick. That led to bigger and better film roles, which played up the easy warmth his TV fans had come to love - a quality described as "that domestic intimacy [which] is one of Garner's strengths" by critic David Thomson.


In The Thrill Of It All, Garner plays a doctor whose wife, Doris Day, becomes a star of TV commercials touting laundry soap, which causes chaos in their happy home. Produced by Ross Hunter, who had also produced the Day-Hudson films, gave The Thrill Of It All the expensive gloss that fans had come to expect. It also had a sharply satirical script by Carl Reiner, which spoofed advertising, television, and the upscale Manhattan lifestyle. Comparing it to the two Hudson-Day films and That Touch of Mink, Variety called The Thrill Of It All the best of the four.


Garner and Day had a romantic chemistry that added some sizzle to connubial bliss. Garner's biographer, Raymond Strait, found them well matched. "If Doris Day was the national symbol for the All-American girl, then Jim was her male counterpart - somewhere between a steelworker and a Saturday afternoon football hero." Day also agreed with this assessment. In her autobiography, she said "I had the same kinship with Jimmy that I had with Rock." Garner had no trouble keeping up with Day's well-honed comic skills, although he gave her most of the credit: "You know the way Astaire used to change partners - Ginger Rogers, Rita Hayworth, Cyd Charisse - but the dancing was always uniformly spectacular because Astaire just did his thing and anybody who danced with him was swept up by it. Well, the same thing about Doris."


Critics, however, spread the credit around. One of the highlights is when Garner drives into his back yard and straight into a newly installed swimming pool that wasn't there earlier in the day. "Garner's patiently pained expression as he slowly sinks out of sight at the steering wheel, is the choice moment of the picture," according to Variety, which also praised Garner's "verve and finesse."


Garner and Day would co-star in one other film, Move Over Darling (1963), and this time, it would be Day who had the big shoes to fill. The film began shooting as Something's Got To Give starring Marilyn Monroe and Dean Martin. Monroe was fired from the film and died shortly thereafter.


Director: Norman Jewison
Producer: Ross Hunter, Martin Melcher
Screenplay: Carl Reiner, based on a story by Reiner and Larry Gelbart
Editor: Milton Carruth
Cinematography: Russell Metty
Art Direction: Alexander Golitzen, Robert Boyle
Music: Frank DeVol
Principal Cast: Doris Day (Beverly Boyer), James Garner (Dr. Gerald Boyer), Arlene Francis (Mrs. Fraleigh), Edward Andrews (Gardiner Fraleigh), Reginald Owen (Old Tom Fraleigh), Zasu Pitts (Olivia), Elliott Reid (Mike Palmer), Alice Pearce (Irving's wife).
C-108m. Letterboxed. Closed captioning.


By Margarita Landazuri


back to top
---