DVDs from TCM Shop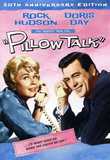 Pillow Talk A man and woman carry their... MORE&nbsp> $10.65 Regularly $14.98 Buy Now blu-ray
NOTES
According to a August 28, 1959 "Rambling Reporter" item in Hollywood Reporter, RKO originally bought the script by Russell Rouse and Clarence Greene, in 1942, but when it was not produced, the writers bought it back in 1945. In 1947, they sold it as a play, but bought it back once again four years later, finally selling it in 1958 to Arwin Productions, the company owned by Doris Day's husband, Martin Melcher. Although the film was originally titled Pillow Talk, according to a February 2, 1959 "Rambling Reporter" item in Hollywood Reporter, the title "displeased" the PCA and so was changed to Any Way the Wind Blows. In August 1959, however, the original title was reinstated. The picture was coproduced by Universal and Arwin. Pillow Talk marked director Michael Gordon's first film since the 1951 Twentieth Century-Fox production The Secret of Convict Lake (see below), after which he was among those blacklisted in the wake of investigations by the House Un-American Activities Committee.
As noted in a March 20, 1959 Hollywood Reporter news item, second unit director John Sherwood died of pneumonia during the shoot. Universal borrowed actress Valerie Allen from Paramount and costume designer Jean Louis from Columbia for the film. According to an October 1959 Saturday Review (of Literature) article, Jean Louis designed twenty-four costumes for Doris Day and Laykin et Cie. loaned the production $500,000 worth of jewels. Dwayne Hickman was originally cast as "Tony Walters," but, as reported in a May 3, 1959 Hollywood Reporter news item, he contracted a fever and was replaced by Nick Adams. In the film's nightclub scene, Perry Blackwell sings two songs, "You Lied" and "I Need No Atmosphere."
April 1959 Hollywood Reporter news items add Sheilah Rogers and Marion Nelson to the cast, but their appearance in the final film has not been confirmed. Another April 1959 Hollywood Reporter item states that Hope Emerson was to play an Indian princess named Desert Flower, but she is not in the final film. Contemporary reviews noted the film's use of split screen technology during the scenes in which "Jan Morrow" and "Brad Allen" talk on their party line, as well as Rock Hudson's skill in his first comedic role. In her autobiography, Day stated that in the scene in which Hudson totes her through the New York streets, she was placed on a special shelf with hooks to make it easier for him to carry her. According to an August 18, 1959 Hollywood Reporter news item, Hudson was to sing the film's title song and "Roly Poly" for Decca Records, while Day had already recorded "Pillow Talk" for Columbia Records.
Pillow Talk helped redefine Day's image into what she described in her autobiography as "a new kind of sex symbol-the woman men wanted to go to bed with, but not until they married her." The film's popularity propelled Day and Hudson to the top of the box office charts and earned them Photoplay and Golden Globe awards as the most popular actors of 1959. It also ushered in a new wave of romantic, often suggestive comedies popular in the 1960s. The film marked the first of three collaborations between Melcher, Day, Hudson and Tony Randall for Universal, including Lover Come Back, 1961, directed by Delbert Mann, and Send Me No Flowers, 1964, directed by Norman Jewison (see AFI Catalog of Feature Films, 1961-70).
Pillow Talk was listed on the New York Times list of the 10 Best Films of 1959, and received the following Academy Award nominations: Best Actress (Day); Best Supporting Actress (Thelma Ritter); Art Direction, Color (Richard H. Riedel, Russell A. Gausman and Ruby R. Levitt); and Music Scoring, Dramatic or Comedy Picture (Frank de Vol). The film won the Academy Award for Writing, Story and Screenplay Written Directly for the Screen (Rouse, Greene, Stanley Shapiro and Maurice Richlin). Shapiro and Richlin were also nominated in 1959 for Operation Petticoat.