DVDs from TCM Shop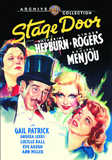 Stage Door Women at a theatrical boarding... MORE&nbsp> $14.36 Regularly $17.99 Buy Now
NOTES
Contemporary and modern sources state that George S. Kaufman and Edna Ferber's Broadway stage play, which had starred Margaret Sullavan and Phyllis Brooks, was altered radically for the screen. According to a production article in Motion Picture Herald, director Gregory LaCava "participated" in the "preparation" of the film script, for which "an entirely new plot" was "conceived and developed." Modern sources state that, two weeks prior to shooting, LaCava had the actors improvise many scenes at the studio and ordered his cast to interact with each other as they might if they were actually rooming together. Then, using transcripts of the actors' conversations, LaCava adapted the improvisations into dialogue. According to modern sources, Katharine Hepburn jotted down lines and bits of business before and after each day's shooting and, after discussing them at length with LaCava, memorized them. During filming, LaCava continued to re-write the script on a day-by-day basis, according to modern sources. The New York Times reviewer commented that the film script was "wittier than the original [stage play], more dramatic than the original, more meaningful than the original, more cogent than the original." The New York Times reviewer also noted that the film lacked the play's anti-Hollywood jokes. S. K. Lauren and William Slavens McNutt are listed in early submissions to Screen Achievements Bulletin as "contributing writers." The exact nature of their contribution to the final film has not been determined.
According to a November 1936 Hollywood Reporter news item, Burgess Meredith was considered for a role in the picture. Douglas Fairbanks, Jr. was considered for the role of "Tony Powell," but lost the part to Adolphe Menjou, according to a June 1937 Hollywood Reporter news item. Menjou had played a similar part in RKO's 1933 film Morning Glory, for which Hepburn won an Academy Award. RKO borrowed Andrea Leeds from Samuel Goldwyn's company. Hollywood Reporter casting announcements and production charts add Alison Craig, Marjorie Lord, Leona Roberts and Diana Gibson to the cast. A Hollywood Reporter news item announced that Leona Roberts was recreating the role she played in the Broadway production. The participation of these actors in the final film has not been confirmed. Stage Door was selected as one of Film Daily's "ten best pictures of 1937." It was nominated for an Academy Award as Best Picture but lost to Warner Bros.' The Life of Emile Zola. Andrea Leeds was nominated as Best Supporting Actress by the Academy but lost to Alice Brady in Fox's In Old Chicago. Gregory LaCava was nomiated as Best Director but lost to Leo McCarey for Columbia's The Awful Truth, and Morrie Ryskind and Anthony Veiller were nominated for Best Screenplay but lost to the writers of The Life of Emile Zola.
Modern sources give the following additional information about the production: Ferber and Kaufman's inspiration for "The Footlights Club" was "The Rehearsal Club," a real-life New York boardinghouse for aspiring actresses. The boardinghouse opened in 1913 and over the years housed many young actresses, including Margaret Sullavan and Sandy Duncan. Because she had suffered a string of box office failures, including Break of Hearts, Quality Street and Mary of Scotland, Hepburn was forced to share top billing with the more popular Ginger Rogers. In her autobiography, Hepburn recalls that on the print that was projected at preview screenings, Rogers actually received top billing. Hepburn was paid $75,000 for her portrayal of "Terry," as was Rogers. Rogers, who was a good friend of Lucille Ball, convinced producer Pandro S. Berman to cast Ball in the film, and Ball's critically lauded performance earned her a renewed contract at RKO. For the play-within-the-film scenes, a re-vamped scene from the third act of The Lake, a stage play that Hepburn had starred in a few years before, was used. (In particular, Hepburn's line "The calla lilies are in bloom again," which is repeated several times in the film, was lifted from The Lake and became a Hepburn tag-line.) One modern source claims that, to provoke genuine tears in Rogers' eyes during the final climactic scene, LaCava told her that her house had burned to the ground. The film made RKO, which had paid $130,000 for the rights to the stage play, a modest $81,000 in box office profits. Modern sources add the following cast members: Jack Gargan and Gerda Mora (Dancing instructors) Whitey the Cat (Eve's cat), Byron Stevens and D'Arcy Corrigan. In addition, modern sources complete the above cast list with the following role information: Adele Pierce (Pamela Blake), Fred Santley (Dunkenfield), Lynton Brent (Aide), Theodore Von Eltz (Elsworth), Jack Rice (Playwright), Bob Perry (Baggageman), Larry Steers (Theater patron), Josephine Whittell and Ada Leonard (Actresses), Jack Gardner (Script clerk), Ben Hendricks (Waiter) and Al Hill Taxi driver). Modern sources also credit Mel Berns as make-up artist, and John Miehle as still photographer.