DVDs from TCM Shop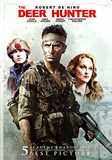 The Deer Hunter Three young men fight to... MORE&nbsp> $9.96 Regularly $12.98 Buy Now blu-ray
Home Video Reviews
The leap from a single-disc DVD to a "two-disc, all-new special edition" DVD is a tricky and dangerous one.
The Deer Hunter
, one of the first titles in Universal's
Legacy Series
of such discs, doesn't even come close to clearing that leap. It crashes and burns.
The first disc is great. If Universal hadn't been so grandiose and had just replaced the movie's 2002 no-frills DVD with this disc—containing Michael Cimino's powerful drama chronicling the effects of the Vietnam War on a group of friends from a Pennsylvania mining town, along with cinematographer Vilmos Zsigmond's new commentary-I would have nice things to say. But, no...the studio had to inflate the re-release to two discs, and the second is one of the flimsiest discs of bonuses anyone has ever dared to release. More on that later.
I imagine
The Deer Hunter
is grossly underseen by viewers who aren't old enough to have caught it during its 1978-79 theatrical run. But it's a rare movie because not only is it a big hit that's good, it's also a Best Picture Oscar®-winner that's good. Unfortunately, though, director Michael Cimino's reputation became seriously colored by the excess and the critical and commercial failure of his follow-up movie,
Heaven's Gate
. He hasn't made a movie in a decade, and anyone watching his accomplished work here has to wonder why. To many people, the infamous
Heaven's Gate
is the first movie to associate with the name Cimino, not
The Deer Hunter
. That's too bad because, first off,
The Deer Hunter
is an essential 1970s movie and, secondly,
Heaven's Gate
ain't so bad, either.
A few other things new arrivals to
The Deer Hunter
might want to know before sinking their teeth into Cimino's meaty, 3-hour drama:
Back in 1978, the presence of Robert DeNiro in a movie's cast was something special. After he made a name for himself in 1973's Bang the Drum Slowly and Martin Scorsese's Mean Streets, he was very selective about who he worked with. He didn't do commercial movies for the money, as he often does now (i.e., Hide and Seek, Godsend). Between Mean Streets and 1984's Once Upon a Time in America, he was in only nine movies, three for Scorsese. There was still a mystique about him, and it rubs off on his character, Michael, the most self-reliant and "different" of the three buddies who head to Vietnam together.


Neither Christopher Walken, who plays another of those buddies, Nick, and Meryl Streep, who plays Nick's fiancee, were yet stars before The Deer Hunter. Neither was defined by our preconceptions about them, either. Rather than playing someone "special," Streep just plays an ordinary blue-collar young woman, conflicted by her attraction to both Nick and Michael. And rather than playing a wild-eyed, semi-comic character as he so often does now, Walken is all drama as Nick, and he nabbed an Academy Award for the tragic role.


John Cazale, who plays Stan, the lowest in the pecking order of Michael and Nick's larger group of mill-worker buddies, was perhaps the quintessential 1970s American New Wave actor. Dying from cancer while filming The Deer Hunter, he starred in five movies (the two Godfather films, The Conversation, Dog Day Afternoon and this) in which he portrayed the sort of weak, unglamorous characters Hollywood usually shies away from. He's a classic.


The brutal and controversial Russian roulette sequence, in which captured Michael, Nick and Stevie (John Savage) are forced to play the game while their Viet Cong captors bet on their performance, lasts 17 minutes long. Could a studio-pressured director get away with such a long sequence nowadays?
Of course, the Russian roulette sequence is just one of the amazing set pieces in the movie, including the opening action in the steel mill, Stevie's marriage in an elaborate Russian Orthodox ceremony, the buddies' first hunting trip and the fall of Saigon. The movie often depicts emotions that are just too painful for words for its characters, yet there's also humor and a lifelike range of moods. So disc one of the rerelease shows that
The Deer Hunter
still packs a punch, and it adds an entertaining and informative audio commentary by cinematographer Vilmos Zsigmond (
McCabe & Mrs. Miller
,
The Hired Hand
,
Close Encounters of the Third Kind
), one of the definite good guys in movies.
But what of the second disc? There's only about 20 minutes of footage, plus some text screens of "production notes." Although the movie runs three hours, I assume the three-minute trailer and the text could fit on disc one. That makes the 17 minutes of so-called "deleted and extended scenes" the justification for the additional disc. But, save for one conversation between Michael and Nick, these "scenes" aren't scenes at all. There is nothing else in here that was ever meant to be a legitimate scene. Because these aren't scenes, they're takes. For instance, there's footage of Savage as trapped Stevie, calling for Michael as an offscreen Cimino instructs him to do it louder, then louder still, and then has the crew turn on the rain machine so he can film Savage doing the same thing when it's raining. This is not a scene; it's just a group of footage for Cimino to have used as cut-ins, using however loud or wet a moment he wanted. The other "deleted" footage is similarly uninteresting. It's debatable whether it's even worth sitting though
once
.
The "deleted scenes" are simply too weak to be the only reason for the second disc. Of course, the question that then arises is: Where are the featurettes that appeared on
The Deer Hunter
's English DVD, including a Cimino interview? There's certainly room for them on this undernourished 2-disc release, which truly takes the special out of special edition.
For more information about
The Deer Hunter
, visit
Universal Home Entertainment
. To order
The Deer Hunter/B>, go to TCM Shopping.

by Paul Sherman