DVDs from TCM Shop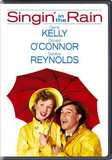 Singin' in the Rain A silent-screen swashbuckler... MORE&nbsp> $7.85 Regularly $12.98 Buy Now blu-ray
USER REVIEWS
See Detailed Ratings
Acting of Lead Performers

Acting of Supporting Cast

Director

Music Score

Title Sequence

Screenplay

Cinematography

Historical Importance

Would You Recommend?

0 Member Ratings
Rate the acting of the Lead Performers

Rate the acting of the Supporting Cast

Rate the Director

Rating of the Music Score

Rating of the Title Sequence

Screenplay

Creatively uses the camera to tell the story

Importance in Cinema history

Would you recommend for fans of this genre
Submit Ratings
Cancel
Write a Review
Read Reviews
NO REVIEWS AVAILABLE
The title has not been reviewed. Be the first to write a review by clicking here to start.
Singin in the Rain

One of the best musicals ever made! Love love love this movie! But why does TCM broadcast it in the middle of the night? Please, TCM, show this wonderful movie during daytime or early evening so more people can enjoy it!

SINGIN IN THE RAIN

One of the greatest musicals ever made. Thanks to T.C.M. for putting on such a fantastic lineup of great entertainment. The only disappointment was your leaving AL JOLSON out of the lineup. Im aware there are some people that are offended by the blackface scenes. They were part of another age, even at the time they were filmed. Minstrel shows were all ready a thing of the past by the 1930s. T.C.M has no issue with showing Judy Garland and Mickey Rooney or Bing Crosby in Holiday Inn, in blackface, so why not The Jolson Story, one of the most outstanding musical biography films of the 1940s or Jolson Sings Again, or ROSE OF WASHINGTON SQUARE ? To those who are offended , just change the channel. To T.C. M. ,My opinion, if you leave out ANY entertainer, its the same as banning books. it defeats the whole idea of what your station represents. To be fare, I did see Al Jolson do a cameo as himself in Rhapsody In Blue, at sixty years old with one lung seriously damaged and Malaria ,he was still outstanding. For that I thank you T.C.M. ASTAIRE KELLY GARLAND CROSBY DUKE ELLINGTON CAB CALLOWAY and so many others and AL JOLSON.

Singin in the Rain

Musicals aren't exactly my cup of tea, but I can see where this one is considered the best ever made. With Gene Kelly at the helm I suppose that's not surprising. Like most musicals it's simply a love story set to music, but with the story line of Hollywood transitioning out of silent movies into talkies, it offers an intriguing backdrop. Despite all the legendary dancers involved in this one, my favourite character had to be Jean Hagen as the diva with the squeaky voice and thick New York accent. Very funny. Lots of great musical moments throughout, even though it doesn't always make for coherant storytelling. The extended "Broadway Melody" sequence featuring the fabulous Cyd Charisse is a case in point - it has nothing to do with the rest of the movie whatsoever, yet it's so masterfully produced you don't even care. Gene Kelly performing the title song is also memorable, although I confess, I can't hear that song without thinking about the rape scene in "A Clockwork Orange". A fun movie to be sure, but I would hesitate to list it as the fifth best American movie ever made as it appeared in the most recent AFI top 100 list. I guess musicals are just too light and whimsical for me to hold them in that high of regard. Four stars.

Singing in the Rain

The greatest musicial ever made love it I have a frame with entire cast autographs!!! Songs are great gene Kelly was awesome inspire of being sick with a fever

I CAN Stan' It

Jean Hagen should have won the Best Supporting Actress Oscar for "Singin' in the Rain." Gloria Grahame was OK in "The Bad and the Beautiful," but Hagen is fabulous in a comic turn as an egotistical silent film star. The transition to sound scenes are among the most hilarious ever filmed. Gene Kelly's song and dance of the title tune celebrating his budding romance with Debbie Reynolds' character is a classic. It's hard to believe Reynolds was only 19 years old when she made this movie because she displays the talent and poise that marked her career. Millard Mitchell is great as a beleaguered studio executive in one of the last roles of his too-brief film career. Cyd Charisse completes the film in a sensual dance and exquisite ballet with Kelly. I still think "The Band Wagon" was Hollywood's best musical, but "Singin' in the Rain" is a very close second.

Singin In The Rain

Maybe the greatest of the musicals for all of its songs and magic "Singin in the Rain" shows Hollywood moving out of the silent era and into the sound era. Songs like "Singin in the Rain' with Gene Kelly and "Make em Laugh" with Donald O'Connor show that musicals are great when they stick with a fantasy side and a lighter side. In this story of silent-to-sound an actor's voice means everything and when villianess Jean Hagen thought she could take over the studio Debbie Reynolds proves to the audience that she was dubbing her songs. There are some wonderful uses of light and color and dancing with Kelly and Cyd Charisse and Debbie Reynolds that really propel this story into the heavens.

Brightens any day

Just plain fun. I never can understand why Donald O'Connor didn't seem to get as much credit. His dancing and singing matched Kelly's. Cosmo and Lina were what the movie was all about. Just plain fun.

Hagen's film!

I've never been crazy about this film, as it has way too much slapstick shtick in it for my taste. That being said, the fabulous Jean Hagen owns this film from the moment she appears in it. She makes the entire film worth watching and was definitely worthy of the Academy Award for Best Supporting Actress nomination she received! Donald O'Connor, never one of my favorites, has some outstanding dance scenes here. Of course, the classic scene of Gene Kelly "Singing in the Rain" is a staple. Debbie Reynolds, so young and beautiful, as the ingenue; however, her voice was dubbed by the great Betty Noyes in the classic "Would You?" and also "You Are My Lucky Star." I don't know why, as Reynolds certainly was more than capable of singing anything! The film is often listed as one of the ten best films of all time but it doesn't come close to that sort of greatness. It's silly and sappy but, again, Jean Hagen saves the film from obscurity by her iconic performance! Why she never became a huge star is something I will never understand!

singin in the rain

Great film Great cast ONE of the GREATEST musicals ever made. Never get tired of it. That's because Gene Kelly took control. He new how to make it work. If he had the same kind of control over Brigadoon, I think he would have had another masterpiece. He wanted to film in Scotland. M.G.M. Studio said NO $ $ $. The scenery in the back ground of the highlands ,no matter how hard they tried, looks like what it is, a painted wall. He had the same kind of genius with American In Paris. Another masterpiece.

Still a Great Film

I loved this film the first time I saw it, so, when it came time to teach a film appreciation unit to my high school senior English classes I thought this would be the perfect movie to show at the beginning, to give my students an idea of leading roles versus the supporting cast, the use of various camera shots and angles, the impact of music in film, and the transition from silent films to "talkies." I was a bit apprehensive how modern teenagers, who primarily love action and horror films, or so they tell me, would react to "Singin' in the Rain." Imagine my delight when they watched it with rapt attention over two class periods on different days and at the film's conclusion said they loved it! I even had one young man tell me it was the best movie he had ever seen. If this anecdote doesn't prove that quality films have a life long after their initial releases, I don't know what would. This film is funny (the kids LOVED the athleticism of Donald O'Conner's "Make 'Em Laugh" number, even laughing out loud!), sweet, clever, positive, and flat out wonderful. Pull your kids away from their phones and video games, make a ton of buttered popcorn, and treat your whole family to this film. You'll be glad you did!

SIngin in the Rain

Overall- 4 1/2 out of 5Lead Performers-5/5Supporting Cast-5/5Director-4/5Score-5/5Titles-4/5Screenplay-4/5Cinematography-4/5Importance-4/5Recommendation for fans of the genre-5/5

Singin' in the Rain

AFI has named this film as the greatest musical ever made. Kelly, who also directed with Donen, shines along with Reynolds, O'Connor won a Golden Globe for his performance & Hagen is sensational in her Oscar-nominated performance. Musical highlights include the title song, "Make 'em Laugh" & "Gotta Dance," the latter in a beautifully created set. Musical numbers & tender, romantic scenes blend well in this story of Hollywood's struggle to make talkies work. A delightful film that reminds us why we love musical's. I give it a 5/5.

Singin' And Laughing

Great musical,love Kelly,Reynolds and Not the least O'Connor,they're GREAT!

Celebration of Life

As leonard Bernstein said upon viewing "Singin' in the Rain:" There has never been a greater celebration of life.

Life Really Is Good!

You know those days when you just don't feel it? You have the "blahs?" Well, this movie will pull you out of that negativity. It is the type of movie that is funny, yet spirit lifting; whimsical, yet full of promise.On those days of the blues, watch this movie and realize that life truly is good...

Singin' in the Rain (1952)

When you think of the word musical, this movie almost entirely pops into your head. Musical=Singin' in the Rain. Singin' in the Rain=musical. But this movie's impact has reached much further than it's genre. The film is about Hollywood's transition into sound and about one specific movie company's struggles to do that. Gene Kelly does an excellent job, forever showing that he is a triple threat: a great actor, a great singer, and a great dancer. Debbie Reynolds and Donald O'Conner are also top notch. The rest of the supporting cast offers amiable support, but Jean Hagen's performance is often overrated for it seems as if she is overacting. Outside of that, the script offers many quotable lines and the direction is superb. The best songs are the title song, of course, which has become rightfully immortal; Make 'Em Laugh; and Good Morning. This is not only a phenomenal musical but a phenomenal film.

Singin` in the Rain

Three Friends Sing and Dance about Rain, making people laugh, what a nice morning it is, Pronunciation and Enunciation.

Overlooked in the Rain

Singing in the Rains statis,as one of,if not the greatest film ever made,needs one point made very clear to all who see this magnificent gem in film making.Donald O'conners rendition of,"Make 'Em Laugh",is without a doubt,on of the,if not the greatest dance routine ever put on celluloid. His sight gags,and improvisational movements,with his wirey body,and elastic facial contortions,make me laugh,every time I see this film.His physicality and brilliant choreographed,and improvisational dance routine was so far ahead of his time,and was only overlooked for his brilliance,because he was dancing side by side with the acknowledged master of step,Gene Kelly. Movie audiences should for ever more remember the brilliance he brought to "Singing in the Rain",and step for step,was every bit as good as the acknowledged master hoofers of the day,i.e.(Gene Kelly& Fred Astair. Most kids today under the age of 30 years old think of Michael Jackson as the greatest dancer of all time.Anyone under the age of 30 should be forced to whatch "Singing in the Rain to get a truly fresh perspective,to see what true greatness in dance improvisation really is,like Donald O'conners performance in dance routine,"Make "Em Laugh D.T. Carmel,Ca. Kids today look at entertainers such as Michael Jackson as the greatest dancer that ever lived.Michael Jackson on his best day couldn't carry Gene Kelly's,Fred Astair's,and Donald O'conners tap shoes.

The Definitive Musical

What more can possibly be said about this film? It truly is the greatest musical ever made, even and especially in its simplicity; yet still it is glamorous. It has depth, feeling, universal themes; and this combined with flawless scripting, unsurpassed acting, perfect casting, and ecstatic dancing. The film's message flows through its dances. Gene Kelly is every man's self in some way, and all people can relate to him. The greatest number of all time? Yes, when he sings and dances in the rain. Not because it is the most complicated dance, or the biggest number, or the most romantic scene, but because Gene Kelly is expressing true love, and love of life, through dance--which was impossible before. His movements are a visible soul expressing utter joy and delight. They are also a symbol of the human soul, learning to rejoice even in the storms of life. His limbs laugh through the puddles.If you have not seen Singin' in the Rain, nothing you have seen matters yet. You'd better experience it right now before someone you know finds out that you haven't.

a must see

This is the best movie of all time - I saw it in 1952 when I was 12 and see it everytime it is onJust love Debbie and Gene

WHOOPDEEDOO!!!

GREAT movie!!Number ONE!!!!Strongly RECCOMENDED!!!

3,000 OUT OF 10!!!!

Absolutely to BEST movie ever made!!The plot is engaging and hilarious,the actors and actresses each get a timeless moment in it,the dances are finely choreographed,and the singing is phenomenal!!I strongly reccomened it,especially for Don O'Con fans.

Yes !

I own 2 copies of this movie and the soundtrack, they are worn out. I took my 11 year old to see it on the big screen. She and I are HUGE Donald O'Connor fans. Every child should have the opportunity to see some of these classic movies. If we do not urge our younger generation to see these movies I am affaid they will be lost forever.

THE BEST EVER

If other movies may arguably contain even better songs, I say this is still THE best movie musical ever made. It's a rare showbiz musical where you're not just killing some pleasant time between the songs -- SINGIN'IN THE RAIN is actually about something! And it succeeds brilliantly at paying tribute to black-&-white movies - in glorious color, not an easy thing to get right. Also it's on my short list of laugh-out-loud funniest movies ever made, and it features my favorite screen meanie,Lina Lamont - played by the amazing Jean Hagen.

one of the best

When you are as old as I am, and have seen the film countless times, and still end up buying a dvd, YOU GOTTA LOVE IT! Most of the stars have passed on, and it is just a shame that the younger generation will never have the chance to experience "QUALITY" films like this!The music in this film will never die.

my favorite movie

this is my all time favorite movie...i got it for christmas when i was just getting into musicals...i am only 16yrs old and i love it...i think Gene Kelly is just to die for especially when he dances...Debbie Reynolds is great and funny just as she always is...and Donald O'Connor is also funny and makes the movie more humorous if it wasn't already...you definatly could not go wrong with this movie...i love it!!

LOVE THE CLASSICS

THIS IS ONE OF MY FAVOURITES TOO. GENE KELLY IS A JOY TO WATCH. I'M A BIG FAN OF THE CLASSICS AND HAVEN'T WATCHED A MODERN DAY MOVIE SINCE " FATAL ATTRACTION". I FIND TODAY'S MOVIE PRODUCERS ARE TRYING TOO HARD TO KEEP YOUR ATTENTION (AND FAILING). WOULD LOVE TO DO THE FOLLOWING RATING BUT I DON'T KNOW IF 1 IS HIGH OR LOW.

This started my love of Classic Movies!

I rememeber the first time I wached this movie. I was recouperating from a surgery and decided to watch all the classic I have heard about but have never seen. That's when I found TCM!Gene Kelly, Donald O"Conner and Debbie Reynolds are brillant it this movie. This movie has it all. Incredible dancing and singing, Laughter and love. You can't help but be warmed by this movie. I am still watching TCM and have fallen in love with all of Gene Kelly's movies and other films as well. I check TCM website everyday!!!

Delightful!

Simply delightful! The dancing and singing and storyline are a joy to watch. You just can't be feelin' blue when you're watching "Singing In The Rain!" Can't be done!

Perfect

I love this film. Containing three of my favorite dance numbers ever (Singin' in the Rain, Moses, and Good Mornin')I could watch it over an over again. Also I thinks it's a great commentary about what movie stars were going through when sound first came on the seen. The whole cast is is amazing.

GENE KELLY--WHAT A WAY TO BRIGHTEN A RAINY DAY!!

This was one of my very first GENE KELLY movies that I had ever seen, and I was absolutely mesmerized by his dancing. It made me want to tap and choreography dance. I then began to rent and watch any and all of GENE KELLY'S movies that I could fine, and I have long since seen and own many of his movies, and continue to be spellbound by him. He took dancing to new levels that even today, no one can be compared. He was also the most handsome man on screen in his era. This is a great movie for lifting your spirit. I liked Donald O'Conner's dancing also. And Debbie Reynolds was very sweet. My favorite scene of the whole movie is the "MOSES" routine with him and Donald. Even my teenage children love GENE KELLY movies. What a wonderful asset he was during his era.

Timeless musical

This is probably one of the best musicals of all time. It is timeless.When my eighteen year old nephew was three or four he loved watching Singin' in the Rain every day. When he would see a light post outside. He would grab the post and imitate Gene Kelly. Singin' in the Rain is a joyful movie.

The Best!!!

The best musical of all time.Donald O'Connor's "Make'm Laugh"the greatestroutine.

LOVE IT!!!

Wow, I can watch this movie a thousand times, and it never gets old. The music is catchy, and the plot is humerous and romantic. It truly is a great American classic.

sing n' dancin in the rain

ever time i see this movie i want to jump up and dance. pulling the best of 20's movie music and recasting it marvelously making it magical

The Greatest Musical of All Time

Timeless classic. Still holds up today.
*We protect your personal infortmation and will not provide it to anyone without your consent. For a complete explanation, please refer to TCM's Privacy Policy. By submitting your contribution, you agree to TCM's Terms of Use.