DVDs from TCM Shop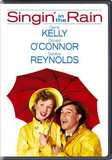 Singin' in the Rain A silent-screen swashbuckler... MORE&nbsp> $7.85 Regularly $12.98 Buy Now blu-ray
FULL SYNOPSIS
In 1927, fans gather at Hollywood's Chinese Theatre for the premiere of Monumental Picture's latest romantic epic, The Royal Rascal , starring the popular silent screen couple Don Lockwood and Lina Lamont. Don tells radio commentator Dora Bailey that his motto has always been "dignity" and relates the idyllic story of his childhood and rise to fame, all of which is complete fabrication. The audience applauds enthusiastically at the end of the swashbuckling film and asks for speeches from its stars, whom they think are a couple off-screen as well as on, but Don, who loathes his screechy-voiced co-star, insists that Lina merely smile. Assisted by studio boss R. F. Simpson, Don slips away from the cloying Lina and drives with his best friend, studio pianist Cosmo Brown, to the premiere party. On Hollywood Blvd., Cosmo's car breaks down, and Don is surrounded by fans. To escape the screaming mob, who have torn his tuxedo, Don jumps onto a passing car driven by Kathy Selden. She is frightened at first, but when a policeman tells Kathy who Don is, she offers him a ride to his house in Beverly Hills. Although Kathy says that she is a stage actress, who has seen only one of Don's films, she is actually a chorus girl at the Cocoanut Grove nightclub.

After dropping Don off to change his clothes, Kathy drives to the party at R. F.'s house, where she will be performing. Don arrives at the party in time to see a short talking picture. Most of the guests are unimpressed by the new phenomenon, even when R. F. says that the Warner brothers are about to release a feature-length talking picture. When the entertainment starts, Don is surprised, but happy to see a scantily clad Kathy jump out of a cake, and tries to talk with her, but she thinks that he only wants to ridicule her. Just as a jealous Lina takes Don's arm, Kathy throws a cake at him, but misses, and hits Lina instead. Kathy quickly runs away, and Don cannot find her.

Some weeks later, Warner Bros.' The Jazz Singer is a box office smash and audiences are clamoring for more talking pictures. As Don and Lina start their next film, The Dueling Cavalier , Cosmo makes a crack about all of their films being alike, and Don is stung, thinking that Kathy was right about words being necessary for real acting. Lina continues to complain about Kathy, whom she had fired, which makes Don dislike Lina even more, as he has not seen Kathy since the party. During a break in filming, R. F. announces that they are shutting down production and will resume in a few weeks as a talking picture. Cosmo happily anticipates unemployment, but R. F. makes him head of the new studio music department. Some time later, when a musical number is being filmed for another picture, Cosmo sees Kathy in the chorus. When Don shows up just as R. F. is about to offer Kathy another part, she confesses what happened at the party, but Don tells R. F. that it was not her fault and R. F. agrees. Later, when Kathy and Don are talking, he tells her that his "romance" with Lina is completely fabricated by fan magazines and Kathy confesses that she has seen all of his pictures. Don has difficulty revealing his feelings to Kathy until he takes her to a romantic setting on a sound stage.

Soon preparations for The Dueling Cavalier begin with diction lessions for Lina and Don. Although Don is fine, Lina's voice shows little improvement. When filming resumes, director Roscoe Dexter becomes increasingly frustrated by Lina's voice and inability to speak into the microphone, but the picture is completed. When it is previewed on a rainy night in Hollywood, the audience laughs at Lina's voice, howls at synchronization problems, and leaves the theater saying it was the worst film ever made. Later that night, Cosmo and Kathy try to console Don, who thinks his career is over until Cosmo comes up with the idea to turn the film into a musical comedy and have Kathy dub Lina's voice. Don worries that this plan is not good for Kathy, but she convinces him by saying it will be for just one picture. The next day, R. F. loves the idea and they all conspire to keep Lina from finding out.

To enhance the picture, they add a modern section in which Don can sing and dance the story of a Broadway hoofer. After the picture is finished, Don tells Kathy that he wants to tell the world how much he loves her, but as they kiss, Lina interrupts them and flies into a rage. She then starts her own publicity campaign proclaiming herself Monumental's new singing star. R. F. is angry, but Lina shows him her contract and he reluctantly agrees that she controls her own publicity. Lina then threatens to ruin the studio unless Kathy continues to dub her singing and speaking voice, but do nothing else.

At the picture's premiere, the audience loves "Lina's" voice. Feeling triumphant, Lina boasts that Kathy will keep singing for her, and Don is furious. When the audience clamors for a song from Lina, Don hatches the idea of having Kathy stand behind a curtain and sing into a microphone as Lina pantomines the words. While Lina silently mouths "Singin' in the Rain," Don, R. F. and Cosmo pull the curtain and the audience laughs hysterically when they realize that Kathy is actually singing. Lina does not know what is happening until Cosmo takes the microphone from Kathy and starts singing himself. Lina runs off screaming, and an embarrassed Kathy starts to leave the theater, until Don tells the audience that she is the real star of the film and has her join him in a song. Finally, a billboard proclaims that Don and Kathy are co-stars of the new Monumental film Singin' in the Rain .