DVDs from TCM Shop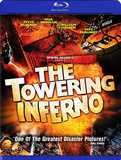 The Towering Inferno A fire chief and an architect join forces to save victims of... MORE&nbsp> $8.95 Regularly $14.99 Buy Now
Trivia
Many bit players from Poseidon Adventure, The (1972) also appear in this film
Based on two novels: "The Tower" by Richard Martin Stern, and "The Glass Inferno" by Thomas N. Scortia and Frank M. Robinson. After the success of Poseidon Adventure, The (1972), disaster was hot property and Warner Brothers bought the rights to film "The Tower" for $390,000. Eight weeks later 'Allen, Irwin' (of 20th Century Fox) discovered "The Glass Inferno" and bought the rights for $400,000. To avoid two similar films competing at the box office the two studios joined forces and pooled their resources, each paying half the production costs. In return, 20th Century Fox got the US box office receipts and Warners the receipts from the rest of the world.
Scriptwriter Stirling Silliphant combined the two novels to create one screenplay. The combined three words that make up the titles of the two novels were combined to give the name of the film, and the name of the building that is on fire (The Glass Tower).
Silliphant also took seven main figures from each novel and incorporated them into the screenplay, as well as the major climax of each novel: the lifeline rescue to an adjacent roof-top from "The Tower", and the exploding water-tanks from "The Glass Inferno'.
At star 'McQueen, Steve' 's insistence, himself and other star 'Newman, Paul' had to have exactly the same number of lines of dialogue in the script!