DVDs from TCM Shop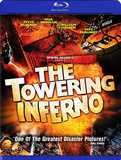 The Towering Inferno A fire chief and an architect join forces to save victims of... MORE&nbsp> $8.95 Regularly $14.99 Buy Now
Alternate Versions
DVDs from TCM Shop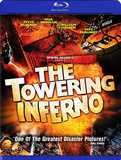 The Towering Inferno A fire chief and an architect... MORE&nbsp> $8.95
Regularly $14.99 buy now
The TV network version has about 20 or so minutes of footage added for prime time viewing. The some of the extra scenes include:- Fred Astair first arriving at the building art gallery and talking with Jennifer Jones.- Additional dialogue between Paul Newman and Faye Dunaway in bed in his office.- The jeweler first arriving at the building with the gold scissors and Robert Wagner arguing with his office staff of planing the evening dedication party.- A scene with William Holden talking to Faye Dunaway in the building lobby about her moving away from San Francisco.- Additional dialogue of the Mayor addressing the crowd at the pre-ceremony gathering.- A scene with Faye Dunaway and Susan Blanckley talking at at table about their significant others during the party.- A scene where a security chief phones about another fire that's now on the reception area of the 65th floor of the building, and more scenes of firetrucks driving towards the building.- The harrowing climb down the firestairs railing of the destroyed stairwell is longer and has some additional dialogue between Paul Newman and the others.

Syndicated Network TV versions shorten Dan Bigelow catching fire and cut the scene of Lorrie's death, ending it where she screams "DAN!" and runs away. It then cuts to the firemen fighting the reception area blaze

Television Versions of the movie start with an alternate opening. Instead of the camera facing the helicopter at the left, the camera is on top of the helicopter, in view of the rocks that the helicopter will go over.