DVDs from TCM Shop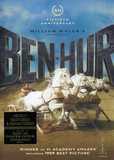 Ben-Hur While seeking revenge, a... MORE&nbsp> $14.96 Regularly $18.98 Buy Now blu-ray
USER REVIEWS
See Detailed Ratings
Acting of Lead Performers

Acting of Supporting Cast

Director

Music Score

Title Sequence

Screenplay

Cinematography

Historical Importance

Would You Recommend?

0 Member Ratings
Rate the acting of the Lead Performers

Rate the acting of the Supporting Cast

Rate the Director

Rating of the Music Score

Rating of the Title Sequence

Screenplay

Creatively uses the camera to tell the story

Importance in Cinema history

Would you recommend for fans of this genre
Submit Ratings
Cancel
Write a Review
Read Reviews
NO REVIEWS AVAILABLE
The title has not been reviewed. Be the first to write a review by clicking here to start.
3

The hero has 3 distinct encounters with the greatest man to ever walk the earth and he has 3 names throughout this film that lasts over 3 hours, the film justly chosen as the Best Picture of 1959, which made almost 3 times as much money (and is 3 times as good) as "Spartacus," a largely flawed film that would not have been made but for the success of "Ben-Hur," an iconic film released 3 years after "The Ten Commandments," which was released 3 years after "The Robe." Just 3 years after "Ben-Hur" (which above all teaches that living without hate is the way to go), 7 robed men took God out of our nation's public schools and 3 years after that arrogant exercise, "Dr. Zhivago" was released, showing us what was wrought, and will always be wrought, when meandering man sets aside God's mandates.

Silent 1925 version vastly better

Fred Niblo's silent, 1925 version infinitely better. It's grand without ever being bloated or ponderous. And it has a charismatic performance by Ramon Novarro. Cary Grant should have won the Oscar of 1959 for North by Northwest instead of Heston for Ben Hur, but he wasn't even nominated. The Academy has long had a penchant for missing the boat.

Maltin????

If this film had been made by Disney, Maltin would have rated it 5 stars out of a possible 4.

this message brought to you by..common sense.

please kids remember..do not remake this with your movie studio.

Ben Hur (1959)

I have always loved this telling and movie of Ben HurJesus, Romans and Charriot Races.Spectacular. Pat Novak

Great film for Christmas!

A wonderful movie; I used to think the middle sagged a bit but not now--being a bit older. Masala is a great villain and Steven Boyd is fantastic; of course, Heston is magnificent; Jack Hawkins is great. Awesome chariot race. Glad you have the good sense not to show the new version, it stinks. Cheers and Merry Christmas, RM

10 stars!

Movie wins 11 Oscars and Maltin gives it 3.5 stars. Wa?

The Essential Biblical Epic. "Sez Who?" Sez me.

The book upon which Ben-Hur is based, written by Lew Wallace in 1880(!), is entitled Ben-Hur: A Tale of the Christ. One of the many TCM reviewers of this movie wrote that his favorite scene is the one in which Judah Ben-Hur (Charlton Heston) is being led away to a lifetime of slavery in a galley on one of Rome's warships, when they stop for a water break in the village of Nazareth. When Judah is denied water for himself, most likely by orders from Messala, an unidentified man brings him water, and...well, I suggest you watch the movie clip titled "Carpenter", then the one titled "I Know This Man!", when Judah and the Nazarene cross paths for the second and final time. You'll understand, if you don't already know, part of what makes director William Wyler such a great filmmaker, and why this classic won 11 Oscar awards. To my granddaughter Julia, this is the fifth of my 12 movies about love I'm recommending that you see, which you now have in your possession from the TCM Shop, as part of my year-long 12th birthday present to you. Whether you read the book first or not, I have faith that you'll enjoy Ben Hur almost as much as I do, and look forward to seeing your own review here at some point in your life. Love, Grandpa

Ben-Hur

The grandest biblical saga from the photographic and musical angles "Ben-Hur" rates with "Gone With The Wind" as one of the greats. Charlton Heston as the Jewish aristocrrat being brought low by boyhood friend Messala of the Romans after the two meet again years later and is thrown into prison but rises by saving the life of Roman admiral Arius and is taken to Rome and learns how to drive chariots. Later he returns to Jerusalem and races against Messala in the great chariot race which is still one of Hollywood's great action scenes...11 minutes of non-stop action. Director William Wyler's technique of stress on the characters and showing Ben-Hur's reaction to all of the good and bad things that he goes through including a chance meeting with Christ and later viewing the Crucifixon as the movie ends with a miracle after the death of Jesus. "Ben-Hur" later brought MGM out of finanacial troubles and inspired more "big" movies of the 60s...and there were many.

BEN-HUR

This is truly a movie that I could watch over and over and never tire of it. I have it on DVD, watched it on Palm Sunday and was so thrilled to see that TCM aired it on Easter. I would definitely rated this movie a 5 but since nothing on Earth is perfect, I would rate this a 4.99. There could never be a re-make of BEN-HUR to the grandeur of this epic movie/story. There are no actors today who could equal the talents of Charleston Heston and Jack Hawkins. Besides it being a religious movie, encompassing both Christianity and Judaism, it is also an historical movie showing the conditions of the times.

A true masterpiece.

Just occasionally everything comes together and you get a classic for the ages. Such is Ben-Hur. No, it isn't perfect; that would be quite impossible for a 3 hours epic involving so many disparate elements. But it's as close as one could reasonably expect--consistently entertaining, frequently riveting and at times rising to moments of true greatness. Upon release it was billed as "The entertainment experience of a lifetime!", and for once the publicity wasn't mere hyperbole. It has been my favourite film now for 55 years.

Five stars!

Despite the fact that in high school, I had two dates in one day and both beaus took me to see this film, I still give it five stars. (I will admit, however, to telling the second beau to awaken me when the chariot race began!) There is so much to see in this film that it's difficult to imagine it ever being made again. Firstly, the money it would take would break a studio. Secondly, just getting stars of the ilk of Heston, Boyd and Hawkins would be impossible today. I love the sheik and his four beautiful Arabians that he treated as his sweethearts. What a character! You can't really fully describe this film. It's 3-1/2 hours long! You just need to sit back in your easy chair and watch!

"Your life is a miracle"

In almost every way, this epic smashes "Spartacus" (1960), released 180 days after "Ben-Hur" won 11 Oscars [it's also the 13th most watched movie of all time (adjusted for inflation) and Spartacus is not in the Top 200]. However, as Paul, Ann and Tony pointed out in their posts 4-5 years ago, the august AFI Top 100 list had Ben-Hur moved from #72 in 1998 to #100 in 2007. Spartacus did not make the first list, but in '07 it was #81. When considering AFI's criteria - critical recognition, major awards, popularity over time, historical significance, and cultural impact - Wyler's wonder sweeps Kubrick's cool, but the AFI also moved the anti-communist "Dr. Zhivago" from #39 to off the list (what a drop!), thus clearly showing the intent of its 2007 voters. Ben-Hur's score soars; its acting (especially that of Boyd and Hawkins) is impressive; its message(s) divine.

Epic Movie

My father took me to see this movie at the Bethany Theatre in Phoenix, AZ. I don't remember how old I was but I had to be 7 or 8. They handed out a small book about the movie to everyone and i have kept this through the years. I was really impacted by this film personally. Even though some of the facts may be Biblically incorrect it is still a great film with timeless actors/actresses.

Ben Hur

This movie has riveting performances; with a steller cast, and a timeless story. One of my all time favorites, I could see this movie over and over, and never tire of watching it!

A Great Epic

My favorite moment/scene in this movie comes early. After Judah is condemned by his best friend, he is being led through the desert in chains. The slaves come to a small village. On the way to the town well, they past a carpenter's. The carpenter's son sees the slaves being beaten away from the well. He goes to help give water to the slaves. He comes to Judah, who was denied water. As the carpenter's son is helping Judah, a Roman soldier is about to punish the carpenter's son. Jesus stands up to face the Roman. The look on the soldier's face is priceless. He doesn't dare strike Jesus. The soldier backs away. You never see His face or hear His voice, yet there is power there to make the Roman back down.Both in front of and behind the camera, there isn't a weak moment or bad performance in the nearly 4 hour movie. If you have the time, I recommend this movie.

William Wyler's Great Film

MGM in the days when so to speak was the premier studio in Hollywood and MGM gave this film a great production.William Wyler the legendary Director of Wuthering Heights, f Mrs. Miniver, The Best Years Of Our Lives, The Little Foxes, Jezebel, et al, and a favorite film of mine Friendly Persuasion Directed this powerhouse film. Charlton Heston won Best Actor but to me the star of the film, and best actor is Stephen Boyd in a great performance. This film won Best Picture, Best Director, Best Actor, et al among many awards. Ben Hur was a must see film of its time and a worldwide Box Office smash.PS As great as Ben Hur is, had I had a vote I would have voted a sweep for Some Like It Hot as Best Picture,Director ( Billy Wilder), Actor (Jack Lemmon), Actress (Marilyn Monroe), Best Supporting Actor ( Joe E Brown).but in the late 50's, a film on gender bending, etc. may have been too ahead of its time for Academy recognition.

Ben-Hur (1959)

One of the great movie epics of all time (they don't make movies like this anymore) and the chariot sequence is hands down the best of all action sequences - its just breathtaking (I wish I could have seen this one in a movie theatre though I wasn't even born when this movie was made). It is amazing how well it stands the test of time. I'm so glad that the movie is shown in its entirety and in letterbox. So many years ago when it was shown on television (and there were only 3 channels) so much of the movie was edited to fit a television screen and I hated what they did to such an unbelievable cinematic masterpiece. My hope is that TCM always to continue to show such great classics as this one in its orginal format and without any edits. I've become such a movie fan and I have TCM to thank for continuing my love affair with great movies. Thanks.

Great movie

I just went to a New Years Eve concert where they played the parade theme from this wonderful movie, now that I know the music I need to watch this great EPIC...

A True Epic

This is one of the few brilliant epics, practically defining its genre. It is one that needs to be seen to be believed. Beautiful, splendid, raw, inspiring, even difficult to watch at times--but beautiful. Add this one to your list of must-sees.

Ben-Hur (1959)

Bloated epic, very big on spectacle, lacking in plot. Heston overacts severely and can not fathom how he could have won an Oscar over Jack Lemmon (Some Like It Hot), Jimmy Stewart (Anatomy of a Murder) or Paul Muni (The Last Angry Man) that year. There are indeed some memorable, even unforgettable scenes. Way way too long and certainly overrated.

Great Movie for Easter & Black Friday.

This movie should be shown on every Easter. It is the best movie of that genree ever made. It is truely something special for Christians & everyone else.

Ben Hur - The Perfect EASTER Movie

Elizabeth Ann Kirby

4/12/09

Ben Hur should be shown every Easter, and not the Ten Commandments. Ben Hur IS the perfect EASTER STORY, beautifully portrayed in the 1959 version with Charlton Heston.

Let's Nit Pick

Don't get me wrong; Ben-Hur is one of the greatest movies ever made; but there are some things that bug me after seeing this movie perhaps 30 times complete. So, here goes. The screenplay was credited to Karl Tunberg (though very little of his dialogue remained in the finished screeplay), was worked on by at least 6 or 7 people; Christopher Fry's dialogue probably accounting for most of it. Why did Tunberg get the screen credit? It is the only Oscar that the film didn't win. Also in the beginning of the film, Anno Domini XXVI (26) appears on the screen when Messala is on his way to Judeah. Five years later, Jesus is crucified. History has him dying at 33. That makes XXXI (31). The math doesn't work. I know it's a small point, but it bugs me. As meticulous as Wyler was, how did he miss this? Then we have the title character staying in Rome for perhaps a year driving chariots when the fate of his mother and sister is unknown back in Judeah. Why did it take him long to return? Also, Stephen Boyd's performance as Messala should have won the supporting actor Oscar, not Hugh Griffith. Having got this off my chest, I feel much better.

Ben Hur

Ben Hur is undoubtedly one of my favourite films of all time. The spectacle combines perfectly with the themes of love, revenge, fellowship and ultimately redemption, witnessed in Ben Hur's conversion to Christianity. If the AFI decides to drop this film from its top 100 films of all time, then any sensible appreciator of movies should dropthe AFI opinions. I could go on about its many qualities ie the sumptuous widescreen panorama, beautiful costume design, the many set pieces, notably the chariot race. However none of these brilliant moments ever diminish in any way, the humanity running through the movie. Beautifully acted by all.To be enjoyed alwayts

Ben-Hur

My number one favorite film of all time And it has to do with ancient Rome & Jerusalem. If I was stranded on an island with only one film, this one is it. Every time I see it, I feel the pain of the characters (Charleton Heston) as he & others deal with death, seperation, & eventual answers to injustice they have all suffered. Whatever lenghts it took to make this movie in the late 50's, it was well worth it. It will stand the test of time as few other films have done. Sincere thanks. The casting, scenery, music & storyline could not have been better. Miklos Rozsa wrote the perfect score for this film, full of timeless emotion, & in my opinion one of the best movie scores ever. Buy the CD & 4-disk special DVD box-set, loaded with extra's. I even found the original LP record soundtrack along with a hardback book from the movie with full color fold-out photos. It was in a LP sized box cover. What a treasure that was to find it. I paid $5.00, Wow! In closing, I have special feelings for this film that have lasted through the years & hope others out there have too. To me, it represents the best of Hollywood. Real events happening to real people at a time of world change centering around Christ's execution.

compilation

every time i watch the chariot race it crosses my mind how sad it is that this spectacular piece of film, which has been called "arguably the most exciting 27 minutes ever put on film", will not be seen by future moviegoers as it was meant to be seen. On a full size movie screen.Maybe if an influential film maker or restorer (martin scorcese are you reading this!)who loves these sort of spectacles were to make the epic equivalent of "That's Entertainment" we could once more enjoy at least extracts from these wonderful films as they should be seen. It doesn't hurt to hope.

AFI, not to concerned,

I say that because this film is listed on the Library of Congress National Film Registry, and that is even a better honor.This is truely one of Hollywood's most honored films and worth the time watch. The story, woven around the Christ, does not get lost in its spectacular scenes. Great performances, directing, and techincal achievement in this film.

Ben Hur and the AFI

Agree. What does the American Film Institute know about good films. Ben Hur is a 'top-tenner'. The AFI at times are knuckleheads!

Also Concerned:

I too was very upset to see this film dropped from the AFI list of best films. It is without a doubt one of the top 10 films of all time. This film speaks of the soul of a man and the tragic consequences of hate and the redemption power of love. Hollywood would do well to adopt the many themes of this film.

One of the Greatest Films of all time!

I am very concerned that AFI (American Film Institute) on it's latest reviews (2007) of the 100 greatest films of all time had dropped Ben-hur to number 100 on the list. If this movie falls off the list it will be a disgrace to those who do these reviews! I'm sure it's due to it's religous content, and shame on them for dropping it down so low on the list. All the emotions of humanity are portrayed in this powerful film! Who cannot be moved by Miklos Rosza's incredibly moving and emotional musical score?!! How can tears not come from your eyes when Judah Ben-hur's mother and sister are cured of leprosy?!! Maybe they should watch it again and let their hearts and souls be touched by it!

AN OUTSTANDING EPIC

EVERYTIME YOU SEE THIS FILM IT TAKES YOUR BREATH AWAY.IT HAS GONE DOWN IN HISTORY AS ONE OF THE GREAT EPICS OF OUR TIME.IT SENDS A MESSAGE TO US CONCERNING FORGIVENESS AND WHAT ABOUT THOSE CHARIOT RACES.

supreme film making

just think-- 11 academy awards and not a single cuss word nor a bare breast to be found anywhere.saw this in a beautiful theatre in 1959. if i remember right seats were reserved and cost $5.00 a large price then when regular prices were about$1.50 this film beats titanic hands down in all ways as far as oscar goes.

Enduring classic

One of the finest tributes to this film is that no studio or production company has attempted to re-create it, even after 45+ years. The film has not become 'dated' over the years. Few movies have so many three-dimensional characters who develop and change through the story. It's really a first-rate blending of story and spectacle!

Absolute Masterpiece!

A fascinating plot; it is a shame the screenplay changed the ending. In the book, Christ on his way to the cross, stops, pauses, and heals "two lepers", making the whole story more believable. But a superb cimena experience, to be enjoyed and treasured for generations.

One of my favorites right on top

It's one of my favorite movies. "Shawshank Redemption" comes close. "Ben Hur" is something I like to watch again and again every once in a while.

Greatest Film of All Time -- Absolutely!

The word "masterpiece" aptly applies to this astonishing film, which should ONLY be seen on the big screen. Everything came together on this one, folks. The script, the direction, the acting, and most certainly the music remain spellbinding. From the overture to the end, this film glues you to your seats. Truly an amazing film. My favorite.

Greatest film of all time

William Wylers' brilliant Direction, Miklos Rozsa's score, Christopher Frys' script and Charlton Heston's performance are at the top of the list of the reasons why this is the finest achievement in all of cinema history.
*We protect your personal infortmation and will not provide it to anyone without your consent. For a complete explanation, please refer to TCM's Privacy Policy. By submitting your contribution, you agree to TCM's Terms of Use.