DVDs from TCM Shop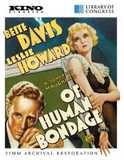 Of Human Bondage A medical student falls prey... MORE&nbsp> $13.95 Regularly $24.95 Buy Now blu-ray
USER REVIEWS
See Detailed Ratings
Acting of Lead Performers

Acting of Supporting Cast

Director

Music Score

Title Sequence

Screenplay

Cinematography

Historical Importance

Would You Recommend?

0 Member Ratings
Rate the acting of the Lead Performers

Rate the acting of the Supporting Cast

Rate the Director

Rating of the Music Score

Rating of the Title Sequence

Screenplay

Creatively uses the camera to tell the story

Importance in Cinema history

Would you recommend for fans of this genre
Submit Ratings
Cancel
Write a Review
Read Reviews
NO REVIEWS AVAILABLE
The title has not been reviewed. Be the first to write a review by clicking here to start.
WHAT FUN

Iconic Davis really shows her stuff! Breaking all the "bonds" of her times to become the first female ACTOR - leveling the playing field...the part she played on the real stage of life all her life! What fun when she shows her complete abhorrence for Philip- "You cad, you swine. I never loved ya.... I always wiped my mouth- WIPED MY MOUTH. Would have loved to use that line on some old bad boyfriends!

Early Bette Davis

Somerset Maugham was a great story teller. Leslie Howard gave a great performance. Bette Davis did mature into a great actress, but in my opinion hadn't made it yet in this movie. There are plenty of old talkies that I can put into perspective because they were made during the transition period from silent films. I marvel at the way some actors were able to tastefully interject silent movie moments into talking films and say so much simply with their facial expressions, an art that I think has been all but lost over time. But in this early version of "Bondage", I think Bette overdid it. I can take only so much hand wringing, shoulder swinging, and guilty exaggerated eye darting. I found it annoying by the time it was over. I do agree however that Bette's makeup was amazing, especially at the end of the movie.

Some things never change

Here's a story as old as love itself: for couples in love, one always loves more than the other....and this movie portrays that cruel imbalance in terms that never age. I say that because before I learned to better appreciate old movies this is one that I would've dismissed quickly for it's 'corny acting.' But thanks to TCM's 24/7 showing of movies uncut and uninterrupted (& often w/ wonderfully informative hosting, even in the Google Everything age) I watch a LOT more old movies. Increasing the quantity in turn improves the quality of my appreciation: I now can view them more as audiences did at the time of their release. Here, it was 1934, which was only a few years into making 'talkies' and they still had a lot to learn not just about delivering dialog but also how to dial back from the exaggerated facial expressions used is silent films. View w/ those considerations in mind, I now appreciate that the entire cast gave nuanced performances.

Exalting Leslie Howard (LH)

Born April 3, 1893, Leslie Howard Steiner was one of two sons of Hungarian immigrant to England, a London stockbroker married in 1892. Debonair Englishman LH excelled, playing disillusioned intellectuals and gallant gentlemen on stages and screens in Britain and America for about 30 years. Painfully shy as a child traumatized by World War I, LH turned to the theater for therapy. Acclaimed in London, then in America on Broadway in the 1920s, he debuted Hollywood in "Outward Bound" (1930, intriguing allegory of "crossing over" on oceanliner to Heaven or else, 3.5-stars). "The Animal Kingdom" (1933, 3.5 stars) followed with publisher LH besotted by free-spirited Ann Harding, while married to manipulative Myrna Loy. Ditto depressing Bette Davis in "Of Human Bondage" (1933). He is best remembered for four, 4-stars roles: 1) swashbuckling hero in "The Scarlet Pimpernel" (1934), 2) wandering wise writer meets dreamer Davis and escaping gangster Bogart in "Petrified Forrest" (1936), 3) witty egoist, Prof. Henry Higgins in "Pygmalion" (aka "My Fair Lady," 1938, 4 stars for director star LH), and 4) milquetoast Ashley Wilkes in "Gone With the Wind" (1939). Despite his success, Howard held Hollywood in contempt. "I haven't the slightest intentions of playing another weak, watery character. I've played enough ineffectual characters already." LH told "GWTW" producer David O. Sleznick before accepting his part. In 1940 LH returned to England to fight for freedom. Leslie Howard's airplane shot down by Nazis, June 1, 1943. Exalting Leslie Howard

I Wipe My Mouth!

What an actor. Bette Davis fought for quality scripts and worked hard in preparing for her role. She should have also been nominated for best make-up artist. Bette Davis explodes on film. Love Bette Davis for all what she gave to her craft, her fans, her audience.l

Of Human Bondage

This film stars a 24 or 23 year old Bette Davis and a 41 or 42 Leslie Howard. This is a stupendous dramaomance movie, which was released 1934. Bette fought to actually get this role and Jack Warner basically thought it was just going to be a flop, but he was wrong indeed. This is one of Bette first starring roles and this is a good movie.

Could be great

If ever a movie could use a complete refurbishing, this is it. It's a wonderful, if dark and melancholy movie with Bette Davis and Leslie Howard at their youthful best. What a treat it would be to be able to hear crisp sound and see crisp images. This is TCM's cup of tea -- I wish they'd fix it and make it available.

Of Human Bondage

****

...and for her 1st Oscar Nomination,

for her portrayal of Madge Rogers, Bette Davis earned much more than a mere trophyopportunity. She was finally recognized, after performing mainly as the leading lady in 31 prior motion pictures. What was Bette Davis recognized for? Primarily, her daring acting. For going so deeply into character as a wretch with a flaming temper. In other words, to do the opposite of what was the norm of a woman in show business: play a character who was anything but glamourousor a socially acceptable woman. When Bette Davis took this giant step ahead for women she changed just about every aspect of business as usual in Hollywood. Scripts changed, makeup and costumes did too. Films producers bought rights to became different. Even the styles of directing changed. There would not longer be one stereotypical woman on screen who represented the vast diversityof all.

Several Points to Make About Bette Davis

This film is a classic for too many reasons to list. It was the first Best Actress Oscar Nomination of 11 for Bette Davis. It was the first time Bette Davis learned that playing the role of a woman who wasn't savory or attractive captivated audiences who'd had enough of Hollywood's glamor-pusses. This was the motion picture when Bette Davis learned how to steal the show and how. With the veteran British actor, Leslie Howard playing the leading man, taking the scenes from him required quite a bit of acting skill. Bette Davis delivered and the public demanded that she be recognized for this performance.

Bette Davis' 1st Oscar Nomination (1935)

There was considerable outrage when the AFI didn't announce that Bette Davis had been nominated for a Best Actress Oscar for a brilliant performance as Mildred Rogers. Therefore, a protest of sorts began by write-in ballot nominations. Thus, this is how Bette Davis earned her 1st Oscar nomination in 1935. It is considered an official nomination according to the American Film Institute and so it counts as one of 11, not 10. This is the perfomance that the Warners lent her out to RKO to sink her talent into. From this point onward, Bette Davis became known as a spitfire who could reach very deep inside of herself to find a wealthy of fiery emotion and expose through a character. Several landmarks in her acting career were set in this film. Davis also made the glamor gals of Hollywood, who'd rather die than be filmed without being all dolled up, seem egocentric. These are two of the ways Bette Davis began to change the standards for what was expected of a woman actor.

Setting the Precedent

Just look at that photo (above) of Bette Davis. She's made to look frightfully sleazy and cheap. Then she ran away with one heck of a script with Leslie Howard as her leading man. Bette Davis learned from this film that she got raving reviews and her 1st Oscar nomination by going against customary conventions of looking glamorous. Davis learned how to go so deeply into character that she didn't care about looking beautiful for the camera--if her part called for looking dreadful. This would become one of Bette Davis' many trademarks. She'd be the actor to go the distance to do the part, warts and all. She learned how to be noticed for great acting. That's the precedent playing Mildred Rogers set for the rest of Bette Davis' acting career.

Bette Davis & Leslie Howard

Bette Davis hits her stride as a character actor with whom to be reckoned with this film. Leslie Howard is already a well known British actor; but, Davis has been largely under-rated in the Wraner Bros. studio productions. As Mildred Rogers, Davis earns her 1st Oscar nomination. 75 years later (in 2009) it's evident she should have won. Davis set a precedent for women actors with this depiction of an unseemly, ungodly wretch of a woman. Davis would go on for 54 years taking roles of women that were not glitzy & glamorous as was most typical for women actors then. She broke that typecasting for women in a variety of ways. In fact, she as headed up a new path that opened a wider array of roles for women actors. They would be women more like every day women. So this film is highly historical in women's history, in Davis' fabulous career, in filmmaking history, and it is definitely a classic.

Bette Davis' 1st Oscar Nomination

The TCM biography is mistaken about the number of Oscar nominations Bette Davis received because they do not count this one. But both the AFI and IMDB do count her nomination for her performance as Mildred Rogers in this film. It was a write in nomination, since her performance set the motion picture industry's members of the AFI into a state of excitement over her fantastic depiction of Mildred. Acting with Leslie Howard, who was already a British acting success who no simple achievement. This nomination for Best Actress should certainly be included in her biography here just as it is elsewhere.

Her Seminal Performance

Thank heavens that Warner Bros. lent Bette Davis to RKO to play the role of Mildred Rogers. Some will write that this performance is Bette Davis' break through one. But that's not quite right. Her break through was in "The Man Who Played God," with veteran actor George Arliss. As Mildred Rogers, Bette Davis finally had a script with fangs and claws that she could draw the raw emotion from within herself to expose. Frankly, she rages out against British legend, Leslie Howard's character. This is the role that set a kind of Bette Davis standard of her as a "spitfire." The petite, turqouise-eyed young adult actor revealed through this role that she would dare to be filmed looking diseased, filthy, amoral, anything but glamorous. That was unusual so we took notice of her originality.

When Bette Davis stold the show

Finally, Bette Davis had a script to sink herself into. Not about to miss the chance to do so, she let her character's fangs show. Whenever film bios of Davis are done, her explosive scene with raging out at Howard is always included. This isn't her break-through film (that one came earlier in "The Man Who Played God"), but it is going to remain in film history as the role when Bette Davis learned how to 'steal the show' from the great British leading men. By playing a wench, Davis set a precedent for women actors being taken seriously when they did NOT use sex appeal or beauty to draw attention to their characters. Davis' great acting skill was recognized.

Her 5th of 6 Films in 1934!

A 26yo was bursting at the seams & onto the screen by 1934, turning in 6 films. The intensity of Bette Davis' performancein this film is incomparable. She projected such power, not just for a young actor, but for anyone at any age or stage of life. Had she been awarded an Oscar for every time she deserved it, Bette Davis would've been the Martina Navratalova of acting! History knows her performance as Mildred Rogers should've earned Davis her 1st Oscar. Today, if any actor turned in 6 films in one year with a Mildred Rogers-like performance in any of them, they'd have surely been recognized by the AFI.

When Davis Learned Being Bad Worked Well

Contrary to popular myths, "...Bondage" wasn't Davis' breakthru film. "The Man Who Played God" was. RKO wouldn't have known to borrow her for "...Bondage" had she not already been viewed as a leading actor. Instead, "...Bondage" is the film that taught Davis her trademark would be: playing mold-breaking characters that 'movie stars' seeking fame & glamour didn't dare play. While other actors were glamourizing, voguing & playing up to men movie moguls who'd make them stars for some sugar on their casting couches, Davis found the key to her success & independence. That's the importance of "...Bondage" to her career.

A True Classic!

I am so glad I decided to watch this film, as it was just great. To see Bette Davis in one of her earliest roles and Leslie Howard was just a treat. The film itself was great and you will want to see it again and again. The storyline was excellent and the film will have you drawn in until the very end.

An obscure treasure

I don't think that many people have heard of this film, much less seen it. It is a wonderful story that is completely relatable...how many times have we been in Philip Carey's shoes? Being devoted to someone who may not necessarily be devoted to us. It truly is bondage. Leslie Howard (who was gone way too soon) is fantastic as usual. And it really is a treat to be able to see Bette Davis blossoming into the truly great actress that she later became. I'd highly reccomend it to anyone who likes good movies

Very Good Bette Davis Movie

This movie aired on TCM not too long ago and I was not expecting much since Bette Davis is not one of my favorite actors.However, the story here was great and the supporting cast were all really good.Considering when this movie came out in 1934, the subject matter was very contemporary.You'll come away thinking as I did, that you didn't know that movies like this with very adult situations were made back then.In the end there the hero fares well when he meets the woman, played by the beautiful Frances Dee, who rescues him from his foolish infatuation with the floozy Mildred, excellently played by Davis. The story is engrossing because of the time in which it was filmed.And if you watch carefully you'll see a very young Alan Hale (Skipper from Gilligan's Island) playing one of the overbearing suitors that comes between the hero and Davis.It is also funny in many parts as movies were made from those times, trying not to be too depressing when you consider the situation.I strongly recommend this movie as a must see.

A personal favourite and a must see

this film is fascinating - one of Bette' earlier appearances and wasnt she a star. One of my personal favourites!

Phenomenal!

Thanks for showing TCM, wonderful movie; though I haven't read the book. It was interesting and almost heartbreaking to see Mildred's downward spiral, and Leslie Howard was great as Philip.
*We protect your personal infortmation and will not provide it to anyone without your consent. For a complete explanation, please refer to TCM's Privacy Policy. By submitting your contribution, you agree to TCM's Terms of Use.