DVDs from TCM Shop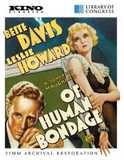 Of Human Bondage A medical student falls prey... MORE&nbsp> $13.95 Regularly $24.95 Buy Now blu-ray
NOTES
According to an early pre-production Film Daily news item, Irene Dunne was originally announced as the film's star. RKO borrowed Bette Davis from Warner Bros. for this production. According to Davis' autobiography, director Cromwell decided to cast her as "Mildred" after he saw her in two 1932 Warner Bros.'s films, Cabin in the Cotton and The Rich Are Always with Us. Warner Bros. was reluctant to lend Davis to RKO, but after she spent "six months in supplication," she "drove" Jack Warner to agree. To prepare for the role, Davis hired a Cockney woman to work in her home and studied her accent for two months. In her autobiography, Davis describes the production: "The first few days on the set were not too heartwarming. Mr. Howard and his English colleagues, as a clique, were disturbed by the casting of an American girl in the part. I really couldn't blame them. There was lots of whispering in little Druid circles whenever I appeared. Mr. Howard would read a book offstage, all the while throwing me his lines during my close-ups. He became a little less detached when he was informed that 'the kid is walking away with the picture.'" Davis states that when "we were ready to do the scene involving Mildred's decline, I asked Mr. Cromwell if I could put on my own makeup."
When Davis, who received consistently high praise for her performance, was not nominated for an Academy Award, Warner Bros. demanded that "all their organization members with votes submit to the Academy the name of Bette Davis," according to New York Times. Although the Academy allowed the write-in vote, Davis never received an official nomination and lost to Claudette Colbert in It Happened One Night. (After 1934, the Academy prohibited all write-in campaigns.) Davis incorrectly recollects in her autobigraphy that she was nominated by the Academy that year. When Davis won the "Best Actress" prize in 1935 for Dangerous, the press speculated that Academy members were actually rewarding her for her performance in Of Human Bondage. Davis adds: "It is an interesting fact that most people believe that Of Human Bondage was my first picture although I had made twenty-one films before it."
A Film Daily news production item described the technique by which Cromwell sped up the shooting so that Howard, who was suffering from tonsilitis, could finish and go to the hospital. On a revolving stage that was left over from a musical, Cromwell had four small sets built into each corner. After filming on one set, he rotated to the next, thereby avoiding the necessity of re-setting the lights and re-adjusting the cameras.
Of Human Bondage was placed on the Catholic Church's "condemned" list in August 1934, according to Hollywood Reporter. According to files in the MPAA/PCA Collection at the AMPAS Library, Dr. James Wingate, Director of Studio Relations of the AMPPA, informed RKO executive Merian C. Cooper in late May 1933 that an early draft of the script presented "so many difficulties that it appears...to be impossible to present...under the Code." Joseph I. Breen, Public Relations Director of the AMPPA, concurred with Wingate's assessment and suggested that "Mildred's" disease in the story be changed from syphilis to tuberculosis. Shortly before filming began, Breen approved changes that were made in the script and wrote in an inter-office memo that, while the story was "very dangerous...from a number of angles," it was also "something of a classic" and "so regarded by modern readers of fiction." A memo from Breen to RKO, which was included in RKO production files, indicates that Breen objected to the following aspects of the completed film: shots of Carey's nude sketches that "emphasized" the figure's breasts; Mildred's line in reference to the drawings, "All of it going on in your head"; and the scene in which Mildred picks up a man in front of a shop window.
According to modern sources, Of Human Bondage lost $45,000 at the box office. In 1946, Warner Bros, which had purchased the screen rights to W. Somerset Maugham's novel from RKO, released a second version of the story, which starred Paul Henreid and Eleanor Parker and was directed by Edmund Goudling. Miguel M. Delgado directed a Mexican version in 1955, and Ken Hughes directed Kim Novak and Laurence Harvey in a Seven Arts/M-G-M version in 1964 (see AFI Catalog of Feature Films, 1961-70; F6.3573).