DVDs from TCM Shop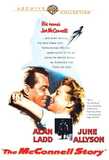 The McConnell Story A man's plans to settle... MORE&nbsp> $15.96 Regularly $19.99 Buy Now
NOTES
DVDs from TCM Shop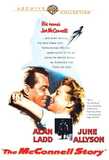 The McConnell Story A man's plans to settle... MORE&nbsp> $15.96
Regularly $19.99 buy now
Gen. Otto P. Weyland, Chief of the Tactical Air Command, U.S.A.F., appears after the opening credits, and dedicates the film to the men of the United States Air Force. The following written acknowledgment appears after the film: "To the 366th Fighter Bomber Wing, to the 479th Fighter Day Wing, to the Tactical Air Command and all units of the United States Air Force, both active and reserve, without whose assistance this picture would not have been possible-grateful appreciation."
As depicted in the film, the real Joseph C. McConnell, Jr. (1922-1954) began flying in World War II as a navigator on B-24 airplanes. After achieving pilot status, he pushed for an assignment as a jet fighter pilot in the Korean War, although he was considered, at 28, too old by the Air Force. Flying Sabre F-86 jets, McConnell battled with Soviet-developed airplanes called MiG-15s. Although he experienced several close encounters with death, as the film showed, McConnell remained unharmed and downed a record-breaking total of sixteen MiGs. In one day, he downed three MiGs, which made him the first "triple ace" pilot of the Korean War. Following this, Air Force officials, not wanting to further risk their best pilot, ordered him to return immediately to the United States and he was assigned to train other pilots.
A September 1955 Los Angeles Examiner reported that when McConnell returned from the war in 1953, his Apple Valley neighbors presented him with a $16,000 "Appreciation House," an event that was also depicted in the film. Approximately one year later, McConnell died in a crash near Edwards Air Force Base in the Mojave Desert when the hydraulics failed on the F-86h he was testing. As shown in the film, he tried to land the plane using throttle and rudder, a technique he had used successfully in Korea, but ground turbulence intervened. As a last resort, he ejected from the plane, but was, by then, too close to the ground to survive. According to a September 1955 Los Angeles Times news item, his death on August 25, 1954 occurred while The McConnell Story was in preparation, causing a new, tragic finale to be added to the screenplay. A September 1955 Los Angeles Examiner article reported that the Air Force later announced that the crash was caused by the failure of ground mechanics to secure a nut and bolt on the craft's stabilizer.
A December 1954 Hollywood Reporter news item adds William Lester to the cast, but his appearance in the released film has not been confirmed. Hollywood Reporter news items and an August 1955 Los Angeles Daily News article reported that portions of the film were shot in the following locations, many of them identified in the film: Apple Valley, CA; Ft. Devins, MA; Orange County Air Field, Santa Ana, CA; the air fields at Lockheed Aircraft Company, Burbank, CA, and Pullman, WA; Grand Central Terminal, Glendale, CA; Dow Field, Bangor, ME; Elmendorf Field, Anchorage, AK; and the following Air Force Bases: Edwards AFB, Palmdale, CA; George AFB, Victorville, CA; Hamilton AFB, DeWitt, CA; Williams AFB, Chandler, AZ; and Randolph Field and Hondo Air Force Bases in Texas. Some aerial footage was also filmed over Alexandria Air Force Base in Louisiana.