DVDs from TCM Shop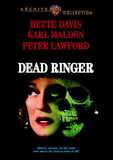 Dead Ringer A woman murders her rich twin... MORE&nbsp> $14.36 Regularly $17.99 Buy Now blu-ray
Home Video Reviews
You get two Bette Davises for the price of one in
Dead Ringer
(1964) - now on DVD from Warner Video - but that's not the first time Bette's pulled this 'seeing double' stunt. In
A Stolen Life
(1946), Ms. Davis played Kate and Patricia, identical twins in love with the same man (Glenn Ford). When Patricia is accidentally drowned in a boating accident, Kate takes her sister's place and marries Patricia's fiancée, though he doesn't suspect the switch at first. For
Dead Ringer
, the plot twists are more macabre, involving murder, blackmail, and death by Great Dane. Once again, Bette plays twin sisters. Edith is the poor one, a tavern owner who plots to avenge herself on her wealthy twin Margaret for a past incident that ruined her life.
Dead Ringer
went into production shortly after the surprise success of
Whatever Happened to Baby Jane?
(1962) which established Davis as the new queen of Grand Guignol. One of the locations used was the Greystone mansion in Beverly Hills which eventually became the location of the American Film Institute. Davis' former co-star and friend Paul Henreid was brought in to direct and his daughter Monica was even cast in a small role as a suspicious maid. The cinematographer was Ernest Haller (it was his final film) who had created the trick process shots in
A Stolen Life
and would improve upon the process here. Makeup artist Gene Hibbs was also hired due to his unique talent for making older actresses look younger through a "painting" technique. Best of all, Davis was surrounded with an excellent ensemble cast including Karl Malden, Jean Hagen, George MacReady, Estelle Winwood, and Peter Lawford, who was currently the brother-in-law of President John F. Kennedy. Lawford had originally been slated to play the opportunistic mama's boy in
Whatever Happened to Baby Jane?
but got cold feet at the last minute and Victor Buono took the part instead.
During its release,
Dead Ringer
was more enthusiastically received in Europe than the United States. Davis was later quoted in the biography,
Mother Goddam
by Whitney Stine, saying, "The original script of
Dead Ringer
was appallingly bad. Paul and I worked very hard to make it plausible at all. We did not completely succeed. We also were forced by Warner Bros. to change the ending we first filmed. The Warner ending was so ordinary. Paul Henreid did a beautiful job as director....plus Connie Cezon was such an unbelievable double for me - we could actually use her in some of the scenes."
Regardless of Ms. Davis' reservations about
Dead Ringer
, any true fan of her work will not be disappointed and her brief rendition of "Shuffle Off to Buffalo" is hard to forget. TV stations were notorious for editing this sequence in order for it to play within a two hour time slot with commercials
The Warner Video DVD of
Dead Ringer
presents the movie in its widescreen anamorphic format and the black and white levels are rich with detail. The mono audio is also fine and Andre Previn's gothic harpsichord score is a nice touch. As for extras, you get the original trailer (contains spoilers), "Double Take: A Conversation with Boze Hadleigh" (in which Ms. Davis's biographer reveals numerous insider facts about the actress), and "Behind the Scenes at the Doheny Mansion," a wonderful featurette with on the set clips of Davis, Lawford (he looks hungover when he first arrives by limo) and other cast members. For Bette Davis fans, the disc is especially recommended since the commentary track features plenty of biographical details and juicy gossip from author Boze Hadleigh and Davis impersonator/writer Charles Busch (he can currently be seen in the black comedy,
Die, Mommie, Die
).
To order
Dead Ringer
, click
here
. Explore more Bette Davis titles
here
. Explore more Karl Malden titles
here
.
by Jeff Stafford