DVDs from TCM Shop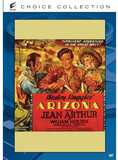 Arizona A tough pioneer woman needs a... MORE&nbsp> $17.95 Regularly $20.95 Buy Now
Home Video Reviews
Known primarily as a comedienne, the great Jean Arthur proved her versatility with occasional forays into drama, as in the case of the pioneer epic
Arizona
. Arthur stars as Phoebe Titus, a determined woman who had been traveling with her father to the west, planning to settle in California. Unfortunately, they had only gotten as far as Arizona when her father took ill and died. Instead of continuing west, the self-sufficient Phoebe decided to put down roots in the promising frontier town of Tucson, where she earns a living selling pies to the townspeople and passing cattlemen, and dreams of eventually earning enough to build the best cattle ranch in the territory. At the time the town is a rough and lawless place, where it is difficult for anyone to survive, let alone a woman in the unusual position of being on her own, but Phoebe has long since proved her mettle: she's armed and unafraid to take on any man on his own terms (we meet Phoebe when she storms into the town saloon and pulls a rifle on a pair of men she accuses of stealing money from her shop, and the miscreants obviously know that she means business).
Phoebe finally has her head turned by a new arrival in town: young, strapping drover Peter Muncie (William Holden), who is on his way to California. A witness to the scene in the saloon, Muncie is both amused and fascinated by the woman who is so obviously able to hold her own in a man's world, and strikes up a romance, though he still intends to continue west. Feeling that she might have finally met the right man, Phoebe hits on an idea that will hopefully kill two birds with one stone: Commerce to and from Tucson is crippled by the crooked Lazarus Ward (Porter Hall), who has the only freight company in town and charges double the going rate for hauling. Along with longtime friend Solomon Warner (Paul Harvey), Phoebe decides to open a freight business that will compete with Ward, with the intention of having Muncie manage their wagons as they cross the country. Certain that they can make a killing buy undercutting Ward, Phoebe hopes that this will bring in enough money to start her ranch.
Although he's interested in Phoebe, Muncie can't bring himself to give up his desire to see California and finish sowing his wild oats (in modern terms, fear of commitment), and leaves with the next cattle drive. Phoebe and Solomon go ahead with their freight business, and as she predicted it flourishes: but the one thing Phoebe hadn't counted on was the heating of up the Civil War, which results in the contingent of soldiers who were set to guard the outposts of the new frontier being called back east to fight. It is then that sleezy promoter Jefferson Cartaret (Warner William) moves into town and teams up with Ward to try and put Phoebe out of business. Ward and Cartaret strike a deal whereby they will trade guns to the Indians, and in return the Indians will attack any wagon train freighting goods that are not part of the Ward franchise.
Cartaret's plans are successful at first, stifling Phoebe's business, until a new regiment of soldiers is sent to the outpost from California to help maintain law and order--and the regiment includes the recently enlisted Muncie, who resumes his romance with Phoebe and plans to help her save the business and start up the ranch. Faced with the failure of his plan to run Phoebe out of business, Cartaret hatches a new and deadlier plan to rob Phoebe of everything, including calling for a showdown with Muncie on their wedding day!
Arizona
is lively Western fare with a surprising feminist bent, and a story that offers something for everyone, from romance to shootouts. Although Jean Arthur plays up the swagger a bit much, she convincingly conveys a woman who has earned some rough edges while plying life the new frontier. William Holden gives a charming early performance as her love interest, believably developing from dreaming drifter to mature mate. And Warren William's hilariously oily performance as Cartaret appears to have been the inspiration for Snidely Whiplash on
Rocky and Bullwinkle
: he does everything but twirl his mustache. The cast is rounded out by the always reliable Porter Hall as the fawning Ward, and Edgar Buchanan as the town's amoral judge.
Sony's new release of the film exhibits some debris, and as often happens with films of this era the clarity of the DVD format exposes the grain of the film stock used: at times the image is very noticeable grainy. But for the most part the transfer is very good, with the image nicely contrasted, the black very deep, and shadings clearly defined. The audio shows some mild deterioration, but on the whole is very good.
For more information about
Arizona
, visit
Sony Pictures
. To order
Arizona
, go to
TCM Shopping
.
by Fred Hunter