DVDs from TCM Shop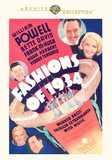 Fashions of 1934 A con artist and his beautiful... MORE&nbsp> $12.95 Regularly $19.99 Buy Now
Articles
SEE ALL ARTICLES
Fashions of 1934 (1934)
When Bette Davis began her career at Warner Brothers, the studio didn't know what to make of her. She was certainly a good actress, they knew that, but she was by her own admission, no sex symbol. They decide to try and change her image by giving her the glamour treatment and co-starring her opposite debonair William Powell in a Busby Berkeley musical about the fashion industry called, appropriately enough, Fashions of 1934 (1934). Ms. Davis was not amused.

The plot - as with most Berkeley musicals - was simple: New York fashion "pirates" go to Paris to see the latest models so they can copy them. Along for the ride are a struggling songwriter (Phillip Reed), and a fake Duchess previously known in the States as "Hoboken Mamie" (Verree Teasdale in a role that was very popular in the 1930s and 1940s). William Powell played the charming "pirate" and Bette Davis his assistant, who just happened to be a model. It was pretty routine stuff for the early 1930s when audiences went to the movies to try to escape the grim reality of the Great Depression. Women wanted to see fabulous clothes they could never afford and to get hair-style tips from their favorite stars. Men wanted to see pretty girls. Everyone wanted to be entertained. For this, Warner Brothers employed director Busby Berkeley who would arrange his chorus girls into intricate geometric patterns that changed as the girls danced or swam. What began as a stage musical would suddenly morph into water fountains and swimming pools, and the camera would show what the chorus girls were doing underwater - something that could never have been seen by a real theater audience. It was unrealistic and visually stunning and completely over-the-top. And audiences loved it. But not Bette Davis.

In the fall of 1933 Davis was in the process of a long battle with Warner Brothers' chief Jack Warner. She was fed up with being forced to make movies she considered junk and was begging him to allow her to be loaned out to RKO for Of Human Bondage (1934). Their answer was to put her in Fashions of 1934 and order their top makeup artist, Perc Westmore, to change her look. Davis later remembered in her autobiography The Lonely Life, "I was glamourized beyond recognition. I was made to wear a platinum wig. Makeup had been given the green light with nary a ?may I?? The bossmen were trying to make me into a Greta Garbo. They even dressed the wig like her hair, to say nothing of the false lashes and huge mouth and the slinky clothes." She had a lot to say about the experience - none of it positive. "That kind of thing was for Harlow and Crawford - never for me. In that picture I was frightfully ill at ease, and even felt embarrassed at times." Author Lawrence W. Quirk, in his book Fasten Your Seatbelts wrote, "Davis was also annoyed at having to play onlooker to some protracted funny business between Frank McHugh and Hugh Herbert in the back of a car, and as the scene plays today, she is obviously impatient and annoyed beneath her tight smile and forced attentiveness. 'I've spent so much of my life being second fiddle - will it ever end?' she asked the producer, Henry Blanke...She told Kathryn Dougherty editor of Photoplay at the time: 'I can't get out of these awful ruts. They just won't take me seriously. Look at me in this picture - all done up like a third-rate imitation of the MGM glamour queens. That isn't me. I'll never be a clothes horse or romantic symbol.' Dougherty tried to tell her that she might have more potential in those directions than she thought, and that in some shots photographer William Rees had even made her look quite beautiful. Davis' retort was, 'Beautiful never. Striking, sometimes, if I'm lucky.' She still hated to look at herself on the screen. 'Everyone comes off better than I do!' she lamented to [director William] Dieterle, 'Verree Teasdale has more sophistication and wears clothes better, Powell is center stage in a flattering role, McHugh and Herbert steal all the laughs. I just stand around - like an afterthought.'"

Fashions of 1934 would be the last time Bette Davis was an afterthought and the last time Warner Brothers tried to make her a glamour girl. A few months later, she convinced the studio to let her do Of Human Bondage for which she received a write-in nomination for Best Actress of 1935 though she was not officially nominated by the Academy members.

Producer: Henry Blanke
Director: William Dieterle
Screenplay: F. Hugh Herbert, Carl Erickson, Harry Collins (story), Warren Duff (story)
Cinematography: William Rees
Film Editing: Jack Killifer
Art Direction: Jack Okey, Willy Pogany
Music: Sammy Fain, Heinz Roemheld
Cast: William Powell (Sherwood Nash), Bette Davis (Lynn Mason), Frank McHugh (Snap), Hugh Herbert (Joe Ward), Verree Teasdale (Grand Duchess Alix), Reginald Owen (Oscar Baroque).
BW-78m.

by Lorraine LoBianco

Sources:

Bette Davis "The Lonely Life" and "Mother Goddam"

Lawrence W. Quirk "Fasten Your Seatbelts: The Passionate Life of Bette Davis"
back to top
---