DVDs from TCM Shop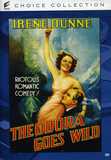 Theodora Goes Wild A woman's two lives as... MORE&nbsp> $17.15 Regularly $20.95 Buy Now
Home Video Reviews
Irene Dunne didn't want to make
Theodora Goes Wild
(1936). The versatile actress had at this point in her career never made a true comedy and had no interest in doing one. She was so against the idea that she flew to Europe in the hope that Columbia would make the picture with someone else. It didn't work; she was placed on suspension until she relented. We can be thankful that she did relent, for
Theodora Goes Wild
is a thoroughly winning screwball comedy and was just the tip of the comedy iceberg for Dunne, who went on to star in more classic screwballs like
The Awful Truth
(1937) and
My Favorite Wife
(1940).
She is excellent here, in
Theodora
, and interestingly the film has her start out playing things straight, only to undertake a dramatic shift halfway through the proceedings and become a zany screwball heroine. The movie itself, then, eases Dunne into her new persona. She plays Theodora Lynn of the small conservative town of Lynnfield, Conn. Little do her two spinsterly aunts, neighbors or anyone else know that she is also the author "Caroline Adams," whose racy bestseller
The Sinner
is being serialized in the local paper much to the outrage of the Lynnfield literary circle - of which Theodora is a member. The little old literary ladies condemn the book -- while enthusiastically reading it, of course -- and demand that the newspaper editor (Thomas Mitchell) cease publication.
Meanwhile, Theodora goes to New York to meet with her own publisher and ends up unwillingly charming her book's illustrator, Michael (Melvyn Douglas), who tries and fails to seduce her. Michael senses something fishy going on and tracks her back to Lynnfield, where upon threatening to expose her he moves into her shed and pretends to her aunts and everyone else to be a gardener. He encourages her to cut Lynnfield loose and liberate herself - in short, to "go wild." When she does just that, he gets more than he bargained for and the comedy is taken to a whole new level; the film itself is "liberated," becoming breathless and madcap.
Theodora Goes Wild
has its moments of clowning and is filled with hilarious dialogue, but beneath the surface there lurks a truly funny story, with comic situations building in scene upon scene with great precision and care.
The expertly constructed screenplay by Mary McCarthy and Sidney Buchman presents varying combinations of the main theme. Dunne hides her true self while pretending to be something she's not, and in the course of things "switches," by "going wild." Douglas goes in the opposite direction. That both characters go through their own ruses ends up uniting them for the audience and is why we see them as right for each other. All the while,
Theodora Goes Wild
works as a social satire with tremendous relevance even today. Hypocrisy on the part of those who would suppress or condemn on moral grounds is with our society as much as ever, if not more so, and it doubtless always will be.
Theodora
has a fine supporting cast including Robert Greig, refreshingly seen playing something other than a butler, as well as Spring Byington and a most entertaining dog and cat, all three of whom are given one of the movie's funniest slapstick scenes.
Irene Dunne, in a 1978 interview with author James Harvey, said she found this film "unsophisticated" and professed amazement that it became such a success. Dunne thought Theodora was a "little small-town dummy... She's supposed to have gone wild, but she didn't go very wild really." Imagine the amazement Dunne must have felt when she received an Oscar nod for this role, her second of five Best Actress nominations. (She never did win the award.)
Theodora Goes Wild
is in the new "Icons of Screwball Comedy, Volume Two" DVD collection from Sony Pictures Home Entertainment. There's also a "Volume One," of course, sold separately, and each volume contains four films on two discs apiece - for a total of four discs and eight films. You'd never know it from the packaging, but the two titles on each disc star the same leading lady. There's Irene Dunne, with
Theodora Goes Wild
and
Together Again
(1944), Loretta Young with
The Doctor Takes a Wife
(1940) and
A Night to Remember
(1943), Jean Arthur with
If You Could Only Cook
(1935) and
Too Many Husbands
(1940), and Rosalind Russell with
My Sister Eileen
(1942) and
She Wouldn't Say Yes
(1945). For some bizarre reason, not even the names of these actresses are on the DVDs' front covers, and there is no indication of the themed pairings. Furthermore, the cover art is unappealing in its color and design. Why Sony didn't just do something with the films' original poster art is puzzling.
The lack of audio commentaries is sadly de rigueur these days, as studios cut way back on their production expenses, but these discs have no extras of any sort save for one cartoon in each volume and some trailers. All this being said, one hesitates to criticize Sony, as the studio
is
at long last finally starting to put more of its catalogue titles on DVD. Coming in the months ahead are of volumes of film noir, horror, Sam Fuller, and Rita Hayworth. To see these eight, relatively "unimportant" screwball comedies being released is a real delight, and Sony deserves credit for digging a little deeper into its vaults. Picture and sound quality are pretty good throughout these discs, though none of the films has received a true restoration.
Of the other seven films here,
If You Could Only Cook
and
Together Again
make especially strong impressions. The latter is an excellent showcase for Irene Dunne and Charles Boyer, who made a superb co-starring team in three films including the classic
Love Affair
(1939). Here, Boyer plays a Manhattan sculptor who comes to Dunne's Vermont town to build a new statue, in a story that's somewhat similar to
Theodora
. It's also low-key, well-crafted and utterly charming.
For more information about
Theodora Goes Wild
(only available as part of the Icons of Screwball Comedy, Vol.2), visit
Sony Pictures
. To order
Theodora Goes Wild
, go to
TCM Shopping
.
by Jeremy Arnold