DVDs from TCM Shop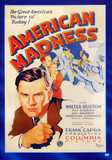 American Madness A banker fights to keep his... MORE&nbsp> $17.95 Regularly $20.95 Buy Now
NOTES
DVDs from TCM Shop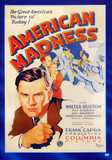 American Madness A banker fights to keep his... MORE&nbsp> $17.95
Regularly $20.95 buy now
The working titles of this film were Money and Faith. A Film Daily news item lists the following additional cast members, whose participation in the final film has not been confirmed: John Standing and Tom Dugan. Actor Anderson Lawler's name is also spelled Lawlor in contemporary and modern sources. American Madness had a special preview during the annual Columbia convention, held in Atlantic City in May 1932, and its world premiere, attended by prominent bankers and economists, was held in New York on August 4, 1932, the night before the film opened in New York for general audiences.
Although a 1932 Los Angeles Examiner news item noted that the character of Thomas Dickson was loosely based on A. H. Giannini, the chairman of Bank of America's executive committee, Frank Capra stated in a modern source interview that Dickson was based on A. P. Giannini, A. H.'s brother and the founder of Bank of America, whose lending policies based on the character of the applicant were well-known. The Los Angeles Examiner news item also reported that Harry Cohn commissioned the film on A.H. Giannini, and it was originally to have been directed by Allan Dwan. According to modern sources, A. H. Giannini was a partner with Harry and Jack Cohn on the voting trust of Columbia.
This was the first of Capra's films for which Robert Riskin was the sole writer. According to Capra's autobiography, he produced the film's feeling of urgency by speeding up the pace of the acting and editing.
According to information in the MPAA/PCA Collection at the AMPAS Library, American Madness was initially rejected by the Ohio state censor board, but was later approved for showing if the scenes of people mobbing the bank and demanding their money were deleted. In a March 25, 1932 letter to Will H. Hays, the head of the MPPDA, Colonel Jason S. Joy, who was the Director of the Studio Relations Department of the AMPP, made a comment concerning an early script for American Madness and other proposed stories dealing with banks: "The bank stories I think are all right from a policy standpoint and will even do good by helping renew confidence in banking institutions. In fact one of them, a Columbia story tentatively called FAITH ought to be seen by all the bankers themselves for, in script-form at least, it is a strong preachment of principles I know you thoroughly believe in, namely enough confidence by bankers in human nature to allow them to take leadership and help cure these screwy times." After the film was released, A. H. Giannini wrote to Harry Cohn and stated: "I believe that this photoplay, which should be exploited by the leading theatres of this country, will do more than any other single agency to stop runs on banks which are started by false or malicious rumors." Joy sent this letter to various censor boards and exhibitors to advertise the film.