DVDs from TCM Shop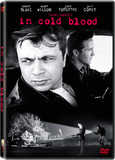 In Cold Blood Two vagrants try to outrun the... MORE&nbsp> $11.95 Regularly $14.99 Buy Now blu-ray
USER REVIEWS
See Detailed Ratings
Acting of Lead Performers

Acting of Supporting Cast

Director

Music Score

Title Sequence

Screenplay

Cinematography

Historical Importance

Would You Recommend?

0 Member Ratings
Rate the acting of the Lead Performers

Rate the acting of the Supporting Cast

Rate the Director

Rating of the Music Score

Rating of the Title Sequence

Screenplay

Creatively uses the camera to tell the story

Importance in Cinema history

Would you recommend for fans of this genre
Submit Ratings
Cancel
Write a Review
Read Reviews
NO REVIEWS AVAILABLE
The title has not been reviewed. Be the first to write a review by clicking here to start.
Brilliant and Disturbing

I like the connection to "Compulsion" mentioned below. As noted, "Compulsion," while dealing with the true story of the Loeb and Leopold case and the killing of Bobby Franks, the story is sanitized for film. "In Cold Blood" is just as creepy, psychologically terrifying and socially disturbing as its name implies. I'm old enough to remember hearing about those murders. Just hearing of them as a kid, although living far away, was frightening. The randomness of the crime, its incredible brutality, the senseless loss of decent lives sends shudders down anyone's spine. Capote captures the moral bankruptcy of the killers. As Will Geer, the prosecutor, says to the jury, this was no crime of passion. It was a cold, calculated and savage assault based on greed and the hope of finding lots of money. The Clutters died terrible deaths and the killers found forty lousy dollars. What is most disturbing is that the killers are not immoral. They are amoral. They don't give a damn about the worth of human life and that scares the hell out of all those who do. Yes, this is a brilliant film. The black and white cinematography conveys the bleakness of Kansas in November of 1959 and the darkness of the story. So, while the film is brilliantly made, I will not watch it alone. The power of an amoral man with a weapon, knowing that could be almost anyone at anytime, is too much to bear as a form of entertainment.

Exceptional

In my humble opinion this is certainly one of the best American movies of all time (no hyperbole). 4 out of 4 stars.

Cold Beans

Perry's remark "we are ridiculous" provides THE caption for the movie's launching the cliche 'senseless murder' into today's mushroom-cloud media parlance and shows how rural residents are as much at risk of victimhood as are suburbanites & urbanites.

Five Stars

I liked the film "Compulsion" Leopold - Loeb Murders. Although it can't "hold a candle" to this film. One of the most memorable movies of its kind, "In Cold Blood". Scott Wilson's contribution shouldn't be underestimated he is perfect as is Robert Blake. It just works on all levels. Oddly enough as devastating as moments of this film are, Hickock's actual tattooed body was not recreated on the actor Wilson.

Final Words

At the end and before going to the gallows, Hitchcock, states -- I'm going to a better world---. I have a question Mr. Hitchcock, what is it that you did to make this world better, Kite checks, kill the Clutters or is it some body's else, who,s job it is to make a better world? Oh yea! That so called third person that caused you and Smith to kill the Clutters is the same person who hanged you.

In cold blood soundtrack

In this extremely intense movie, I was very moved by the music used in the film. In one particular scene where Perry is remembering his mother and the sad Mexican song plays in the background. I have searched and searched for this name of this song and the artist but with no luck. If anyone knows can they please share this information with me. Many thanks

Well made

Richard Brooks does a bang up job here. Scott Wilson and Robert Blake are very effective. Highly recommend.

in cold blood

First two thirds is excellent, with great, black and white, documentary style cinematography from Conrad Hall and an (eerily) brilliant performance from Robert Blake. But as soon as the killers are caught it becomes an anti capital punishment tract in the worst "send them a message" tradition. It really feels like director Richard Brooks spent some time at Stanley Kramer University. Give it a B.

Adventures of Dick and Perry

Brilliantly directed and filmed, and great acting from an ensemble cast. After a while Quincy Jones' score grows on me, too. However, both the film, and Capote's novel gloss over the fact that the boys are widely suspected in another murder of a family near Sarasota, Florida, a month after the Clutter murder. In this case the husband, wife, and 3 year old boy were shot, while a 2 year old girl was drowned in the bathtub. The wife was raped. While it is known that D & P were in the area at the time of the murders, recent DNA testing was unable to conclusively link them to the Florida murders because only a partial DNA code could be retrieved from their remains. Dick and Perry are the original poster boys for capital punishment.

Imagine

One thing that caused me to reflect was the time for Mrs. Clutter and her daughter waited to die. They must have heard the gun shots coming from the basement and so they knew that they were next. Just laying there and waiting for these cold blooded killers to blow there brains out must have been pure terror, let alone the killing it's self.

Foul

This heavy-handed fake documentary based on Capote's similarly faked book (supposed quotes were re-assembled or made up) is full of amplified sound effects and poor acting. When it attempts to get syumpathy for the killers it turns foul.

Chilling!

Exceptional true-life film that should scare you to the bone! The fact that this film is shot more like a documentary only enhances its value. The cinematography is phenomenal, using shadow and light so effectively to add to the drama of the filming in black and white. This is one film that definitely should never have been made in color, as it would have lost its impact Excellent performances by the actors but the star of the film is the story. I remember this case very well, as it was quite the sensation in its day and the papers were filled with the description of the crime. One thing is certain. Nothing changes, as this same type of crime was committed in 2007 on a family in Connecticut, where a home invasion spurred by greed ended up with the mother and two daughters being savagely murdered. "In Cold Blood" chilled Truman Capote when he interviewed the killers and it chills the rest of us to this day. All murders should!

Hated this film

It was very boring, and to be honest the supporting cast did a better job than the lead! How bad is that?! Dick and Perry looked too... dirty. I understand they were supposed to be vagrant criminals, but come one comb the hair at least.I did not like this movie enough to even finish it (1 hour in I stopped)

In Cold Blood

I remember this movie from when I was a child. To have it be made from true life happenings says a whole lot about the ugly side of the human mind. Truman was a great author and he is at his best in this book and movie. Too bad that a author like him only comes around maybe once in a generation. The deep darkness of the movie the back ground music and all the actors are brilliant the director is impeccable in his direction and his ability to bring out the raw nature of the subject manner without the gore of today's films. He leaves the viewer with a sense of what is happening to the victims with out actually showing the deed.

Still powerful after all these years

A high achievement in documentary-style filmmaking and a step forward for the mature, modern American film.As noted in the book "Tough as Nails: The Life and Films of Richard Brooks," the writer-director set out to match in film what author Truman Capote achieved in print in telling the story of a family's murder and the two killers who were executed for the crime. Capote's "nonfiction novel" sought to use the techniques of fiction to tell a true story.As a filmmaker, Brooks sought to make a movie version of "In Cold Blood" as realistic as he could. First, he conducted his own investigation into the killings and the killers. Then he shot the film in almost all the actual locations where the events took place. (For example, he rented the Clutter farmhouse for $15,000 to recreate that awful night in 1959 when Perry Smith and Dick Hickock killed a couple and two of their children during a fruitless burglary.) Brooks also resisted studio demands that he cast stars in the roles of the killers (Paul Newman and Steve McQueen were suggested) and that he shoot in color (Brooks believed that b&w was inherently frightening).The movie itself is notable for depicting the killers to be the pitiable losers they were yet not excusing them for their deeds. It also made the anti-death penalty statement Brooks sought and Capote himself supported in his dual-meaning title. Brilliant photography by Conrad Hall and powerful acting by Robert Blake and Scott Wilson give this classic film energy and punch.

In Cold blood

When I first saw this movie back in the 1960's I was very impressed with the performance of Robert Blake (not so much now after watching him do the same character in several movies). Scott Wilson is terrific. It is morbid, but watching the murders being re-enacted in the original Clutter family house, in the original rooms still sends chills up my spine.

Killers, Not Victims

"In Cold Blood" is a stark and shocking story of the real-life murders of a Kansas farm family by 2 ex-con drifters, but it fails in its attempt to portray Smith and Hickok as victims driven to commit a heinous crime by their personal attitudes and situations rather than the sociopathic killers they were. If they hadn't made one fatal mistake (leaving their shoe prints in one of their victim's blood), they might have literally gotten away with murder. Also, someone comments that neither Smith or Hickok could have done the murders by themselves, and when they teamed up a third violent and psychotic personality was formed. I don't agree; I think either one could have done it. In the end they both pay the ultimate price-their own lives. Smith and Hickok were cold-blooded killers, not victims. Murder is murder, no matter who commits it.

Crime does not pay

What was left out of this film was as important as the murders themselves. If crime does not pay is the theme, then the death of these murders should have been magnified but it was not. Perry Smith, the shooter was at the end, dragged kicking and screaming up those final set of steps--- this shold have been the message of the film but instead it was left out. Why?
*We protect your personal infortmation and will not provide it to anyone without your consent. For a complete explanation, please refer to TCM's Privacy Policy. By submitting your contribution, you agree to TCM's Terms of Use.