DVDs from TCM Shop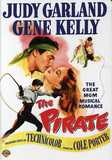 The Pirate An actor poses as a notorious... MORE&nbsp> $15.79 Regularly $19.98 Buy Now
Home Video Reviews
In the Caribbean of the 1830s, a beautiful but prim young lady, Manuela (Judy Garland), is to enter into an arranged marriage with the rich, fat, old town mayor, Don Pedro Vargas (Walter Slezak). When an actor named Serafin (Gene Kelly) gets a look at Manuela, however, and sees how she longs for adventure and excitement, he romances her by pretending to be the notorious pirate "Mack the Black" Macoco. Little does Manuela know that the real Macoco is in fact Don Pedro, who has been living an assumed existence in order to escape his infamous past.
That's the basic storyline of
The Pirate
(1948), director Vincente Minnelli's sensuous and dazzling costume musical still revered for its flamboyant use of Technicolor. Newly out on DVD from Warner Home Entertainment in a good print and with an impressive array of extras, the picture now has a real chance to fix its unfair reputation as a stagy, hammy, overdone misfire. Some
Pirate
defenders have described the film as over the heads of its detractors, but perhaps a kinder analysis is simply that MGM at the time was giving the public so many more traditional (though still innovative) musicals, that audiences just weren't sufficiently primed to deal with one this stylized.
Most musicals, after all, shift from reality-based non-musical sequences into "unreal" musical numbers and back again. In
The Pirate
, there is no reality. The entire film takes place in a fantasy world. Arguably (and paradoxically) the only glimmers of reality in the picture are in the musical numbers themselves, since the sight and sound of Gene Kelly and Judy Garland performing is something moviegoers perceive as normal and real.
To Minnelli's - and screenwriters Albert Hackett and Frances Goodrich's - credit,
The Pirate
begins with pages of a storybook being turned, telling us in crystal-clear terms that what is to follow is a fairy tale, a fantasy, make-believe. For a master visualist like Minnelli image is everything, and the only fair way to watch the film is to take what the images are saying to heart. In this movie about performers and performing, all three main characters pretend to be someone they're not at one point or another, sometimes with other characters' knowledge and sometimes without. That's one way
The Pirate
creates satire. The entire production is designed to be a tongue-in-cheek send-up of operettas and swashbucklers like
Don Juan
or
Robin Hood
, with dialogue, sets, colors and performances all purposefully over-the-top. Not realizing this could make the movie a frustrating experience, but if one accepts the movie on its own terms, it's a tremendous, intelligent and very funny entertainment.
When Kelly hypnotizes Garland with a rotating mirror, her true self comes out. He releases her dreams, and her musical performance. She has real passion and excitement underneath her "prim exterior," as she puts it, and under his spell allows herself to sing, dance, and let her emotions to the surface. For viewers who allow themselves the same release, it's an enthralling moment.
Kelly's dancing in
The Pirate
is kinetic and acrobatic, incorporating ballet, Spanish, and other dancing styles - but no tap. According to his widow Patricia Ward Kelly, it was just the kind of project he wanted at the time, as he was hungry to showcase alternate types of dancing. The "Pirate Ballet" sequence, a fantasy dance which takes place in Garland's imagination, is mightily impressive, with Kelly dancing and swinging a sword energetically while endless explosions of fire and smoke go off around him. The lighting and color create a strong third dimension here, an effect Kelly and Minnelli were always striving to achieve.
Some of Kelly's non-musical scenes involve so much choreography that they qualify as de facto dance numbers, such as where Garland furiously throws just about every object in a room at him and he must constantly move out of the way. In another sign of how purposefully jokey
The Pirate
sought to be, Kelly styled his scenes as the actor Serafin after John Barrymore and his scenes as the pirate Macoco after Douglas Fairbanks. And in a nod to all the overacting on display, Kelly even jokes to Slezak at one point, "You should try underplaying sometime. Very effective."
As for Garland, she is beautifully glamorized by Minnelli (her husband at the time) and handles her role with great humor. One could reasonably argue that she - and the movie as a whole - does not have enough songs, but she does perform them beautifully, including "You Can Do No Wrong," "Love of My Life" and the erotic "Mack the Black." The Cole Porter score also includes "Nina" and "Be a Clown," a song which feels out of place in this film but nonetheless became its most popular tune. Kelly performs it with the Nicholas Brothers, and at the end it's reprised as a vaudeville routine between Kelly and Garland, an experienced vaudevillian who relished the chance to perform it. Another song, "Voodoo," was ultimately deleted after Louis B. Mayer deemed it too steamy. An audio version remains as an extra, but aside from a snippet that can be seen in the trailer, the filmed number itself is gone. (Mayer ordered the negative burned.)
Well worth watching on this DVD is an illuminating 20-minute featurette about the making of
The Pirate
, featuring Liza Minnelli (Minnelli and Garland's daughter), Patricia Ward Kelly, Fayard Nicholas and various film historians explaining the genesis of the movie and its troubled production and reception. On his commentary track, historian John Fricke goes into the details even further. Garland was having serious psychological problems during filming as well as issues with her marriage.
Other extras include a trailer (in excellent shape), deleted songs (audio only), a blah Pete Smith Specialty short, a very funny Tom and Jerry cartoon, Roger Edens' guide-track versions of some songs, and radio interviews with Kelly and Garland.
The Pirate
is available by itself or as part of the collection
Classic Musicals From the Dream Factory, Volume 2
, a set of seven movies. The others are
Words and Music
(1948),
That Midnight Kiss
(1949),
Toast of New Orleans
(1950),
Royal Wedding
(1951),
The Belle of New York
(1952) and
That's Dancing
(1985). It's a mixed bag, but
The Pirate
is the truest gem of the lot. Extras abound in the collection, with commentaries, vintage shorts, new documentaries, cartoons, outtakes, alternate song versions, radio interviews and trailers galore, all up to Warner Home Entertainment's usual impeccable standards.
For more information about
The Pirate
, visit
Warner Video
. To order
The Pirate
, go to
TCM Shopping
.
by Jeremy Arnold