DVDs from TCM Shop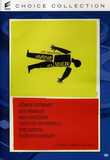 Anatomy of a Murder A small-town lawyer gets the... MORE&nbsp> $16.76 Regularly $20.95 Buy Now blu-ray
USER REVIEWS
See Detailed Ratings
Acting of Lead Performers

Acting of Supporting Cast

Director

Music Score

Title Sequence

Screenplay

Cinematography

Historical Importance

Would You Recommend?

0 Member Ratings
Rate the acting of the Lead Performers

Rate the acting of the Supporting Cast

Rate the Director

Rating of the Music Score

Rating of the Title Sequence

Screenplay

Creatively uses the camera to tell the story

Importance in Cinema history

Would you recommend for fans of this genre
Submit Ratings
Cancel
Write a Review
Read Reviews
NO REVIEWS AVAILABLE
The title has not been reviewed. Be the first to write a review by clicking here to start.
Perfect Casting !

One of the most perfectly cast films in memory. The three major players are all perfect. I believe James Stewart gives an Oscar worthy performance. His second calling may very well have been an attorney, he is truly accurate in his portrayal. Actually I don't feel he was ever better. Actually I feel that the way the film was cast leads in a major part to its success, the defense of Gazzara with the lovable Stewart places the audience on the side of a questionable defendant and his flirtatious wife. The prosecution team presented a duo of lawyers which includes George C. Scott that I believe the audience "loves to hate" ,up to the point of the film's ending.

anatomy of a murder

In the late 50s and early 60s director Otto Preminger and screenwriter Wendell Mayes teamed up to make three masterpieces; "Advise And Consent" (about DC politics) "In Harm's Way" (about the navy in WW2) and this one, in my opinion the best courtroom drama in Hollywood history, even better than "Witness For The Prosecution," and "The Verdict." What makes it so good? The usual stuff. The writing, acting, and directorial pacing. Like the other two Mayes/Preminger collaborations "Murder" is a large film, with an extensive cast of characters, all of whom are well described through Mayes' crisp, insightful and (mostly) non expositional dialogue. As for the acting, not only do we have James Stewart in one of his top four roles (the others being George Bailey, Frank Towns, and Scotty Ferguson) playing a sophisticated, jazz piano playing, legal scholar, who hides his true nature beneath folksiness, for the benefit of juries, but there is a young George C. Scott as an arrogant DA, Ben Gazzara as an arrogant defendant, Lee Remmick as his trampy wife, Eve Arden as Stewart's acerbic but motherly secretary, Arthur O'Connell as Stewart's drunken lawyer friend and, to the delight of liberals everywhere, Joseph N. Welch, the real life lawyer who brought down Joe McCarthy, as a very sharp judge who, like Stewart, pretends to be "just folks." All are excellent. The only member of the cast who is even slightly dull is Kathryn Grant, as per usual. Preminger, like a great circus ringmaster, keeps this huge contraption not only moving, but moving fast and gracefully. Three hours goes by like two. Give it an A. P.S. Love the location shooting on Michigan's upper peninsula. It makes up for those cheesy sets on Preminger's earlier, much less good "Man With A Golden Arm."

One of the best court room flics

Using a real judge was unique as far as I know. As for a witness wearing his uniform, the Defense usually wins an argument over dress. The reviewer who stated jail house dress would be used, doesn't understand the system. I have never seen a trial where the defendant is dressed in jail house strips. On the other hand, I have seen defendants who did not, or had never worn a suit, dressed in one, suit and tie to the point I did not recognize them. Who a defendant dresses is part of the defense. Its also part of the defense and prosecutions methods. Each side tries to get away with stretching the Judge's opinion as to what is appropriate. I would fault the film for one personal grudge. So many court room films end with acquittals. In real life, the government prosecutors are bureaucrats who either want to run for higher office, or just keep their jobs. The police, who probably most likely to know the "truth" because of previous knowledge of the person arrested, or other facts that are not allowable in court, must sell the prosecution that the case is a "slam dunk" for a win, and their evidence would in most court rooms be allowed. If anyone has ever visited a court room, in 99 percent of cases, the lawyers and defendant and family outnumber the "public" who theoretically make the trial "public".

Anatomy of a Murder

Overall-4/5Lead performers-4/5Supporting Cast-4/5Director-4/5Score-5/5Titles-5/5Screenplay-4/5Cinematography-4/5Importance-4/5Recommendation for fans of genre- 4/5

Artistic License

Yes, he was wearing his uniform and this is artistic license. Also, often during a murder trial the defendant is usually dressed in street clothes. Anybody watch Court TV? It is a movie not a documentary. I love that this movie is in black and white as well. This gives the movie a surreal quality that seems to intensify the mood and tone of the film. To me, it is so artistic. The actors are wonderful and really drive home the violent and raw society the characters live in. Of course, this is a five star movie in my book.

a look back

As a newly wed young man with a a baby on the way I was more than fortunate to have max slater ask me if I could handle lines in a movie he was making in Marquette Michigan...Of course I answere yes. But if I had known my part would be with Jimmy Stewart and to have Otto Preminger direct me....well. To be thrown together with this Iconic clan of heavyweights is a dream come true for some folks. But to me at that time, It was a way to make $90.00. And considering I was making about $45.00 a week at the time, this was great. As I look back at it now, just step one of a series of steps in my life that continue to amaze me. I ended my career as a TV news anchor at WBAY T V in Green bay after 39 years of reporting , and being involved with more Icons of the entertainment world.....The Green Bay Packers and the players who worked for a man, Vince Lombardi an Icon of gigantic proportions.

Murder Charge?

All the while (Ben Gazzara) that is Lieutenat Manion is charged with murder he is a allowed to wear his military uniform instead of prison orange. Are you kidding me?

Excellent Courtroom Drama

Gazzara's character, Fred Manion, is in the Army and married to Laura, played by Lee Remick. Laura hangs around bars, plays pinball, and doesn't wear a girdle or stockings, which was shocking and sexually suggestive in the 1950's. According to the story, one night she arrives back at the trailer where she and Fred live, beaten and bruised, claiming to have been raped by Barney Quill, the owner of the bar where she had been drinking, playing pinball and flirting. Fred makes Laura swear on her rosary that she is telling the truth about the sexual encounter being rape, and then goes to the bar and kills Quill. Jimmy Stewart agrees to defend Fred. Remick is excellent as the sexually suggestive Laura, and Stewart's character wonders whether she really was raped. A central theme at the trial for murder is the whereabouts of Laura's panties. The answer to this question determines the surprise outcome of the murder trial, but really doesn't answer the question about whether Laura consented and who inflicted the bruises--Fred or Barney. Laura does not look or act like a victim. Outstanding performances by not only Gazzara, Remick and Stewart, but also Eve Arden as Stewart's secretary, Arthur O'Connell as Stewart's friend and second-chair at trial, Bing Crosby's first wife as Quill's adult daughter, and look also for Orson Bean, who plays a young Army psychiatrist. Jazz music score adds to the enjoyment, as does the performance of the Judge, who was a real-life attorney and judge.

Outstanding

christine hoard-barre

5/17/12

Exceptional performances from everyone and my personal favorite Jimmy Stewart movie. Great screenplay, music, direction.

Anatomy of a Murder

A bitter, tough & great film from Preminger. Stewart & Remick display awsome power over the all-star cast including Gazzara, O' Connell, Arden & Scott. Catchy Duke Ellington score & a mature & intelligent script. An amazing, but overlong film. I give it a 4/5.

slow

good story line - excellent acting - slow and dragged out movie.

What really happened?

The greatest courtroom drama of all times! I can't help but watch it whenever it's on. The realism of the legal process is uncommon; I particularly like the frog-gigging in-chambers scene. After all that happens in court, you are still left wondering what really happened. It could have been as the Manions said, or as implied by the prosecution: Laura and Quill could have had consentual sex, and Manion, in a jealous rage, assaulted Laura and murdered Quill after pre-meditation and with malice. You are left wanting to think that justice was done, but was it?

Anatomy of a Murder

Excellent film noir suspense drama that keeps you guessing right to the surprise ending. I agree that this is one of the best courtroom dramas, right up there with "Witness For the Prosecution". Everyone gives a stellar performance, including James Stewart as an attorney defending Ben Gazarra, alleged to have murdered the rapist of his slutty wife, Lee Remick, Arthur Kennedy as the washed-out older attorney who assists Stewart, George C. Scott as the prosecuting attorney and Eve Arden as Stewart's secretary. The Judge in the film was a real judge, to my understanding. Very much worth seeing!

Stands the test of time

This movie is great not only for being "ahead of its time" in subject matter, but also for each tiny little detail in the script, acting, and production. Ranging from suspense to dry humor, the pieces put together equal perfection!

Ahead Of Its Time

"Anatomy Of A Murder" is one of the best courtroom dramas of all time. It deals frankly and maturely with the subject of rape, an extremely volatile thing for a film to deal with (especially in 1959). All of the actors give powerfully intense performances, especially James Stewart who if it wasn't for Charlton Heston in "Ben Hur" would probably have won the Best Actor Oscar that year. The role of Paul Biegler was typical of the dark and complicated types of characters that he had been playing in films during the 50's, unlike his early career when he played simple, likeable characters in comedies and biopics. "Anatomy Of A Murder" - excellent on all counts!

One of the two best courtroom dramas

I saw it last night on TCM and enjoyed it every bit as much as the first time I saw it 49 years ago, even though I knew the outcome this time. I could watch this movie and "12 Angry Men" over and over and over, in the movie theater or on stage.

Save that jiggle for your husband to look at ...

Jimmy Stewart is attorney Biegler in this terrific courtroom drama. All of Biegler's thoughts and emotions play across his iconic face revealing a subtle, journeyman performance. Lee Remick is wonderful as a sexpot wife on the loose, and Ben Gazzara is scary as the accused, murderous husband. Enjoy Duke Ellinton's brief appearance, and music underscoring the film creating a blue mood. Also notable is Joseph Welch as the patient judge best known in real life as the lawyer who brought down Joseph McCarthy during the Army/McCarthy hearings. If you can believe it the cast also includes George C Scott, Arthur O'Connell, Eve Arden and Arden's real life husband West Brooks. Don't miss Kathryn Grant, Bing Crosby's second wife in a key role. Two hours will fly by!

a AAA PLUSE MOVIE

damn good movie watch it when it's ever on.
*We protect your personal infortmation and will not provide it to anyone without your consent. For a complete explanation, please refer to TCM's Privacy Policy. By submitting your contribution, you agree to TCM's Terms of Use.