DVDs from TCM Shop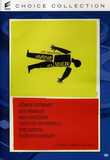 Anatomy of a Murder A small-town lawyer gets the... MORE&nbsp> $16.76 Regularly $20.95 Buy Now blu-ray
NOTES
Robert Traver, the name of the novel's author, is a pseudonym for Michigan Supreme Court Justice John D. Voelker, who served as technical advisor on the film and was the defense attorney on the real-life case on which the novel was based. The murder occurred in the small town of Big Bay in the Upper Peninsula of Michigan. On July 31, 1952, Lt. Coleman Peterson, who had recently returned from Korea, shot and killed tavern owner Mike Chenoweth, allegedly because Chenoweth raped Coleman's wife, Charlotte. Although Voelker entered a plea of temporary insanity on Peterson's behalf, Peterson was never incarcerated because a psychiatrist testified that he was now sane and no longer dangerous. After being freed, Peterson left town without paying Voelker his fee. The action in the film closely parallels that of the novel. The major difference is that in the novel, "Mitch Lodwick," who defeated "Paul Bielger" in his bid for re-election as district attorney, is running for the same congressional seat as Biegler. Consequently, the outcome of the trial, in which Biegler and Lodwick are pitted against each other, will affect the outcome of the election.
According to various Hollywood Reporter news items, in October 1957, Voelker made a deal with playwright John Van Druten in which Van Druten would write a play based on his novel to be produced on Broadway. Van Druten would reportedly receive 60% of the Broadway profits and Voelker 40%, and both authors would evenly split the sale of the motion picture rights. Van Druten and Voelker then made a deal to license the screen rights to the novel to Ray Stark's Seven Arts Productions, Inc. Under that agreement, Van Druten and Voelker would have received a total $100,000 plus a percentage of the profits. However, after Van Druten's untimely death on December 19, 1957, plans for the theatrical production were canceled. Because Van Druten died before signing the agreement with Voelker or Stark, Voelker's publisher, St. Martin's Press, reopened bidding for the screen rights. Otto Preminger then secured the screen rights for $150,000 in May 1958.
In October 1958, the Van Druten estate filed a suit to block Preminger's production on the grounds that Van Druten never agreed to sell the screen rights to Preminger. Stark, who was partnered with Eliot Hyman in Seven Arts, also protested the sale of the screen rights to Preminger, claiming that under agreements signed between the Van Druten estate and Voelker, the transfer of motion picture rights was to go to Seven Arts. According to a December 1958 Daily Variety news item, the Van Druten suit was resolved in favor of Preminger and Columbia, who agreed to pay the Van Druten estate $50,000 for the screen rights to Van Druten's play. Stark's claim was settled when Seven Arts was granted a percentage of the profits from the production. In April 1959, Edward Specter Productions, the company that was to produce the Broadway play, filed a suit to enjoin the production and distribution of Preminger's film on the grounds that Van Druten delivered a version of the play before his death, and that, according to their agreement with St. Martin's Press, the play would be produced prior to the film's release. According to a July 1959 Daily Variety news item, that suit was overruled. The play was never produced.
A February 1958 Hollywood Reporter "Rambling Reporter" column noted that at that time, Stark was considering Gregory Peck to star. According to various Hollywood Reporter news items, Lana Turner was initially cast as "Laura Manion," but withdrew from the production following a dispute with Preminger. A December 1958 Hollywood Reporter news item noted that Preminger was negotiating with Richard Widmark to appear as "Lt. Frederick Manion." March 1959 Hollywood Reporter news items add that James Daly replaced Pat Hingle in the role of Mitch Lodwick after Hingle was injured in a fall down an elevator shaft. Daly then left the production to appear in a Broadway play and was replaced by Brooks West, the husband of Eve Arden, who appeared as "Maida Rutledge" in the film. Emile Meyer was initially cast as "Sheriff Battisfore," but was forced to withdraw after he broke his arm in a car accident. Although a March 1959 Hollywood Reporter news item noted that Don Taylor was negotiating for a role, he did not appear in the released film.
In his autobiography, Preminger stated that he wanted Spencer Tracy or Burl Ives for the role of "Judge Weaver." When both actors turned him down, he approached Joseph N. Welch, the Boston lawyer who represented the U.S. Army during the Army-McCarthy Senate hearings, which dominated national television from April-June 1954. The hearings were convened to investigate whether Senator McCarthy used improper influence to win preferential treatment for David Schine, a former member of his staff who had been drafted. McCarthy counter-charged that the army was using blackmail and intimidation to derail his investigation of army security practices. In those hearings, Welch's remark to McCarthy, "Have you no sense of decency?" brought Welch international fame and precipitated McCarthy's downfall. Anatomy of a Murder marked Welch's only screen appearance, and featured the first feature-length film score composed by Duke Ellington. Although a May 1959 Hollywood Reporter news item places Harriet Lawyer in the cast, her appearance in the released film has not been confirmed.
An April 1959 New York Times article noted that the film was shot entirely on location in the Ishpeming-Marquette area of Michigan. Because of the production's isolated location, Preminger worked with a completely independent unit that was capable of operating in the field without the usual studio assistance. The production's camera servicing department, film editor's room and wardrobe and makeup facilities were all set up in a hotel basement. The courtroom, jail and hospital scenes were shot in their actual counterparts in Marquette. Paul Bielger's office was Voelker's actual law office in Ishpeming. Richard Griffith, the curator of the New York Museum of Modern Art Film Library, wrote a book titled Anatomy of a Motion Picture, which documented the location filming in Michigan.
Despite the film's frank treatment of a rape trial, it was granted a certificate of approval by the Production Code Administration after the producers agreed to several minor deletions. In a letter from Geoffrey Shurlock of the PCA to Preminger, contained in the film's file at the AMPAS Library, Shurlock instructed Preminger to delete the words sperm, sexual climax and penetration and to restrict the use of the words panties and rape. A July 1959 Hollywood Reporter news item reported that The National Catholic Legion of Decency placed the film in a "separate classification" on the grounds that it "exceed[ed] the bounds of moral acceptability and propriety in a mass medium of entertainment." According to a July 3, 1959 Hollywood Reporter news item, the film was scheduled to open in Chicago on July 2, 1959, but the screening was canceled after the Police Film Censor, backed by Police Commissioner Timothy J. O'Connor and Mayor Richard D. Daley, ruled that the film could not be shown unless two sequences containing the words "intercourse," "contraceptive" and "birth control" were deleted. Hollywood Reporter and New York Times news items on July 9, 1959 add that, after Preminger brought a suit for a permanent injunction against the ruling, Federal Judge Julius Miner overruled the censor board, stating that the film could not be considered obscene because "[it] does not tend to excite sexual passion or undermine public morals." The Variety review noted that the film contained language "never before heard in an American film with the Code Seal."
The film was nominated for the following Academy Awards: Best Actor; Best Cinematography (black and white); Best Film Editing; Best Picture and Best Writing, Screenplay Based on Material from Another Medium. In addition, both George C. Scott and Arthur O'Connell were nominated for Best Supporting Actor. Stewart won the award for Best Actor at the Venice Film Festival and received the Best Actor award from the New York Film Critics Circle. The film's unusual trailer opens with a bailiff calling the court to order and announcing that "there is a new movie coming to this town. All those involved will now be sworn in." Preminger then stands up and swears in the principal actors, asking each if they "swear to have done their job in the picture to the best of their ability." When Preminger calls on Voelker, the writer protests that there cannot be a trial without a jury. Preminger then replies, "the judge and jury sits out there, the millions and millions of people in the theater." Bass's credits then appear, followed by snippets of sequences from the film.
According to a July 1960 Variety news item, Hazel Wheeler, the widow of murdered tavern owner Mike Chenoweth, filed a $9,000,000 libel suit against Columbia and Dell, the publisher of the paperback version of Voelker's book. That suit was dismissed, according to an April 1962 Film Daily news item. A January 1966 New York Times news item noted that Preminger brought an injunction against Columbia Pictures Corp. and Screen Gems Inc. to prevent them from interrupting the film with commercials when it was televised. Preminger charged that if the film was cut and interrupted by commercials, his reputation would be damaged and its "commercial value challenged." The court ruled that the producer's right to final cutting and editing was limited to a film's theatrical release and not its televised showing. September 1995 Variety news items note that Preminger Films threatened to sue Universal Pictures because Universal's poster for the 1995 film Clockers bore a "striking resemblance" to Saul Bass's stylized design for Anatomy of a Murder. Universal then changed the design of the Clockers poster. Although an August 1967 Hollywood Reporter news item noted that Otto Preminger's brother, Ingo Preminger, entered into a deal with M-G-M TV to produce a ninety-minute television series based on Anatomy of a Murder, that series was never produced.