DVDs from TCM Shop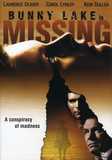 Bunny Lake Is Missing A distraught mother searches... MORE&nbsp> $11.95 Regularly $14.99 Buy Now
Home Video Reviews
When picking up her young daughter Bunny from her new English school, single American mother Ann Lake (Carol Lynley) is alarmed to find her child missing - and no one recalls ever seeing her. With her brother Stephen (Keir Dullea) soon at her side, she seeks help from the police in the form of Superintendent Newhouse (Laurence Olivier), who attempts to retrace the child's steps and determine whether criminal activity is afoot. However, with blanket denials and stories of Ann's delusions soon emerging, the policeman begins to suspect that perhaps Bunny never existed after all.
A puzzle-box identity thriller in the mold of films like
The Lady Vanishes
and
My Name Is Julia Ross
, this engrossing thriller is a welcome oasis in the 1960s filmography of director Otto Preminger (rubbing shoulders with less defensible "guilty pleasure" titles like
Skidoo
and
Hurry Sundown
). Perhaps Preminger was excited to return to the roots of his film noir days, as
Bunny Lake Is Missing
features a familiar emphasis on peculiar supporting characters (Noel Coward's kinky and "flamboyant" landlord, Anna Massey's snippy schoolmarm, etc.) and psychological plot twists that hearken back to Preminger's black and white period (
Laura, Whirlpool
) but here given a glossy widescreen sheen. The British locales are always intriguing and atmospheric, with a school playground serving as the somber backdrop for the film's finale; likewise the performers do a fine job overall, with Dullea the only actor clearly stretched beyond his capabilities. Maligned by critics at the time, Lynley fares better with a fragile, frantic performance that plays well enough opposite Olivier's calm, resolute, middle-rank man of the law.
Released square in the middle of the '60s,
Bunny Lake
walks a careful line between nostalgic mystery trappings (the damsel in distress, institutional settings, the quirky roster of suspects) and modern, even "daring elements" like masochism, implied incest, homosexuality, sex outside wedlock, a sadistic writer (Martita Hunt) who uses the young as psychological guinea pigs, an experimental and often striking Paul Glass score, and even an appearance (via television) of The Zombies singing a trio of songs. This dichotomy was not uncommon at the time (witness several sexed-up attempts at Agatha Christie mysteries and their brethren before Sidney Lumet came to the rescue), but Preminger manages to keep it balanced enough to create a mystery to satisfy traditionalists and a taboo-shattering cult favorite for viewers savvy enough to tune in to its twisted undercurrents. Unfortunately viewers of the former persuasion may be a bit disappointed by the film's "shock surprise ending;" after all, there's really only one possible explanation for the film's events that wouldn't render the entire enterprise meaningless. However, the implications of this ending allow the viewer to fill in some of the blanks with whatever salacious details they might deem necessary.
A long-requested title inexplicably withheld from home video for decades,
Bunny Lake Is Missing
was a prime title long butchered by careless TV transfers that rendered its exquisite Panavision framing meaningless. Fortunately Columbia's DVD offers a pristine 2.35:1 version, though Saul Bass' magnificent opening titles have been windowboxed so severely that owners of 16:9 displays may be grappling for their remotes to see whether the anamorphic promise of the packaging is a lie. Have no fear; after the miniature title sequence, everything else plays out normally.
Both Lynley and Dullea were tapped to participate in supplemental material, but the disc contains no special features at all. Digging from crumbs, it does contain optional English and Spanish subtitles as well as the usual roster of promotional trailers for other Columbia releases. At least in this case a bit of thought seems to be involved as the titles in question are the very similarly plotted sci-fi thriller
The Forgotten
and Preminger's
Bonjour Tristesse
.
For more information about
Bunny Lake is Missing
, visit
Sony Pictures
. To order
Bunny Lake is Missing
, go to
TCM Shopping
.
by Nathaniel Thompson